I have a great deal of respect for all of the legendary investor "greats", Carl Icahn being among them. I came close to buying shares in Icahn Enterprises, L.P. (NYSE:IEP) on June 6th. That day, at 12:30 EDT, news came out that IEP was doing a secondary limited partnership (L.P.) distribution offering more units, this being IEP's second offering this year. The news release caused a selloff of IEP shares, and retracement brought them down to $69.01, from around $80-81 range where shares opened that morning. I had been considering buying them a week or so prior to that, so IEP was already on my watch list.
There are many solid reasons to invest along several lines:
Long Investment Thesis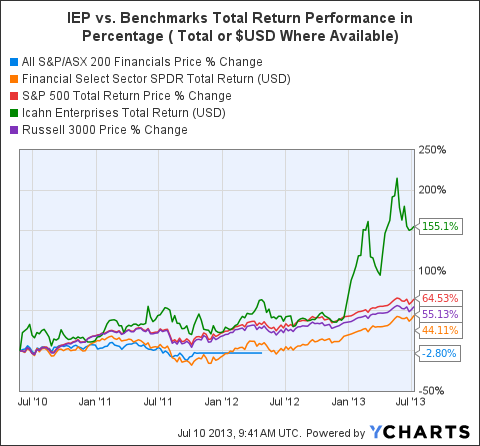 1) IEP is a broadly-diversified holding company run by an activist takeover artist who has a successful record spanning 30-plus years making, or forcing, some great deals. Besides the hedge fund, the activism and diversification of the portfolio's holdings would also be an effective hedge.
2) The additional hedge fund research and leverage implied with ownership might ameliorate some of the macro risks associated with Fed and Treasury programs, bringing a seasoned veteran and team to steer through the uncertainties, fears, and risks. Icahn and his team stand a good chance of navigating through those roiled waters better, and on a different path than most. This expertise could buffer a portfolio from inherent market risk and generate Alpha.
3) Partial ownership in Netflix (NASDAQ:NFLX) and a possible DELL (NASDAQ:DELL) deal, with that deal's proposed dividend and the resulting stub offering, could lead to some quick trading profits.
4) A gain of a large dividend, and increased exposure to the energy sector via CVR Energy (NYSE:CVI), a small $4.8 billion refinery in Sugarland, TX, would add some yield to the bottom line. Additional ownership stakes in the Tropicana Casino, American Railcar (NASDAQ:ARII), and other parts of the portfolio that span many sectors also diversify a portfolio.
5) IEP holds distressed situations and corporate restructuring opportunities among the holdings, a la Graham and Marty Whitman style. Companies in distressed situations like Federal-Mogul (NASDAQ:FDML) [a distressed auto, truck and vehicle parts manufacturer] with potential for an Icahn-led turnaround and better participation in the robust auto cycle. ARII would also be an additional bonus play, benefiting from the strong railroad cycle.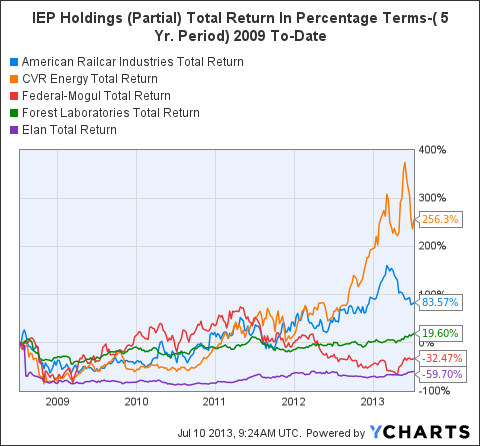 ARII Total Return Price Data by YCharts
IEP Price / Book Value Data by YCharts
6) Valuation in IEP reflects a low price to book ratio (P/B) [1.6x], price to sales (P/S) [0.4x], the price to cash flow (P/CF) [5.1x] basis, price to earnings (forward P/E: 6.2x) and a current P/E (13.1x), and also the earnings per share (NYSEARCA:EPS) [TTM] of $5.54. Despite IEP shares being off of its February 52 week high of $90.75, the units are still a bargain.
Sources-Scottrade and Morningstar
7) A long term investor would gain further holdings and diversification in the IEP holdings and interests in: Forest Laboratories (NYSE:FRX), Chesapeake Energy (NYSE:CHK), Hain Celestial Group (NASDAQ:HAIN), Nuance Communications, Inc. (NASDAQ:NUAN), Tropicana Entertainment Inc. (OTCQB:TPCA) [a 67.9% interest held by IEP], WebMD Health Corporation (NASDAQ:WBMD)[up 26.5% on July 12 and hitting a 52 week high of $34.99]. IEP also holds interests in private corporations, with a 70.8% common stock ownership in Viskase, a food & meat packaging co., PSC Metals, some rental real estate, property development, and resort activities, and 100% of the common stock of WestPoint Home, a home linen and bedroom accessories manufacturer. Another SA article by Ian Wyatt from June 19 reminded me that Transocean (NYSE:RIG) is also a holding.
I made money on a quick 2012 trade in CHK and avoided it prior to any large asset sales, or CEO and Board changes. I avoided RIG when it was on sale due to the combination of the 2010 Gulf of Mexico accident and the resulting fines and litigation, although it did get devalued enough to consider buying.
I had enough oil plays, and even after the Gulf of Mexico devastation, I still worry about litigation dragging on for years. Icahn must see an opportunity in RIG somewhere. I would not even dare to take that risk on my own. An indirect play in British Petroleum (NYSE:BP) and Transocean would provide some potential upside while minimizing the downside risk.
I've worked with Forest Labs before, so I know a bit about the pipeline, model, profitability, and inner-workings there, so that too was worth a look. One interesting aspect factoring in to Forest Labs is the potential Icahn-led buyout deal to purchase Elan Corp., Plc. (NYSE:ELN). Elan has elected to put the company up for sale as a ward to fend off a hostile takeover.
Being an Irish firm, the implicit value is for a buyer to acquire the company in order to benefit from the Emerald Isle's 12.5% corporate tax rate. Forest currently has a favorable 22% tax rate due to already having an Irish subsidiary.
Source-Reuters, via CNBC
Any premium in the stock price can largely be justified by Icahn's reputation and skill. To make valuation even cheaper was the recent offering, announced on June 11 and the dilution that will result by adding more shares to the count. Readers and investors can look at the amount of additional units issued and value of these deals by visiting the IEP website.
Source-IEP corporate website: Investor Relations; Press Releases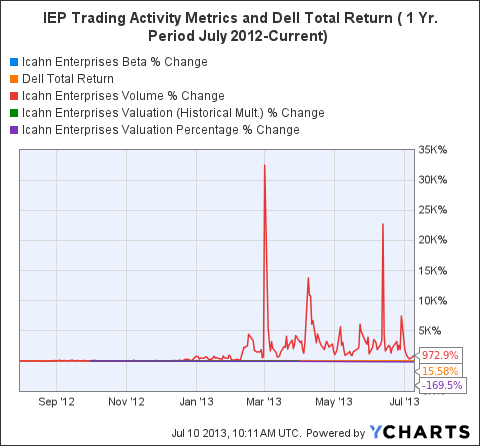 The second unit offering in 2013was roughly the same amount and size offering announced in February. Announcement of the June offering sent the shares from ~$80.00 down to $69-70 during the trading day, although price reactions were delayed following the news release.
Financial and Dilution Issues, and Frequent Rumormongering
Icahn Enterprises plans to use the proceeds from the second offering towards the recapitalization of Federal-Mogul Corporation. IEP had about 109.5 million units outstanding as of May 02, 2013. This news followed widely-circulated rumors regarding insufficient capital and no lending commitment to carry out the ongoing proposed Dell offer. This demonstrates the rumor-mill (with Icahn and IEP as a frequent target) that is causing some of the current volatility in shares. These rumors were both premature and unsubstantiated.
Leave it to Icahn to put any financing issues and rumors to rest quickly. On June 18th, Jefferies committed $1.6B in financing to back up Icahn's proposed tender offer for Dell, and the IEP unit offering went off uneventfully. Jefferies and IEP also secured a $5.2 billion debt package and commitments to back the Dell deal further.
Source-Reuters
The subscription for these new IEP units did not roil the outstanding unit share prices any more than the added volatility in the markets since "Taper Talk" began, or the S & P 500's historic top on May 22nd, and the small and fast correction that occurred soon after. They correlated hand-in-hand. The dilution of IEP, though, may portend another future risk of more unit distribution and dilution. This will be contingent on future potential takeover bids.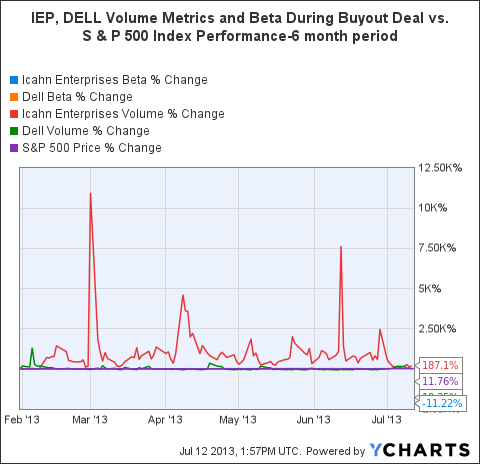 As shown in the accompanying charts, both beta and volume changes in IEP shares are a trader's dream. Since June, prices have fluctuated in a trading range between $69.01 to ~$81.00. Underneath these price gyrations, an opportunity exists for nimble traders to make a potential $1.50-3.00 profit daily. I suggest that with the continuing Dell takeover activity and related rumors and news, as well as the increased share volatility due to the market continuing to re-price yield & interest-rate sensitive instruments, traders can profit on the near daily price swings. Income investors are a bit more limited.
For income and yield-oriented investors, IEP has an implied yield of 6.87%, and has been trading downwards, in-sync with the high-yielding sectors. The underlying holdings' dividends, notably CVR Energy's $5.00 per share dividend, are not passed on entirely to unit holders. Only a $1.00 dividend will pass through to owners via IEP, versus direct ownership in CVR Energy.
Icahn also chose to further dilute IEP units by electing to convert his complete share of the dividends into more units. His personal holdings of IEP are approximately 89-82% of the total shares. Institutional and individual holders can elect to receive either/or a combination of units or dividend.
Aside from my regret from not profiting from a quick trade on June 2nd, I still thought about the investment for the longer term. Now I see a dilution structure that serves Icahn over IEP shareholders, including the two unit offerings this year, further diluting the total units outstanding. Doing this type of self-interested financing and dilution of shares is both of benefit to, and to the detriment of IEP shareholders. However, both events will serve to aid traders who actively trade throughout the day.
Again, the CVI quarterly dividend declared is $6.50 per share. IEP is distributing $1.00 per share per quarter. As of June 10th, the date of the dividend, the IEP closing price was $72.68.
As of the close on Friday, June 28th, IEP opened at $70.52, and traded in the range of $69.48-73.35, closing at 72.77. This has been the basic range since May 22nd, and enough volatility for daily or weekly traders. I state this just to give examples of the trading range I'm seeing, for the benefit of traders. Icahn owns approximately 99 million of IEP units, and approximately 82% of CVR Energy's common stock. Enterprises will receive $462.8 million as payment from CVI. By valuing the CVR dividend by converting the dividend that IEP will receive into IEP units at the IEP closing price (estimated at $72.30), means that the additional units will be an additional 6,367,639 more IEP units. This will also be dilutive. Carl Icahn has stated that he will convert all foreseeable CVI dividends that his holdings personally receive will also be converted into additional IEP units.
Source-IEP website; press releases
Facts Useful to Traders for Liquidity Purposes
IEP has a market capitalization of $8.0B, total shares outstanding of 109.5M, and a share float of 10.25million. As of Q1 2013, its consolidated cash and cash equivalents was $2.4B.
As stated previously, "On June 18, Jefferies committed $1.6B for a Dell offer. Then on July 01 Icahn secured $5.2B in financing for Dell bid. "Icahn and Jefferies & Co. have lined up $5.2 billion in loan commitments backing Icahn's leveraged buyout plans for the computer manufacturer Dell, sources told Thomson Reuters LPC".
Source-Reuters
On June 12, 1.6M units priced at $75.54, with the last trade ending at $79.52. Back on March 01, IEP announced that its public offering of 3.174M shares of depositary units valued in at $63.00 per depositary unit.
Source-IEP website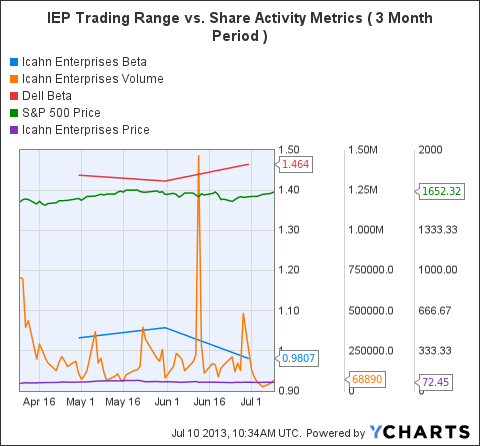 Trading, Income, Long Side, and Short Side Options Exist
Traders: "Would have, could have, and should have"! The trader in me failed to act as the shares rose to $80-plus, and the shares made a "round trip" in one week. The shares' descent was coincidental with the announcement of the second unit share offering. The trader in me, if steadfast, had time to react to that announcement. I could have sold off (IF I had bought it at $69.01, prior to any reaction to the news), and then shorted it the instant that news hit, anticipating the knee-jerk reaction that did play out. It ended the day at $72.67, off an intraday low of $71.78, but down from the previous closing price of ~$80-81.
Short Side Investors: The June 2nd sell-off was not immediate, and allowed ample time to have executed a short order within a .05c limit, before any reaction to the news caused the downward sell-off. Recent IEP price action has been in a daily range of $70.00-72.80/73.30, with slow and smooth fluctuations, versus any explosive "whipsaw" price moves. This price channel can be traded on profitably. "Nothing ventured nothing gained", yet I held back from acting that day.
Shorts and Short Term Traders: "Beta", the measurement of implied volatility quantification of inherent risk and price volatility, can work both for and against an investor. In a trade situation, I hope to see an added degree of volatility, as was the case during the past two months. In uncertain investment climates like this, with "Fed Taper" speculation, bond and currency rate zigzags, and emerging markets turmoil (let alone Europe, China and Japan), IEP's specific situations of individual corporate risk and activist activity, is accelerating price and volume action in IEP. Although the beta in IEP has settled down since June, the shares now trade in a channel pattern between $70.00-$73.50, enabling traders to realize a 5% gain during a day or a one week timeframe.
One decision from Dell and/or the Board of Directors, Silver Lake Partners, Institutional Shareholder Services (NYSE:ISS), Southeastern Asset Management, or other large shareholders could drive share prices down considerably. Remember, right now no news is good news…or bad news, and bad news is good news…or is it just bad news? Also, is this macro news environment in itself good or bad?
Any news can be used against investors in this market, and it can affect both the accused as well as the innocent. Beta measures have IEP units as 1.0, versus the S & P 500 (Source-Scottrade), and 1.44 at Morningstar.
The recent increase in beta makes IEP a favorable trading vehicle presently. The short interest has also risen notably since June 14 (11.47%) as shown on Morningstar's IEP quotes page. This is an increase from the May to June short interest percentage of 49.9%. Currently the percentage of short shares to the float is 0.98%.
Source-Morningstar
There are Many Opportunities to Play and Profit
Currently there are enough moving parts in IEP, between Icahn, Dell, and the markets in general, to make cases for almost investment option-for the longs and shorts, traders, and also for yield-hungry income-oriented investors. I know this sounds "wishy-washy", and lacking in conviction, but I'll posit that a long-term investor, short term holders, active traders, income and dividend growth investors…and yes, even the short-hungry can profit from this conglomerated anomaly that Icahn's constructed.
I intend to trade both sides while there's activist activity and volatility, and I also intend to scale into a long term core holding in IEP within any trading activity. My goal is to hold the shares I buy with the lowest cost-basis and trade the rest. This can be done with specified lot limit buy and sell orders on each transaction, aided by activity in different accounts. Icahn and the rest of us can exact and extract value, playing the short term trends and sentiment interwoven in IEP's diversified holdings.
The only investors that are currently out of any short term possibilities are the momentum investors. Hopefully they profited in the first five months of 2013, after a large sixty-plus % run-up starting late in 2012.
Income investors may prefer the CVR Energy directly, versus indirect ownership through IEP, but even with a direct dividend of .75c/Qtr.(or a 6.33% yield with CVI), IEP yields are currently $1.00 per Qtr. IEP's dividend policy is inconsistent, and it depends on Icahn and his Board of Directors' financial interests.
Whether the management needs to, or will want to dilute shares to allocate capital for takeover or activist agendas, or otherwise shift the balance sheet assets to secure outside financing for other corporate activities, the possibilities remain an additional risk element for any dividend consistency. Long-term and income-oriented investors may want to shy away on this account.
Short practitioners have fuel due to the Dell deal, the hedge fund components of IEP, increased volatility due to interest rate concerns, as well as both company and sector weaknesses to be exploited in any of the industries owned via IEP. The lack of 100% pass through of all dividends that go into IEP also make an attractive feature for shorts, as they would have to cover dividend distributions when holding a short position. The last quarterly earnings report was May 03, and IEP went ex-dividend on May 09, so there's a safe time-cushion that currently negates this factor for shorts, prior to the declaration of the next dividend (if one is actually declared).
Another time point that may generate entry points to short the stock could come from recent events, possibly in response to something Icahn may have said regarding Dell. Icahn was a featured speaker the annual hedge fund and investor event, Delivering Alpha, on July 17. At the same time, Ben Bernanke will appear before the Congressional Finance Committee, and then do the same at the Senate Finance Committee the following day. The Dell shareholders met on Thursday, July 18 to vote on this deal, so that may have some implications, as well.
I started thinking about a short position as well, due to the two unit offerings this year (re; dilution), as well as the reported "lack of financing commitment" rumors for the potential Dell deal that circulated. Share prices did not show any negative price reaction based on that rumor, and the market absorbed the dilution well. After a quick fall the day of the second offering announcement on June 12 (IEP, $71.74, -$7.78, -9.78%), I feel that the normally skeptical investors gave both some healthy respect, and a wide berth of fear against betting against Carl Icahn, and short traders avoided jumping into IEP. Credit was given where credit was due to Mr. Icahn.
Mr. Icahn mints money. A combination of new offerings, additional units in lieu of a massive special dividend from holding CVI in his own unit holdings, and further borrowing in anticipation of more than the $1.6B Jefferies commitment that is already secured-all of these can be food for a compelling short thesis. Source-IEP website
Any resistance from Dell, and/or the Board of Directors, the proxy advisor Institutional Shareholder Services [ISS], and the shareholder vote, (postponed on July 18th, and rescheduled for July 25th), should exert downward pressure on IEP. Other headline risks, such as any Transocean [RIG] litigation, the false rumors of a stake in Peabody Energy (BTU), and the William Ackman/ Herbalife Ltd. (NYSE:HLF) controversy, for instance, can add elements that will "juice up" the short side. With some notoriety, unpopularity, and immense success come the collateral "magnet" for speculation and adverse, ulterior motives that periodically make Mr. Icahn a frequent target of rumors, speculation, and outright lies.
These same reasons, and the company's dynamics, are also good base reasons for long investors. With the broad diversity and hedge fund components in IEP, and Icahn's deft deal-making hand, as well as more activist activity, Icahn's influence and reputation can create activity and dictate his own destiny, generating "alpha-making" capabilities. His overall financial clout and prowess can stimulate share prices in many companies, something hardly anyone else can do to that degree.
Conclusions
There are enough dynamics and cross-currents in IEP for investors with different goals and objectives into taking some sort of position. I have spent time over the last couple of months mulling over the possibilities. Even though I have watched, read, and continue my due diligence, I've sat on the sidelines. Due to a wealth of ideas and limited capital in a retirement account, and my caution during the "Taper Turmoil" and Bernanke's comments roiling the markets, I elected to sit on the sidelines with IEP. This decision was also due to the tax implications of holding limited partnerships (LP) & master limited partnerships (NYSE:MLP) in any tax-deferred account.
Despite this, these trading trends currently remain in IEP, and any position I may initiate will largely depend on news, market breadth, and sentiment, whether long or short. I'll be ready to reverse positions in a heartbeat, in an attempt to play all sides with the tides.
Finally, the most current Dell news deserves mentioning. Michael Dell and Silver Lake Partners made a "Best and Final Bid" of an additional 10c per share, to $13.75. He hopes this dime will buy enough shareholders to make the vote turn in his favor. He also stipulated that the offer comes on a condition that non-votes be counted as "yes" votes, as opposed to the non-voting shares being counted as "no" votes, as was the policy in effect during the last shareholder meeting. SOURCE: MarketWatch
Meanwhile, the vote was postponed yet again today, now set for August 2nd, and the Dell special committee wants no less than $14.00 per share. SOURCE: Bloomberg
Mr. Dell and Mr. Icahn would both be able to engineer a turnaround in Dell, as it is surely needed. What could be done to insulate the company from a secular decline in PC use is debatable, but there's usually a solution. Speculation is that Dell could shift to enterprise sales and service. Who knows? I have faith in both to turn the company around, but I think Icahn is vastly more experienced in this area.
The focus should be on the shareholder vote. I think IEP will win whether they win or lose the takeover. If they lose, IEP can move on to better possibilities. If Icahn wins, he'll turn it around. Dell's share price has been declining since the first vote was postponed. That indicates to me the market's sentiment for Dell. IEP shares will rise on the news that Icahn has lost. This can be a good entry point, prior to the outcome.
There are plenty of ways to play the IEP hand. I've made the case for several investment options: trading (arbitrage), long term, short term, and income plays. Entry points are vital to several, so one needs to optimize these by watching the Dell news and related activity.
A Payoff Lies in Just Thinking about the Investment Process and Due Diligence
I know that the process of thoroughly looking at a potential investment opportunity from varying viewpoints and scenarios in itself has been profitable, much like reading the other investor comments on Seeking Alpha, and considering ideas from other investors' viewpoints. Depth and breadth of knowledge and experience pay future dividends when it exercises critical thinking. I want to emphasize this point. If it serves others to profit in a more immediate or long term way…that is icing on the cake. Gratitude can be expressed by writing a check to me at…
I'm freeing up cash in a non-deferred account to capitalize on a combination of moves in IEP, much like Icahn does with his activism, hedging, and proprietary investments, and also with the help of his unit holders, whether they are willing participants of dilution or not.
Good Luck to All on Seeking Alpha!
Disclaimer: Investment information contained within this article is not intended as investment advice. This content is not published with any intent to sell, promote, market, distribute, or advertise any company or investment products mentioned. These are the writer's opinions, and material facts contained within all the related content may differ materially, is subject to change, and disseminated from multiple sources. Past returns and performance are not indicative of future performance. All investors should do individual and suitable due diligence before making any investment decisions as a result of any facts, information, or opinions in this article.
Disclosure: I am long ELN. I wrote this article myself, and it expresses my own opinions. I am not receiving compensation for it (other than from Seeking Alpha). I have no business relationship with any company whose stock is mentioned in this article.
Additional disclosure: I may initiate long positions in IEP, ARII, FRX, NFLX. I may also initiate short positions in IEP, ELN, and NFLX.