A company's Board of Directors can be very fickle when it comes to cash returns. As investors, the only things we can do are dissect their past track record and pay close attention to hints at future policy. However, in the case of GNC Holdings (NYSE:GNC), whose IPO was just over 2 years ago (April 1st, 2011), the Board of Directors have been handing out cash returns to shareholders at such a staggering rate that the company has already returned far more cash to shareholders than it raised in the IPO.
The company's 2011 IPO was designed to refinance its existing debt/equity structure, which consisted of preferred stock and a senior credit facility. With the 237 million in proceeds from the IPO, the company repurchased all outstanding preferred shares and a good portion of debt liabilities. Afterward, the company began returning cash immediately and has returned 543 million dollars to common shareholders as of Q1 2013. That's almost double what the company raised from its IPO.
(click to enlarge) (data compiled from SEC filings)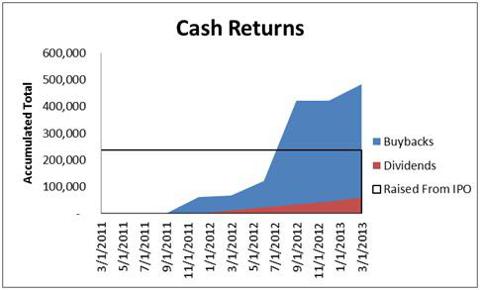 Perhaps even more enticing is the fact that the company's growing dividend is well supported by free cash flow. In 2012, the first year that the company declared common dividends, its free cash flow payout ratio was 0.25 and net income payout ratio was 0.19.
(click to enlarge) (data from Morningstar)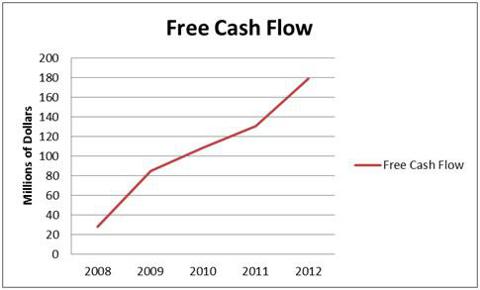 After just one year of dividends, while also spending heaps of cash on share repurchases, the company raised its quarterly dividend by 40% from $0.11 to $0.15. Expect the company to pay the same quarterly dividend for the rest of 2013 and with a similarly high dividend growth rate thereafter.
Why This Case Is Exceptional
At this point, investors in the company's 2011 IPO are raking in pure profit, having recovered all of their principle cash in capital gains that resulted from share repurchases and in dividend payments, all within 2 years.
(click to enlarge) (graph from Google)

Furthermore, there is no indication that this generosity will change. With free cash flow rising at a compound annual growth rate of 59% since 2008, the Board of Directors will have plenty of recurring cash to throw at shareholders over the next few years, even if free cash flow growth begins to plateau. At this historical rate, the company's 40% growth rate in yearly dividends would actually reduce the company's payout ratio.
Total aggregate share buybacks amounting to 483 million dollars over the past 2 years give us a very clear picture of how the BOD would like to use its cash. With shares currently trading at close to triple the company's original IPO price, share buyback funds have much less purchasing power. For this reason, I think there is a great possibility that they will lean toward dividends to distribute their generous cash returns.
Bottom Line: As fairly defensive consumer company, there is very little potential downside in assuming that the company's generous cash returns will to continue to grow at a staggering rate, but massive upside if the assumption becomes reality.
Disclosure: I have no positions in any stocks mentioned, and no plans to initiate any positions within the next 72 hours. I wrote this article myself, and it expresses my own opinions. I am not receiving compensation for it (other than from Seeking Alpha). I have no business relationship with any company whose stock is mentioned in this article.