It's heralded as the largest IPO likely to hit the markets this year. And so far the only people impressed are the Underwriters. Starwood Property Trust (NYSE:STWD) debuted last week at an official offering price of $20.00 per share. The offering is structured as a Real Estate Investment Trust or REIT which has some significant tax advantages and requires the company to distribute the majority of earnings to investors in the form of dividends.
I'm always puzzled as to why investors would get excited about buying such an offering on the IPO transaction. Basically, when one of these securities is launched, there is an inherent dilution to investors which is much more pronounced than in a typical IPO. Essentially, Starwood Property Trust is a brand new company and the capital put up by investors will be used to buy commercial mortgage loans and other commercial real estate debt investments. In actuality, only 94% of the dollars raised in the IPO process will be available for the company to invest in these opportunities. That's because out of every $20 per share that the company raised, $1.20 was paid out as an underwriting discount. So in actuality, Bank of America (NYSE:BAC), Deutsche Bank Securities (NYSE:DB), and Citigroup (NYSE:C) were the primary beneficiaries of this deal.
Looking forward, investors who own STWD are expecting the firm to be able to buy these mortgage assets on the cheap and collect attractive interest payments while waiting for these loans to either mature, or be sold at a gain once the commercial real estate market improves. And even though the stock is down 50 cents from the offering price, this still shows investor confidence, because remember STWD only received $18.80 per share on the offering. And don't forget that there are expenses such as office space, technology, and salaries which must also be paid out of the proceeds.
There will certainly be an opportunity for purchasing mortgage securities on the cheap during times of fear and making huge returns when they perform better than the drastic expectations. But I believe we are pre-mature on that front for commercial real estate. ZachStocks has continued to discuss how rising unemployment and weak consumer spending will characterize our economy for some time to come. As these challenges continue to weigh on individuals and businesses alike, we should see more retail store closings, office leases broken or at a minimum not renewed, and general cost savings in place.
This type of environment could be devastating for all but the most liquid and capitalized commercial mortgages. And the healthy securities will not be the ones with attractive prices which Starwood will want to purchase. So as Starwood puts this new capital to work, management will have to be very careful to chase only the strongest opportunities which may very well hold the lowest returns for investors. And as markets once again become volatile, there is a very strong possibility for STWD to trade at a discount to NAV. Currently the premium to the $18.80 NAV actually implies significant risk.
So with REIT transactions which include hefty underwriting discounts, the smart money usually waits until the IPO hype has worn off before stepping in to buy. Once that froth is taken off, the next move is to determine the long-term profit potential for the REIT. In the case of Starwood, this looks risky. Finally a wise investor will purchase at an appropriate time where he can put his dollars to work at a discount. I believe we will see that opportunity when STWD hits the $14 to $16 range depending on how the market evolves. Shorting the stock is likely to be a tedious and frustrating endeavor. But for those interested in the investment, I would wait for a much more opportunistic period to buy.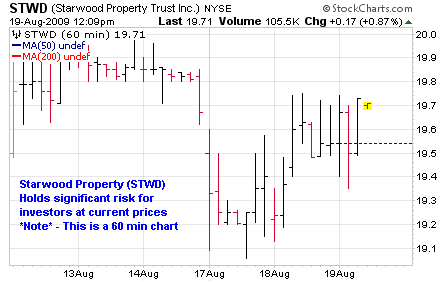 Disclosure: Author does not have a position in STWD.