Commodities look set for another down day today with worldwide economic data continuing to trail expectations. Whether it is China, India or Europe it does not matter as the lack of growth is seriously crimping demand. Look at Europe with its historically low vehicle demand and the effect that has had upon the pricing of certain metals. It has not been pretty, but we are holding out to see what the next two quarters of the year have in store for us before revising any of our numbers.
We are bullish a select few commodities at this time, but much more bullish of equities. Even in bad commodity sectors we see value among companies developing assets and when the market throws you a bone you should take.
Chart of the Day:
We continue to get questions about coffee and whether it is a buy or not. Well it has not broken out of its downtrend yet and we would rather play the names that benefit from lower coffee prices and rotate out of those names as coffee perks up (no pun was intended, but certainly glad that just happened!).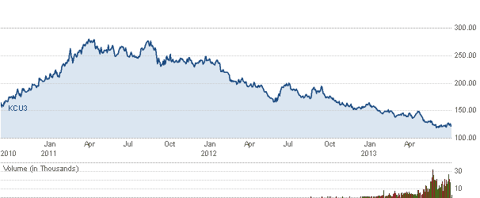 Source: CNBC
Commodity prices this morning are as follows:
Gold: $1313.70/ounce, down by $5.80/ounce
Silver: $19.875/ounce, down by $0.145/ounce
Oil: $106.94/barrel, down by $0.82/barrel
RBOB Gas: $3.055/gallon, down by $0.032/gallon
Natural Gas: $3.706/MMbtu, down by $0.012/MMbtu
Copper: $3.228/pound, down by $0.26/pound
Platinum: $1448.00/ounce, down by $22.90/ounce
Oil & Natural Gas
As readers know we like first movers in the shale plays and look to the actions of the companies themselves to see how bullish we as investors should be. The news this week that Goodrich Petroleum (GDP) was adding to their Tuscaloosa Marine Shale acreage by purchasing roughly 185,000 net acres for $26.7 million (see press release here) caught our attention and adds another talking point for the bulls. The company is buying a 66.7% working interest in 277,000 gross acres which has some production and one partner who has elected to continue in their participation in the acreage by keeping their 33.3% working interest. Current production is low as there were only about 750 barrels of oil produced daily in the March 2013 quarter. The deal more than doubles the company's net acreage in the play and is a seriously bullish move by the company.
Goodrich looks to be ramping up in the TMS and could very well have a 'company maker' on their hands if results from their current drilling program come in strong.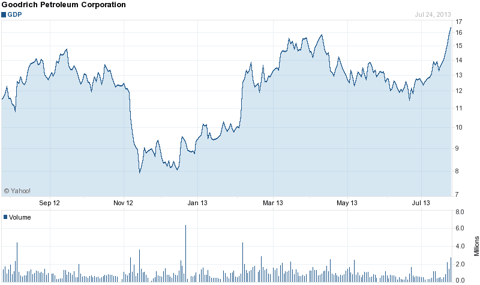 Source: Yahoo Finance
We also figured that we would have to wait until the quarterly results to get more well results, but the company reported early results from the Smith 5-29H-1 well in which they have an 89.5% working interest. The well had flowback of 1,045 BOE using a 24-hour average with the breakdown in that production being 1,000 barrels of oil and 255 Mcf of gas. That appears strong at first glance, although we would note it does not appear to have been over 24-hours, but using the results from a few hours and extrapolating the data. Shares hit a new 52-week high of $16.98/share yesterday before closing at $16.46/share. Volume was nearly three times the average daily volume which is also a good sign (i.e., rising share price on rising volume).
The news is also good for Encana (NYSE:ECA) which is the other large player in the Tuscaloosa Marine Shale, or TMS, that is actively developing acreage. Both companies are plagued by the initial high drilling costs (Goodrich announced that the recently completed Smith well cost $13 million) but that figure always drops as techniques are developed and the play becomes more developed. Encana should also have its own results from the TMS due soon which will help paint a bigger picture of the play for investors.
Also regarding Encana, the company announced along with their quarterly results (press release located here) that Mr. O'Brien is stepping down as the Chairman of the Board and will be succeeded by Clayton Woitas and Mr. O'Brien will remain a member of the company's board. The company has a lot going on as far as repositioning the company's property portfolio and they shall remain busy through the end of the year as they officially exit the Mississippi Lime play in Oklahoma by selling their remaining acreage there and continue to pick up assets which further diversify their production. The company's conference call can be found here.
Equipment
This name has been quite volatile over the past year and with the bears beginning to smell blood, it might get even more so.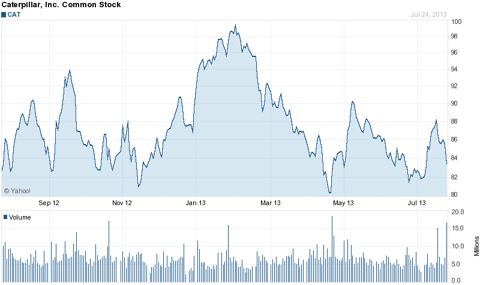 Source: Yahoo Finance
The results from Caterpillar (NYSE:CAT) yesterday were pretty bad. The fact that Jim Chanos essentially called this one a week ago makes it that much worse. We have not had a chance to either listen or read the company's conference call (located here for those who would like to), but have it on the list of items for either tonight or this weekend. Many were already expecting a drop in earnings but the guidance is what grabbed the attention of many and created the extra negative sentiment. When earnings disappoint for the second quarter in a row and the same problems are present, that is a trend. Couple this new trend with the fact that the company supplied revised guidance numbers which were once again lower and this is a recipe for disaster. We all know that China is having some issues right now, with some of those issues being self-inflicted, but Caterpillar threw out a growth figure for GDP (to support their disappointing guidance) which was surprising. We are bullish the world economy right now and many of the industrials seem to agree with us, but Caterpillar seems to be attempting to generalize the rather specific problems which currently plague it. Watch to see if buyers step in to purchase shares as they approach the 52-week low set back in April - we doubt it, but a solid bounce off of that area could signal bullishness for the overall market.
Coal
We were a bit surprised by the move yesterday in Walter Energy (NYSE:WLT). The shares fell over 18%, or $2.56/share, to close the session at $11.53/share on volume of 27.1 million shares after the company announced it had revised its credit facility and cut its dividend in one press release (located here) and gave a preliminary update on operating results for the quarter in another (located here). Now we have discussed that the dividend cut was coming, it was going to be required on the revision for the credit facility. The good news was that they decided to continue to pay out anything (although it was widely expected to be a negligible amount) considering the state of the metallurgical coal market, the global economy and the company's own financial health. We would also point out that SAC Capital has Walter Energy among their larger holdings. Our belief is that any exit would be orderly, but nevertheless with the news surrounding that firm investors need to factor that into their analysis.
We figured that the market was aware of the news which was announced yesterday, but apparently not. Everyone knew it was coming, but just ignored it.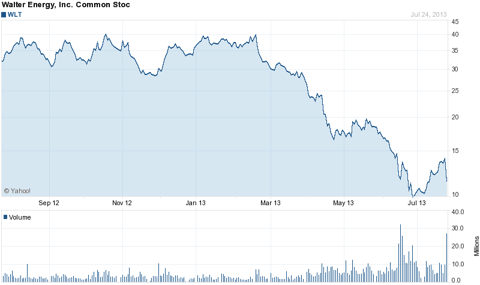 Source: Yahoo Finance
Arch Coal (ACI), one of the coal names we use to measure the risk-on/risk-off trade, saw shares fall over 7% yesterday and closing at $3.90/share on decent volume of 13.4 million shares. The fact that the company is back below $4/share shows investors fleeing from the risk here and after the news with Walter, along with some of the points Peabody's quarterly results brought to light we are understanding. The coal stocks continue to be a sector reserved for traders, not investors.
Disclosure: I have no positions in any stocks mentioned, and no plans to initiate any positions within the next 72 hours. I wrote this article myself, and it expresses my own opinions. I am not receiving compensation for it (other than from Seeking Alpha). I have no business relationship with any company whose stock is mentioned in this article.