Political and regulatory risks are major factors in evaluating stocks in the Health-care Sector, especially health insurers. To the extent these risks are reflected in options implied volatility, the covered combo strategy (long shares, short a straddle or a strangle) may continue attractive for stocks in this industry.
An example - I wrote health insurer Humana (NYSE:HUM) up favorably here on Seeking Alpha on March 23rd, suggesting the purchase of the stock at 24.43 together with the sale of the August 20 /30 strangle at 5.20. I did the trade myself, and at expiration Friday I expect the shares to be called away, earning 10.77 in five months for an out of pocket investment of 19.23, an annualized return of over 100%. High volatility on options made premiums attractive, enabling an investor to buy the stock at a bargain price (forward P/E of 4.1) and receive generous income for bearing the risks involved, at the same time retaining some exposure to upside price developments.
Is this type of trade still attractive?
Volatility – one place to look would be implied volatility. CBOE (Chicago Board of Options Exchange) provides free volatility charts which are an easy way to get a handle on the information.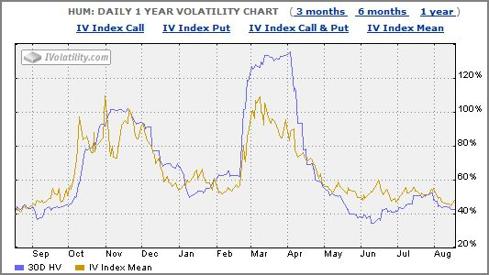 Click to enlarge
Visually, the trade is considerably less attractive than it was back in March, when volatility had spiked into the 100% area, high by any standard. Premiums are not as generous now as they were then.
Political and Regulatory Risk – Regretfully the debate on health-care reform has become polarized and divisive. Recent developments suggest that a public insurance option may not be doable, although the White House continues to favor it. Huge armies of lobbyists have mobilized in Washington, and an unhappy and highly vocal minority has made its presence known at town hall meetings. The drama will resume after the August recess.
Recent history of mid-term elections during Democratic presidential incumbencies has included huge losses in the House for Democrats. Realism suggests that similar losses this time around can be avoided or mitigated by diluting health-care reform. Furthermore, the host of lobbyists can be expected to achieve some part of their agenda, which is to maintain the status quo. Legislation that seriously diminishes the role of health-care insurers in the system will face very strong headwinds.
Regulation will be another matter. CMS awarded a .5% rate increase on Medicare Advantage for 2010: 2011 is unlikely to be more generous. Insurance is highly regulated and an easy target for political grandstanding. Nobody loves insurance companies. As baby boomers age and the pressure on Medicare builds, it is entirely possible that the regulatory environment will become highly politicized. The old game of insurance as political football will be brought to new heights.
This process could unfold over a period of many years – the demographic issues are not going to go away. Margins will come under pressure, and periodic regulatory confrontations should tend to increase uncertainty and volatility. Humana, with a very heavy stake in Medicare Advantage, would suffer proportionately.
Valuation – The difficulty is quantifying the risks that endanger the extremely steady and profitable results Humana has achieved over the past 5 years. Leaving politics out of it, and using historical trends projected forwards, I got at target of 58 in March. The company recently lost the TriCare contract (US military), not a favorable development. They have appealed. On the other hand, large bid situations can lead to thin margins, so maybe it will be OK if someone else gets a turn.
Trading in the area of 35, the stock appears to be discounted about 40% for political/regulatory risk; otherwise it would be a fine defensive position.
Options Strategy
At recent prices, buying the shares for 35.00, and selling the Feb 2010 30/40 strangle for 5.60 (estimated mid bid/ask), the static return is 37% annualized. If the stock is called away at 40, the return is 67% annualized. If assigned at 30, the average cost of the shares will be 29.70, vs. consensus estimates of 5.41 EPS for 2010.
Playing this situation with the covered combo still makes sense to me, although the combination of options premium and share price is nowhere nears as attractive as it was in March. My best guess is that health insurers will survive in their present form, but with increased pressure on margins and bouts of volatility due to political considerations.
Other industry players

Click to enlarge
The table shows that the industry is trading relatively low on common metrics, with volatility sufficient to generate premiums comparable to what I found for Humana. For investors who are comfortable with bearing political/regulatory risk and would like to collect some options premium, covered combos on industry players may be interesting. Positions could be kept small.
Disclosure – Long HUM, short HUM puts and calls. No position in the other companies mentioned.