Shares in the leading crop protection and seeds company Syngenta (NYSE:SYT) closed down 4% Wednesday, following its H1 results publication [pdf]. The graphic below, taken from the corporate presentation document [pdf] published to accompany the results, shows the key concern of the market participants: the contrast at both the EBITDA and EPS levels between reported and underlying. This outweighed the continued excellent pricing power that the company enjoys - there are very few companies announcing a 3% price increase during this earnings season.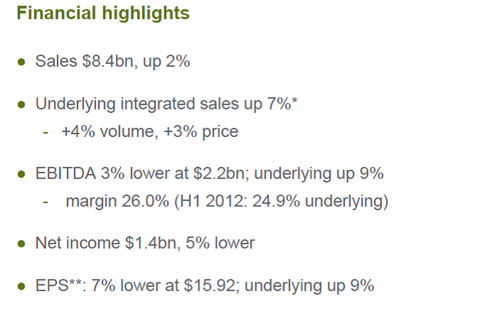 So what is going on? CEO Michael Mack explained it like this on the conference call:
Two one-off elements affected earnings: Firstly, royalty income was lower compared with the very high level in the first half of 2012. Secondly, along with the rest of the industry, we experienced higher seeds production costs as a result of the drought that occurred last summer in the United States. Our Seeds business continues to show good underlying growth
Broadly difficult comparator issues? A more efficient analytical market should have probably discounted this already, but that is not the world we live in. You could also debate how extraordinary these really are. Issues like droughts or flooding impact agricultural markets all the time. Perhaps the reality is that we just need to build such variability into valuation models. These issues clouded better news elsewhere.
Agriculture is a fascinating mega theme. Syngenta included a very good chart illustrating why all portfolios should have exposure, at some level, to this theme. In essence we live in a world of material food requirement increases over the next two or three decades and we need to boost agricultural yields/productivity accordingly. This provides an attractive backdrop for businesses like Syngenta or their peers like Monsanto (NYSE:MON). We should not forget that at the core of these businesses is a biotechnology business driven by scientific work. That also provides a great barrier-to-entry (and also an insight into the strong pricing power already noted).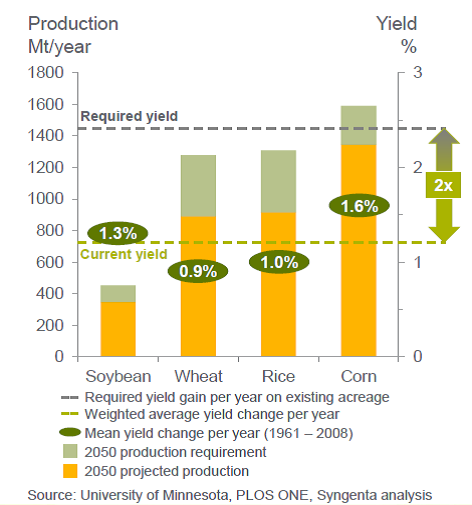 So how does this play out in more practical terms? Well, Syngenta provided a good chart on this too: its 2020 vision. To hit these targets is getting on for a compound annual growth rate of 10%. Again, not too many companies in this earnings season are going to give you that sort of target.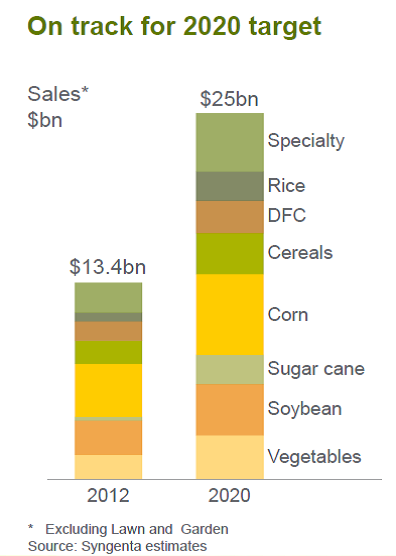 So essentially we have a classic short-term versus longer-term debate. The more I read though about the shorter term, the better even the tactical consideration sounded. For example, here's CEO Mack talking about pricing on the conference call -
prices on a 10-year look back have been, what, 50 to 60 basis points altogether. So pricing of 3% this year is pretty strong, coming on the back of some price increases last year
And here is John Ramsey, the CFO, talking about the important Latin American market for the company:
(the) contribution of second half to earnings continues to increase due, in particular, to the growing importance of Latin America. Prospects for the new Latin American season are positive. Soybean prices are robust, and the depreciation of the real will further increase competitiveness of Latin American growers. (Turning to) Asia Pacific…we are encouraged by the growing momentum in our business in that region, which we think will enable us to further expand our leadership position. Overall, we expect an acceleration in the second half from the underlying sales growth rate of 7% seen in the first half. We also expect growth in underlying earnings for the full year and substantial free cash flow generation.
Acceleration of growth and 'substantial' free cash flow generation sounds pretty good to me. Ramsey also confirmed that tactical share repurchases will occur during the second half of the year.
Scrolling through the numbers one other issue worth noting would be the $1.7bn expansion in working capital. This pretty much used up cash flow from operating activities during H1 2013, so is worth talking about. CEO Mack played down analyst concerns and said that it was all about timing/business expansion:
channel management is something that's really important to us to be sure that we don't get excess product out there. And so the number that you see in H1 of 2013 does reflect the northern season weather. It does reflect our sense of how big Lat Am is going to be
This is something to watch as the change was noticeable. I appreciate there is some seasonality at work here too - the H1 2012 numbers had an almost equivalent expansion.
Inherently though - and if reviewed over a full year - the company is cash flow generating. During H1 2013, I make underlying free cash flow around $1.4bn of which $900m was paid out as a dividend. The annualized dividend today is around 2.6%. I estimate the free cash flow yield pre-dividend at around 5-6% (tough to be more precise than this due to the aforementioned working capital issues). Such metrics are absolutely fine though for a strong theme/structural growth company.
So what valuation today? Well at the current $37bn market cap this puts the company - factoring in some of the optimism regarding H2 above - at just under x10 EV/EBIT. Even with some of the tactical issues noted above, Syngenta should really trade at the structural growth multiple of x12 EV/EBIT, which would still be cheaper than Monsanto, which is accessing similar themes. So that's 20% upside even on just today's numbers, without even trying to factor in the 2020 vision. My instinct is that the company should close this credibility gap following the publication of the next couple of quarterly reports.
In share price terms (and keeping things in U.S. dollars) the share price target should be $95. That makes the share at sub $80 today, a buy.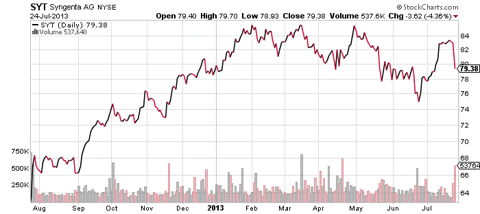 If there was any general market weakness I would augment a position every $5 down i.e. $75, $70, $65 etc.
Disclosure: I have no positions in any stocks mentioned, but may initiate a long position in SYT over the next 72 hours. I wrote this article myself, and it expresses my own opinions. I am not receiving compensation for it. I have no business relationship with any company whose stock is mentioned in this article.