Company: Iroko Pharmaceuticals Inc.
The Offer:
Iroko Pharmaceuticals is offering of 6,500,000 shares of its common stock. The anticipated initial public offering price per share will be between $14 and $17. The underwriters have an option to purchase a maximum of 975,000 additional shares from the company to cover any over-allotment of shares.
The company is an "emerging growth company" under applicable federal securities laws and will be subject to reduced public company reporting requirements.
Valuations after current offering:
Shares outstanding after this offering

31,753,549* shares

Offer price (mid range) per unit

$15.5**

Valuations at $15.5** per unit

$492 million

*without over-allotments.

**The mid-point of the estimated range of the initial public offering price.
Term/things to know:
NSAID: novel nonsteroidal anti-inflammatory drug.
Analgesia: absence of the sense of pain without loss of consciousness.
Summary:
The company is a global, specialty pharmaceutical company focused on the development and commercialization of NSAID, therapeutics for patients with mild to moderate acute and chronic pain. Its pipeline includes six submicron NSAID product candidates, two of which have been submitted to the U.S. Food and Drug Administration, or FDA for marketing approval.
The company currently markets two approved products:
Indocin (indomethacin).
Aldomet (methyldopa).
The company sells these products in the U.S. and seven European countries: Austria, Belgium, France, Italy, Portugal, Spain and Switzerland. In addition, the company receives royalties from rest of world sales generated by its licensee, Aspen Pharmacare Holdings Limited (OTCPK:APNHY) and its subsidiaries, or Aspen.
The following table shows the current stage of clinical development for each of its product candidates:

Click to enlarge
(Click to enlarge)
The following table shows the active ingredient used in its two main products:

Market size:
"The NSAID market is one of the largest therapeutic classes in the U.S. with approximately 106 million prescriptions written annually representing approximately 7 billion units in 2011. The prescribing of NSAIDs has increased by approximately 12% (compound annual growth rate of 2.8%) from 2007 to 2011 primarily driven by an aging population, improvements in recognition and treatment of pain and increasing concerns with the use of other alternatives such as opioids and acetaminophen. This market is largely composed of off-patent products. The largest remaining on-patent branded NSAID, Celebrex® (celecoxib), generated approximately 10 million prescriptions, resulting in U.S. sales of approximately $1.9 billion in 2011. If all 106 million NSAID prescriptions were sold at pricing levels comparable to Celebrex®, we believe that the aggregate U.S. NSAID market value would be approximately $20 billion annually." (Source: IPO prospectus, page 88.)
Note: The above $20 billion market value is based upon the price level of on-patent branded NSAID, market size based on off-patent/generic products' pricing could be significantly smaller, though due to its product exclusivity, the company's products are also expected to get premium pricing.
Safety issues:
The uses of NSAIDs have been associated with serious events in some patients. These serious adverse events include:
Gastrointestinal events such as bleeding and ulcers;
Cardiovascular events such as acute myocardial infarctions, or heart attacks;
Strokes;
Renal events.
As a result, in 2005, the FDA issued a public health advisory titled "Important Changes and Additional Warnings for COX-2 Selective and Non-Selective Non-Steroidal Anti-Inflammatory Drugs (NSAIDs)".
Expected superior safety profile:
SoluMatrix™ Technology Platform:
"The proprietary SoluMatrix™ technology platform uses a dry milling process to reduce the drug particle size in our submicron NSAIDs by at least ten times compared to the particle size in the pre-milled NSAID. The smaller particle size results in increased surface area relative to mass, which increases the dissolution and absorption rates without changing the chemical structures of the drug molecules themselves. Because of this altered absorption profile, our late-stage NSAID product candidates dissolve and are absorbed at a rate that allows for the rapid onset of pain relief at lower doses and lower systemic exposures than comparable commercially available NSAIDs. This technology has been licensed to us by iCeutica for exclusive use in the NSAID market." (Source: IPO prospectus, page 3.)
Formulations using this technology may offer several benefits: reducing the amount of drug required to achieve, accelerating and improving the consistency of, the drug's therapeutic effect. These benefits are expected to improve the safety profile of the company's products over the currently available products.
The products based upon this technology are expected to address, in a much effective way, the recommendation of various authorities (by FDA, EMA and other regulatory bodies' and medical societies') that NSAIDs should be used at their lowest effective dose for the shortest duration of time.
As per the data analysis extracted from 17 published studies based on a review of 108 studies that included over 100,000 subjects cited in systematic reviews indicates that "Zorvolex™ would potentially reduce the number of gastrointestinal adverse events by 18%, cardiovascular adverse events by 7% and acute renal adverse events requiring dialysis by 19%".(Source: IPO prospectus, page 105.)
Marketing Strategy
The marketing strategy of the company is based on the superior safety profile (discussed above) of its products over the most of the already available similar products.
Zorvolex will be positioned as the effective lower dose NSAID that can be used both for short and long periods of time.
Tiforbex will be positioned as the effective lower dose NSAID best used for pain relief related with acute conditions and for shorter periods of time.
Financials:
The sources of revenue:
The company generates revenue through sales of and royalties from Indocin and Aldomet, its approved products.
Income statement analysis: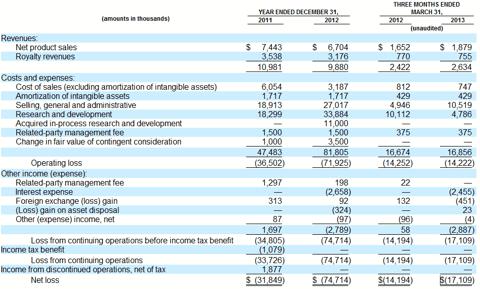 Click to enlarge
(Click to enlarge)
Key points:
1. High research and development expenses (due to the high-focus on product development).
2. High selling, general and administrative expenses (including expenses related to the new/yet to be approved products).
Balance sheet analysis: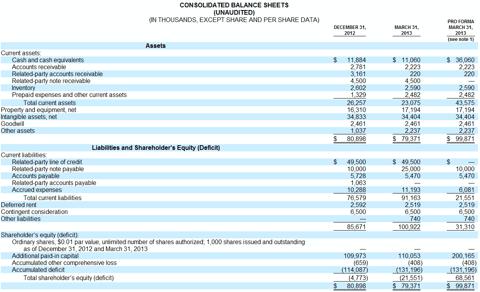 Click to enlarge
(Click to enlarge)
Key points:
1. Huge accumulated deficit due to the past losses.
2. Enough cash (pro forma) to support new products launch.
Key positives: (only if its products got developed according to the plan and approved for commercialization.)
1. Huge addressable market:
The addressable market for the company's products is huge and growing steadily (explained above).
2. Superior products: (Zorvolex and Tiforbex)
During the various phases of clinical trials the company's products either performs better or in line with the existing products.
Product: Zorvolex for acute pain.
Phase II Study: (Zorvolex)
The chart below shows total pain relief (TOTPAR) over 0 to 12 hours. The time for the onset of analgesia (absence of the sense of pain without loss of consciousness) for both Zorvolex doses occurred earlier than that for the active comparator, Celecoxib 400 mg (an on-patent product of Pfizer (NYSE:PFE); probably most expensive NSAID product).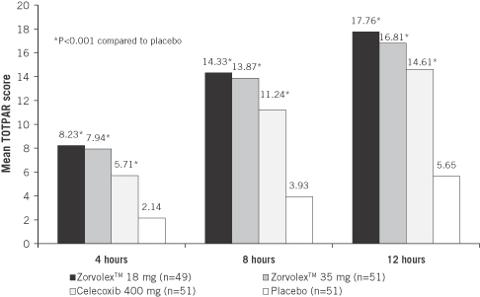 Click to enlarge
(Click to enlarge)
Phase III Study: (Zorvolex)
The chart below shows the comparable statistics (summed pain intensity differences) for the Phase III study. Zorvolex performs equal to or better than Celecoxib.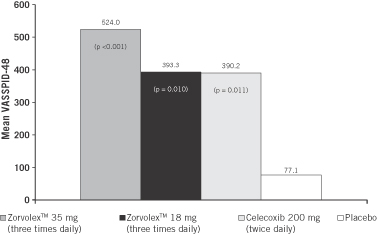 Product: Tiforbex for acute pain.
Phase III study: (Tiforbex)
The chart below shows the comparable statistics (summed pain intensity differences) for the Phase III study. Zorvolex performs equal to or better than Celecoxib.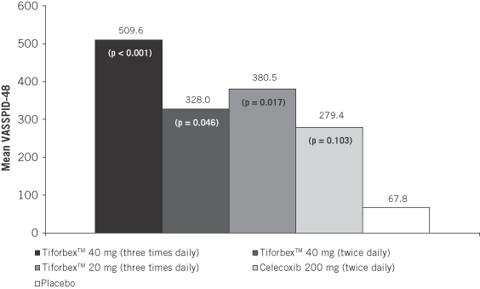 Click to enlarge
(Click to enlarge)
3. Expected superior safety profile (explained above).
4. Existing sales and marketing setup:
Its currently available products, Indocin (a NSAID product) and Aldomet, are marketed globally in 48 countries using a network of distributors, wholesalers and a licensee, Aspen. So, the company should be able to quickly ramp up the sales of new products whenever approved.
5. Long product exclusivity:
The company holds sole and exclusive right and license to develop, make, use, sell and import Tiforbex, Zorvolex, Submicron Naproxen and Submicron Meloxicam. The patents (if granted) for the said products will last up to 2030 in all applicable jurisdictions.
6. Strong pipeline of products:
Beyond the two lead products (Zorvolex and Tiforbex) company also holds a strong pipeline of products for the future growth (discussed above).
Key negatives:
1. If serious adverse side effects are identified during the development of any of its product candidates, the company may need to abandon the development of that product candidate.
2. All of its products are in the development stage and need many regulatory clearances, which can delay the commercialization of its products.
3. Total dependence on NSAID product portfolio (lacks diversification):
All of the company's current products are NSAID products, and are based on same technology.
4. The company is a loss making entity.
5. Not a patent holder:
The company is the sole and exclusive licensee of its products but not a direct holder of patents. All patents belong to iCeutica. For all future NSAID compounds and submicron reformulation the company is liable to pay a one-time option fee of $0.5 million and a scale-up fee of $0.5 million upon the completion of successful scale-up. The company is also obligated to pay, at its election, royalties on each license granted equal to (1) 10% of net product sales or (2) $5.0 million plus 5% of net product sales. The company obtains Submicron Meloxicam, submicron Celecoxib and submicron ibuprofen under such license agreement, in recent times. Tiforbex, Zorvolex and submicron naproxen does not come under such license agreements.
6. Normal business risks like any adverse change in the govt. regulations, etc.
Offer evaluation: (barring any unforeseen facts, and circumstances.)
High risk high growth;
Very reasonably priced.
Until the company gets final approval for at least one of its products the risk remains high. This risk is always associated with almost every R&D based pharmaceutical company.
Conclusion:
Its business is exposed to high regulatory risks (as for almost all pharmaceuticals companies).
Iroko Pharmaceuticals hold all ingredients for a high-growth story: two high-quality products at their last stage of development, long product exclusivity, marketing setup, etc. If one goes by the company's claims and clinical trials data, then its products are more effective and safer than the comparable products. Its products even perform better than Pfizer's one of the most successful product: Celecoxib. The risk reward ratio is very positive as compare to most of the other pharmaceutical product development companies.
Net proceeds:
The company estimates that the proceeds to it from this offering, after deducting estimated underwriting discounts and commissions and offering expenses payable by the company, will be approximately $90.4 million, assuming the shares offered by the company are sold for $15.50 per unit, the midpoint of the price range.
Use of proceeds
The company intends to use the net proceeds of this offering as follows:
About $19.5 million to fund the continued clinical development and regulatory filing of its submicron NSAID programs, including completion of the open label safety trial of Zorvolex for osteoarthritis pain ($0.5 million),

Phase III trials for submicron meloxicam and submicron naproxen ($10.4 million), and further development of its other submicron NSAID product candidates ($8.6 million);

About $27.0 million for certain pre-commercialization activities for Zorvolex and Tiforbex;
About $5.0 million for the launch of Zorvolex;
About $20.0-$25.0 million will be used to fund the initial implementation of its contract sales force;
The remaining proceeds to be used to fund its daily operations, general and administrative expenses, capital expenditures, working capital, etc.
Disclosure: I have no positions in any stocks mentioned, and no plans to initiate any positions within the next 72 hours. I wrote this article myself, and it expresses my own opinions. I am not receiving compensation for it (other than from Seeking Alpha). I have no business relationship with any company whose stock is mentioned in this article.
Disclaimer: Investments in stock markets carry significant risk, stock prices can rise or fall without any understandable or fundamental reasons. Enter only if one has the appetite to take risk and heart to withstand the volatile nature of the stock markets.
This article reflects the personal views of the author about the company and one must read offer prospectus and consult its financial adviser before making any decision.