Investors have dumped bonds and other high-yielding assets in the past few weeks over concerns that interest rates are going to spike even higher. In June, Ben Bernanke discussed the possibility that Federal Reserve policies would be tapered, when, and if, economic conditions warranted. It's been widely reported that this means tapering will begin in September. However, Bernanke and other Fed officials have made dovish comments that seem to suggest the market has a mistaken view on how soon tapering could occur.
First of all, the recent jump in rates appears to be undesirable to Ben Bernanke. I believe his comments in June were meant to throw some cold water on the frothy levels of speculation that have been taking place in the housing market. It's clear that low rates made money so cheap that bidding wars, flippers, and speculation became rampant during the Spring home-buying season. Bernanke's June speech caused a market reaction that took the rates on the 10-Year Treasury Bond from well below 2% to a recent 2.6%. This has already had a significant impact on mortgage loans and auto financing rates. Higher rates are likely to soften both housing and auto sales in the coming weeks and months. In fact, analysts at Goldman Sachs (NYSE:GS) downgraded the entire auto sector to neutral, based on the recent rise in interest rates. An article published on July 19, 2013 states:
The U.S. economy facing rising interest rates for the first time in the better part of a decade should put the brakes on the roaring U.S. auto industry, and led to a downgrade of the sector by Patrick Archambault, Goldman, Sachs & Co. analyst, Tuesday.
Auto sales and real estate have been the primary drivers of economic
growth in the United States, and with those sectors poised for a
slowdown in the coming months, it is now less likely that the Federal
Reserve will be in any kind of position to increase rates or taper by
September (which is just about 5 weeks away). There are other major
reasons why the Federal Reserve is not likely to be tapering in just a
few weeks. For example, unemployment remains at very high levels and
retail sales data that came out in June (which is even before the
recent spike in rates) showed that the U.S. consumer might be tapped
out. This weak report even caused some leading analysts to reduce
estimates for gross domestic product or "GDP." For example, Morgan
Stanley reduced GDP estimates for last quarter from .5% to
just .3%. That implies annualized GDP at less than 2%, which is hardly the condition needed for tighter monetary policy. Furthermore, inflation is not an issue and with Europe still in recession, and China possibly on the brink of a real estate bubble, global conditions also do not warrant tapering by the Federal Reserve. Let's not forget that gas prices have been rising and that too could start to negatively impact the economy in the coming quarters.
Bill Gross is known as the "Bond King" and he manages many investments at Pacific Investment Management Co. which is also known as "PIMCO." A recent Bloomberg article states that Bill Gross doesn't believe the Federal Reserve will tighten monetary policy until 2016, at the earliest. The article goes on to state:
Bernanke told the Senate Banking Committee last week that tighter financial conditions as a result of rising yields over the past two months are 'unwelcome.'
If Bernanke is already describing the recent spike in rates as "unwelcome" then it seems absurd to expect that he will raise rates or taper in just about 5 weeks from now. A tapering in September could cause rates to go even higher which would even be more "unwelcome." Bernanke is more likely to do nothing in September and instead wait to see how the higher rates impact a still weak economy.
The best way for an investor to profit from the recent spike in rates and pullback in high-yielding assets is to consider a number of new buying opportunities. One of the best ways to do this is to buy high yield or junk bonds. First of all, if the economy does improve, the credit quality of junk bonds typically improves. This can even lead to higher credit ratings for junk bond borrowers. Secondly, junk bonds often have maturities of about 5 years or so, and this minimizes duration risk. In addition, even if the 10-Year Treasury Bond is now at 2.6% instead of 2%, does it really matter? I don't think so, because we are still in a low rate environment and investors who leave cash in risk-free assets are getting paid just about nothing. By contrast, if you invest in high yield bonds that can generate up to a 9% yield over the next 5 years, you are likely to have nearly 50% more money. I use 5 years as an example because it is also close to the average duration for many junk bond funds.
So, in summary, I welcome the fact that many investors have been scared out of their high-yield bonds and have rushed into cash that earns nothing because this has created an excellent buying opportunity for the rest of us. In particular, there appears to be a huge buying opportunity in closed-end funds or "CEFs" that now trade at significant and historically high discounts to net asset value or "NAV." Let's take a closer look at a popular junk bond ETF and some compelling values in closed-end funds that specialize in high-yielding bonds:
First, let's look at the chart for SPDR Barclays Capital High Yield Bond (NYSEARCA:JNK):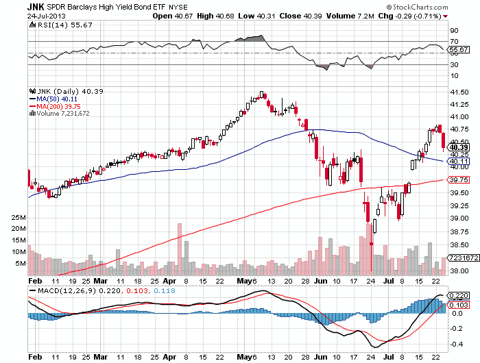 As the chart shows, this ETF declined in the recent bond market pullback. The share price went below both the 50-day (indicated by the red trendline) and 200-day moving average (indicated by the light-brown trendline). However, investors seem to have realized that the selloff went too far, and this popular ETF has quickly rebounded back above those levels.
This ETF has about 631 holdings in its portfolio. This diversification reduces risks for shareholders. The average maturity is about 6.82 years, and the "modified adjusted duration" is about 4.32 years. (This term is used to calculate an option-adjusted measure of a portfolio's sensitivity to changes in interest rates.) This fund pays a monthly dividend of about 20 cents per share which provides a yield of roughly 6.2%. While this certainly beats many other income investments, I am not focused on this ETF as an investment because it has already rebounded and also because there are more attractive high yield bond investments now. Here are some higher-yielding picks to consider buying now:
Western Asset High Yield Defined Opportunity Fund Inc. (NYSE:HYI) is a closed-end fund or "CEF" that primarily invests in high-yield bonds with shorter durations. It has an average maturity of just 4.21, which is less than the junk bond ETF mentioned above. It also provides a much better yield of about 9% which is made possible in part due to the recent sell-off. Investors have pushed these shares down to about $17.70 which is a significant discount to net asset value of $19.27 per share (as of July, 24, 2013). This fund pays a monthly dividend of 13 cents per share and since it is trading for nearly 9% below net asset value, investors who buy now could be poised to see it rebound in the coming days just as it has in the past and just as the junk bond ETF's have already done. I recently wrote more extensively about this CEF as it is one of my favorites, so you can read more about it here. While other investors panic, I sure don't mind being "stuck" with this 9% yielder especially at a significant discount to net asset value. If it rebounds back to net asset value of $19.27 in the next couple weeks as it has in the past, investors will see capital gains of nearly 10% and get paid a generous dividend as well.
Here are some key points for HYI:
Current share price: $17.68
The 52 week range is $16.78 to $19.97
Earnings estimates for 2013: n/a
Earnings estimates for 2014: n/a
Annual dividend: 13 cents per month, which yields about 9%
DWS High Income Trust (NYSE:KHI) is a closed-end fund or "CEF" that invests in high-yield bonds. These shares were trading for about $10.50 in May, but the pullback in the bond market has created a buying opportunity for investors seeking rebound potential along with a high yield. The net asset value or "NAV" is currently just over $10 and historically these shares have traded for a 2.58% premium. However, thanks to the recent pullback, these shares now trade for a significant discount of about 7% to NAV. If this fund rebounds back to the historical premium, investors who buy now could enjoy capital gains of about 10%, plus a very generous dividend that is paid on a monthly basis.
There are a couple of reasons why is this fund likely to rebound fairly soon. In the past year, this fund has only dropped significantly below net asset value once and that was in November. It only took a couple of weeks before the fund rebounded and even ended up trading at premium of about 7%. This fund clearly has a history of rebounding after similar sell-offs. In addition, and the biggest reason why this fund is poised to rebound is because the junk bond market in general has rallied significantly. Closed-end funds are likely to follow the recent rally in junk bonds and rebound in the coming days and weeks as well.
This fund is managed by Deutsche Investment Management Americas Inc. Morningstar has given this fund a 4-star rating overall, as well as for its risk adjusted performance over the past 10 years. This fund has delivered some impressive returns over the years. For example, it has returned 9.26% for the past year, 12.51% annually over the past 3 years, 10.58% annually over the past 5 years, and 9.23% annually over the past 10 years. A $10,000 investment in June of 2003 has grown to about $24,183 as of June 2013. That is much better than the stock market in general over the past 10 years. The potential downside risks for investors in junk bond funds include the risks of a recession (which seems unlikely now), as well as liquidity and duration risks. However, investors who have accepted these potential risks have done very well in recent years as evidenced by the returns mentioned above.
This fund has about 172 holdings which provides diversification and reduces risks for investors. It has an effective duration of about 4.69 years which means that duration risk is relatively limited. The dividend is paid at the rate of 6.35 cents per share on a monthly basis. This provides a yield of about 8.2%, which is considerably more than most other high yield bond investments.
Here are some key points for KHI:
Current share price: $9.35
The 52 week range is $8.80 to $11.02
Earnings estimates for 2013: n/a
Earnings estimates for 2014: n/a
Annual dividend: 6.35 cents per month, which yields about 8.2%
Data sourced from Yahoo Finance. No guarantees or representations are made.
Disclosure: I am long HYI, KHI. I wrote this article myself, and it expresses my own opinions. I am not receiving compensation for it (other than from Seeking Alpha). I have no business relationship with any company whose stock is mentioned in this article.
Disclaimer: Hawkinvest is not a registered investment advisor and does not provide specific investment advice. The information is for informational purposes only. You should always consult a financial advisor.