Earlier today, Vringo (VRNG) announced that the United States Patent and Trademark Office (PTO) confirmed the validity of all of the underlying claims of the '420 patent involved in the ongoing Google (NASDAQ:GOOG) litigation process. This follows an earlier PTO ruling in May in which they upheld their '420 rejection claims after an initial re-examination by Google. Surprisingly, the stock only increased approximately 6% on this news, much lower than I would have expected. I have written extensively on the case; specifically about the seriousness of the PTO interaction in the Vringo v. Google case here and here. Although I usually err on the side of caution and patience when discussing Vringo, but the PTO news today represents a huge roadblock taken away. Here's why.
Background
Vringo successfully brought a patent infringement case under the '420 and '664 patents against Google and a couple of other co-defendants, including AOL and IACI among others, who used the search technology. Google & Co. was found liable back in November of last year: no final judgment has been made by Judge Raymond Jackson, and no ruling on [822], also known as the lump sum v. ongoing royalty rate/royalty base motion (the ruling is potentially in the high hundred million dollar range if a royalty is granted). Google, among other things, is arguing that a $3.5 million dollar lump sum is warranted because of hypothetical licensing negotiations (similar licensing valuation arguments have been repeatedly rejected earlier in the trial in the Motions in Limine). Since the jury (although they have no jurisdiction in determining ongoing damages) ruled in favor of future royalties and this approach has been shot down by Judge Jackson earlier in the trial, I am giving their lump sum argument no weight.
Significance of Patent Ruling
After losing the patent infringement trial, Google filed for an ex parte patent re-examination on all of the alleged infringement claims on each patent. Keep in mind that there just has to be one infringed claim in either patent for Google to still be found liable. In May, the PTO upheld their earlier decision to reject the alleged infringement claims on the '420 patent, and were reviewing alleged infringement claims on the '664 patent as well. Due to the precedent set in Translogic Tech., Inc. v. Hitachi, Ltd, "it appeared to show that a finding of invalidity in the Patent Office can trump a validity finding and an infringement judgment from a district court." Everything was most definitely going Google's way towards potentially being found not liable, therefore not having to pay any money in future royalties. This ruling today nullifies that, and also makes the '664 re-examination futile, as there will be more than one infringed claim on either patent. Although Google has said that they have developed a non-infringing workaround, I do not think that is true. I also believe that if it existed, we would have heard about it by now, as Google alleged that it has been in implementation since May 11, 2013. There has been no proof, either in coding forums or disclosure in SEC documents from Google. So, in closing, today's PTO ruling affirms that Google will pay future royalties.
Royalty Calculation (for people who are unfamiliar)
Estimates of future royalties from both Google and Vringo have been widely analyzed and scrutinized by the investment community. Vringo's argument represents 3.5%-7% of 20.9% of 45.78% of Google's overall ad revenue (added value from '420 and '664 patent out of Google's US revenue calculated off the latest 10-Q). Keep in mind most (>95%) of Google's revenue comes from AdWords, which is the infringing system. Using historical growth rates, it could be construed that Google would see $50B in ad revenues in 2013, $58B in 2014, $67B in 2015, and $19B for the first quarter of 2016, when the patents expire. The base rate of 3.5%, used in my calculation, (likely to be higher due to enhanced future royalties precedents) represents approximately $590MM in royalties, which trumps Vringo's current market capitalization at approximately $250MM. Obviously, the actual rate can be much more.
Now let's take Google's equation. They are arguing for 3.5% of 2.8% of the 45.78% of Google's overall ad revenue (>95% of total like I said earlier). The 2.8% comes from the apparent juror decimal point transposition error, not from any evidence presented in the case. If you do the math, it comes out to a little over $82MM.
Today's Price Action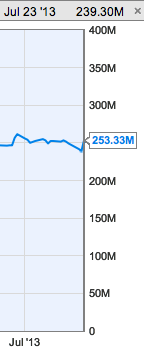 source: YCharts
As you can see at the top, the market capitalization only increased approximately $14MM from yesterday, even with today's significant PTO news. In reality, it should have increased at least 6x due to the ruling (corresponding to a 30%-35% increase in share price). When Judge Jackson makes his ruling, it is likely (almost certain) Google will appeal to the Federal Circuit. During this time (approximately a year to a year and a half from a filing to a ruling), the future royalty remedy will go into escrow. And, potentially, if the Fed Circuit rules in favor of Google and a) finds the '664 / '420 patents invalid, b) finds the '664 / '420 patents non-infringed, or c) nullifies the future royalties, then Vringo is out of luck. However, that is 1-2 years away from possibly happening and I will discount it for this article. What we do know is that from a District Court standpoint, and therefore from an immediate (and tradable) standpoint, it is now a question of when, not if, Vringo will be compensated with future royalties.
Disclosure: I have no positions in any stocks mentioned, but may initiate a long position in VRNG over the next 72 hours. I wrote this article myself, and it expresses my own opinions. I am not receiving compensation for it (other than from Seeking Alpha). I have no business relationship with any company whose stock is mentioned in this article.