People hate when I write these articles, they really do. I get a whole load of comments pointing out that the stock market has always eventually gone higher and that I'm full of crap. These comments continue, every time I pen a piece suggesting that the bull market may end at a certain time - until those commenters turn around and are whacked violently in the face with a bear market -which, by the way, always comes as a "surprise". "How could this have happened", everyone asked after the housing bubble burst. "We never saw it coming!"
But, when it comes down to it, one of the main tricks to investing is knowing when you have a good thing going and knowing when it's time to lock those profits in. Technically, a gain is only a gain on paper until it's realized, and it's my contention that it's time to rope in some of your profits now. People that are offended by articles like these almost certainly lack one thing: perspective. I'm here to try and serve it up, again, today.
I first tried to serve this up in "My Definitive 17 Cardinal Rules for Investing Success", under the "always take profits" section:
Too many people wait fruitlessly for their profits in one position to make them their entire fortune. This almost never happens.

No matter what an investor or analyst tells you, we're all guilty of it. Starting out, with no basis in reality, you wait and wait and wait for stocks already in green to make even bigger percentage gains, never pulling the trigger to sell. When you see enough green to meet your preset caveats, pull the trigger and sell. Make your moves with discipline and precision; the investor with a plan makes money while the meek and unplanned are annihilated.

Emotion plays a part here, as I'll discuss later. People sometimes make the mistake of getting attached emotionally to companies, and, while there's sometimes exception to this rule, disciplined traders are cutthroat -- taking profits wherever, whenever, and however they can.
Admittedly, I've written a couple of articles on this in the last couple of months, all with the same general tone: I really feel like the market is damn close to a sizeable correction, before moving higher again.
On March 12, with the market sitting right around 14,500, I argued that for all intents and purposes, we were at the end of the bull market. Let the record show that I'm not necessarily wrong - yet -as the market has risen a little, but has been condensing steadily since then.
On April 16, I made the argument that the market is on the verge of panic. I still believe this to be true - the volatility and uncertainty during this latest two months has been bubbling under the surface so much so that it's palpable. The VIX trends, as I'll point out later, support my case.
Today, July 25th, I'm sticking to my guns and contesting that there has never been a better time to take your profitable positions from unrealized to realized than right now.
It's been a hell of a last few years for those that have bought and held:
Just this morning, Mark Hulbert at Barron's started to echo the sentiment that it could be time to lock in profits. He put out a piece called "3 Signs the Market is Near a Top". An excerpt states the following:
With that thought in mind, I examined all 35 bull market tops since the 1920s. I searched for patterns in the performance of not only the market itself, but of various internal market factors, such as earnings and price/earnings ratios. I was also interested in how small company stocks tend to perform in the months leading up to a top, both in their own right and relative to large-cap stocks. Likewise, I searched for patterns in the relative returns of growth and value stocks.
He found that the market rises steeply before it dies, riskiest stocks shine before the market tops and that P/E ratios are an indicator of a market's top. It's a great read, I highly recommend going through the entire article.
Of late, we've gotten a couple of little nods in the bearish direction, even in the height of an earnings season that's generally been producing bullish results. We saw tech giants Google (NASDAQ:GOOG) and Microsoft (NASDAQ:MSFT) miss earnings, Apple (NASDAQ:AAPL) engineer a decent earnings report, and banks allude to potential negative impact from interest rates in coming quarters.
On top of that, Bernanke's bull market is the 3rd strongest bull market in modern history. Bears contest the same thing that I've pointed out in previous articles; that this market is fueled solely by Bernanke at this point. When the Fed hits the brakes, it could get really ugly. Forbes reported on this:
Remember, these records are mostly set in the rise from a very desperate decline in stock prices that frightens all but the most solid investors who have seen these climbs from the cellar many times before. Think Warren Buffett who penned a piece for Forbes in the early 1980s rubbing his hands in glee at the bargains all about. That is most decidedly not the situation today. The matter rests with Ben Bernanke and his strong suggestion he might even increase bond purchases beyond the current $85 billion a month if the pace of economic growth recedes. That would be the opposite of tapering. It would QEB, quantitative easing a la Bernanke. And my guess is there's a 50/50 chance of no tapering until 2014 at the earliest. Then, it will be up to Bernanke's successor, which will raise the hackles of every commentator worth his computer. How long do you believe QE at $85 billion a month will continue?
CBS Marketwatch yesterday compared the bull market to 'The Walking Dead', pointing out some interesting data that the current market seems to ignore as it mindlessly wanders upwards; seemingly without any major catalysts of recent note (aside from the Fed):
Kleintop pointed to data from the Investment Company Institute showing that investors have been net sellers in stocks four out of the five past months; and from the American Association of Individual Investors showing bullish sentiment has averaged 38% this year, below the 10-year average of 41%. Also, company insiders have been net sellers of stocks recently, he noted.
Aside from the analysts, what's the VIX been telling us?
The VIX (Chicago Board Options Exchange Market Volatility Index),commonly referred to as the fear index, shows the implied volatility of index options traded. The VIX represents the market's expectation of volatility in the coming thirty day period.
The VIX is really a rather cool instrument to get a feel for how the market feels. If the VIX is riding under the 20's, generally the market sentiment is good and well. Should the VIX move up over the 30's, market sentiment usually drifts toward unease and fear.
In a bull market, like we're currently in, the VIX generally rides nice and low. In a bear market, or the midst of global unease of some sort, the VIX can take breakneck spikes upward.
As I noted in a previous article:
In this day and age, there are no shortage of crazy things that happen that can spike the VIX: terrorism, psychotic artificial intelligence trading algorithms gone wrong, devaluation of global currency, random market halts, or (even worse) Kim Jong Un attending a Bulls playoff game with Dennis Rodman.
The VIX has been showing some interesting arguments for volatility on its way, if you've been paying attention.
For the technical traders, this chart shows that The VIX appears to have broken through a multi-year downtrend last month, when, catalyzed by Bernanke's comments and the Nikkei trading wild swings, it rose over 20 for the first time this year.
Ideally, I'd be stepping to sidelines and bringing a majority of my profits to a cash position and putting that into something that you can roll over. It's my contention that the market is a kettle, about to boil over and correct. We cannot continue down the $85 billion/month, Bernanke fueled bull road without eventually paying a little bit.
If you're hell bent on keeping your money in instruments, instead of cash, I am still suggesting a couple of basics that you can do, like shorting the market selectively and buying precious metals.
You can short the market by:
Buying puts against long equity positions you want to hold
Writing calls against long equity positions you want to hold
Sell short a competitor to your long positions as a sector hedge [i.e. If you're long AT&T (NYSE:T), short Verizon (NYSE:VZ)]
In the face of a horrible year to be in the precious metals market (with metal companies like Metallico (NYSEMKT:MEA) getting killed so badly they're trading below book value), I've been bullish the whole time. Silver and gold are on sale, if you ask me.
I reaffirmed this bullish sentiment on metals, especially silver on July 1st of this year:
Dollar cost averaging a position in silver bullion or one of its corresponding equities is a savvy move as you're assured the price will never suffer from 100% loss and, over time, will continue to rise.

I'm betting that over the coming days we're privy to a continued silver rally off its lows in the $17's and that we find out certain analysts have covered positions as they shift gears to neutral or upgrades.
I remain bullish and long on both precious metals, especially silver.
Here, you can see how both metals have fared over the past year: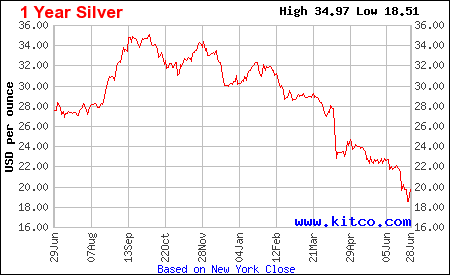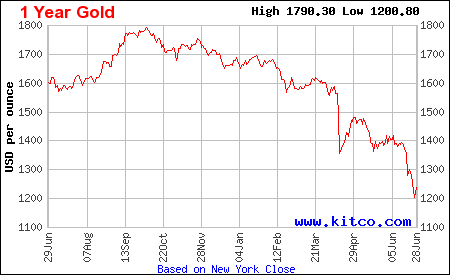 In terms of precious metals, my love affair for them rages on - more so with silver than gold nowadays.
I'd buy precious metals by:
Physically buy gold or silver bullion and holding it
At the least, I hope this article gives investors some perspective and pause - and at the very least serves as a reminder that all bull markets have ended at some point. I'd contend that taking gains produced over the last few years (especially because they're likely to be 20%+) is a safe, conservative way to make sure that you'll have the bankroll to take the next macro step forward building wealth when the market shifts gears.
Best of luck to all investors.
Disclosure: I have no positions in any stocks mentioned, and no plans to initiate any positions within the next 72 hours. I wrote this article myself, and it expresses my own opinions. I am not receiving compensation for it (other than from Seeking Alpha). I have no business relationship with any company whose stock is mentioned in this article.