For the last two weeks, the yen has been range bound, dancing on both sides of par (1.0000). As of this post, futures are consolidating around all the major MAs I use in my FX trading, as seen on the daily chart below. My interpretation is we are taking a breath before jumping higher in the coming weeks. As seen on the chart below, we have a descending triangle pattern and before September futures reach the apex, I expect prices to move out of the range that has contained prices for several months. At a minimum, the set-up should allow a trade to the top of the range near $1.0350.
One consideration and potential risk factor that will likely have an impact on pricing in the immediate futures is the CPI number out this evening just after the Asian open. When most of us are sleeping, CPI out of Japan will be issued and could get this trade moving. In fact, I suspect this number will get futures moving 1%-plus in either direction. The previous figure was -0.3% and the consensus for July CPI is 0.1%
For two perspectives, see a daily and weekly chart below:
Daily Japanese Yen: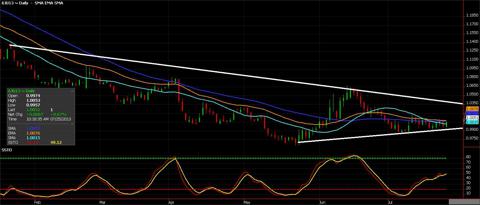 Weekly Japanese Yen: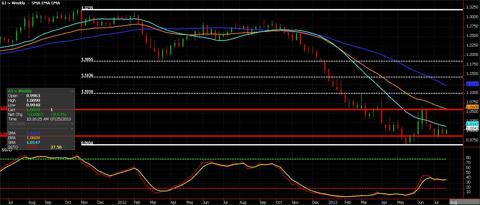 Okay, as most followers are aware, I do a lot of technical analysis, but let's incorporate a seasonal factor into the mix. Let me be crystal clear -- past performance is not indicative of future results. There are, however, recognizable patterns looking at price action year over year. Fourteen out of the last 15 years, buying September yen futures on 7/27 and holding until 9/7 has been a profitable transaction. The average profit has been $2,510, or just better than 2 cents. I subscribe to a service that provides trade ideas as such on a monthly basis and though each trade needs to be evaluated before buying/selling, I generally get a few solid ideas each month. I sometimes do not take trades because maybe the set-up fundamentally or technically is conflicting. Every once in awhile, the stars align. Even with a track record, use discipline and cut losses if the trade goes awry. Also recognize we are 2 days early, so this could prove to be good or bad… time will tell. In previous years, this trade did move over $3,000 against investors, so if you're not willing to take heat, look elsewhere.
Risk Disclaimer: This information is not to be construed as an offer to sell or a solicitation or an offer to buy the financial products herein named. Trading futures, options, and Forex involves substantial risk of loss and is not suitable for all investors. Past performance is not necessarily indicative of future results. This report contains research as defined in applicable CFTC regulations. Both RCM Asset Management and the research analyst may have positions in the financial products discussed.
Disclosure: I have no positions in any stocks mentioned, and no plans to initiate any positions within the next 72 hours. I wrote this article myself, and it expresses my own opinions. I am not receiving compensation for it. I have no business relationship with any company whose stock is mentioned in this article.