Whiting Petroleum (NYSE:WLL) reported Q2 2013 earnings after the market close on Wednesday. In an all too familiar pattern for the company, production was up nicely but net income was down. Although results beat analysts estimates by $0.12/share and the stock could move up in the short term, it is time to sell WLL and move into ConocoPhillips (NYSE:COP).
Production And Realized Prices Up, Net Income Down
Whiting announced Q2 production was 93,380 bpd, up 16% from the prior year quarter and +4.8% from Q1. Realized prices were $75.88/boe, up 15% from the prior year quarter. Despite the nice growth in production and realized prices, net income was down -11% to $1.14/share vs. $1.27 in 2012.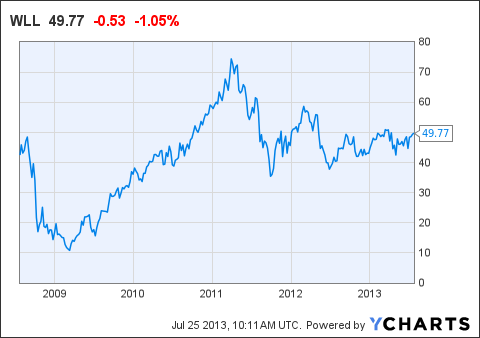 I initiated a position in WLL back in the second half of 2011 on the heels of StatOil's (NYSE:STO) takeover of Brigham Exploration. I looked for a company with good Bakken acreage, that was fairly valued, and growing production nicely. Whiting jumped out as a screaming buy. But it has been a very frustrating stock to own. Production has climbed just as expected, but management has had problems translating production growth into bottom line income growth. There always seems to be a problem -- it's hedging, or its the ridiculous Production Participation Plan ("PPP"), or flooding -- always something. Seriously, what oil company grows production 16% year-over-year with realized prices up 15% and posts lower earnings?
Let's put things in perspective. According to WLL's 2012 annual report, production has gone from 17.5 million boe in 2008 to 30.2 million boe in 2012 (+73%). Yet net income per share has gone from $2.97/share to $3.48/share over the same period, up only 17%. As a result, the stock has been an underperformer (see chart above).
It's time to sell Whiting and move into COP, the #2 producer in the Eagle Ford shale. The Eagle Ford has much better economics than the Bakken. Of course, the Eagle Ford is only part of COP's excellent international portfolio, but it is has been a very important piece of its strategic plan. See my article, "ConocoPhillips: Cashing In On The Eagle Ford Shale". COP pays a hefty 4.2% dividend and the company is coming to the end of its multi-year strategic realignment. Margins are improving, production will bottom this year, and COP expects net production to rise by 400,000 boe/day by 2017: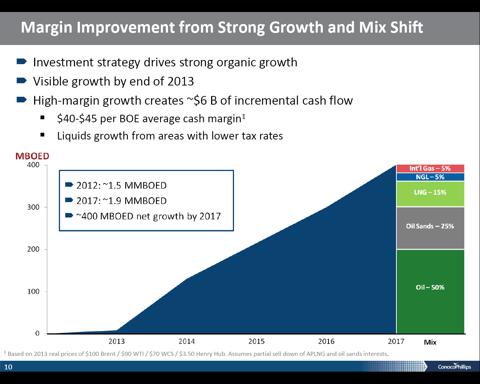 Click to enlarge
Summary And Conclusions
Investors make mistakes. One of mine was choosing to buy Bakken producer Whiting Petroleum instead of EOG Resources (NYSE:EOG) back in 2011. It's been dead money. I kept holding the stock because production kept rising, just as I had expected. But drill bit results didn't fall to the bottom line and I didn't like management's incentive plan: a "Production Participation Plan," which rewards employees for production gains regardless of net income or share price appreciation. The plan is simply not aligned with the interests of ordinary shareholders. I should have sold the stock much earlier. It's time to acknowledge the mistake and move the money to a company that pays a nice dividend and is better positioned to grow net income: ConocoPhillips.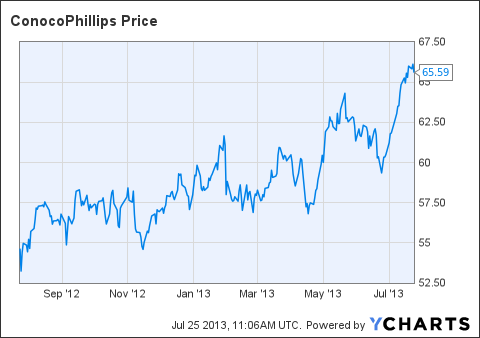 Disclosure: I am long COP, STO, WLL. I wrote this article myself, and it expresses my own opinions. I am not receiving compensation for it (other than from Seeking Alpha). I have no business relationship with any company whose stock is mentioned in this article.
Additional disclosure: I am an engineer, not a CFA. The information and data presented in this article was obtained from company documents and/or sources believed to be reliable, but has not been independently verified. Therefore, the author cannot guarantee its accuracy. Please do your own research and contact a qualified investment advisor. I am not responsible for investment decisions you make. Thanks for reading and good luck!