By David Urani
On Thursday we got a few recreational vehicle quarterly results all at the same time, and it's looking like times are good for people who like to have fun in the sun burning rubber, popping wheelies, and hopping waves. Motorcycle icon Harley-Davidson (NYSE:HOG), ATV and snowmobile expert Arctic Cat (NASDAQ:ACAT), and powerboat maker Brunswick (NYSE:BC) are each having a good day on earnings announcements, although each has a little bit of a different story.
HOG
Harley's quarter was somewhat of a global growth story, although the U.S. was good too. The company beat by $0.03 on the bottom line while revenue of $1.63 billion was in line with consensus. Overall revenue growth was +4% year over year, which is a decent result on the surface. But you can see where the company is making nice inroads into the global markets, particularly Latin America and Asia.
In terms of retail motorcycle units sold, sales were up 4.4% in the U.S. while being up 12.3% in Asia and 39.2% in Latin America. In 2009 the company made a goal of opening more than 100 new stores worldwide by the end of 2014 and they have already achieved that. There was an interesting result in Europe, too, where sales were only up slightly; however, industry data suggested that overall heavyweight motorcycle registrations were down 9% in Europe in the first half of this year.
Gross margin was also up to 36.9% from 35.9% year over year. Meanwhile, the company will introduce a new 2014 vehicle lineup next month.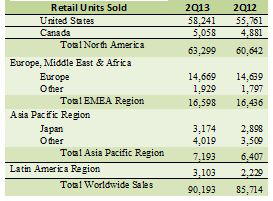 ACAT
With ACAT, the big story has been a revamped product line along with a better cost structure. The company beat by a whole $0.20 on the bottom line for their fiscal Q1, with revenues up 8.5% year over year to $120.8 million, which was 4% below consensus. Gross margin was all the way up to 24.1% from 20.2%, as a better product mix boosted the bottom line. Management is now guiding for 12%-14% revenue growth for the year.
One trend ACAT has been able to capitalize on is the side-by-side market, which is the fastest growing segment in the industry. Their Wildcat side-by-side product line seems to be a big hit, and was the driver of the 5% growth in all-terrain vehicle sales. Meanwhile, snowmobile revenue was up 26%, as the company had 10 new products available, including its first in-house engine and an expanding partnership with Yamaha.

BC
For Brunswick, the story is a struggling Powerboat industry coming back from the dead. BC beat by $0.16 on the bottom line for its Q2, with revenues up 4.2% to $1.1 billion, in line with consensus. Management also gave guidance for EPS to be $2.55-$2.65, which is better than the $2.51 consensus estimate.
As of 2012, U.S. powerboat sales (75% of the company's revenue is from boats, mainly engines) were still less than half of what they were at the peak and are still just barely recovering from the recession; that means there is room for strong percentage gains off the lows. Engine sales were up 7%, and while boats were up just 1% it achieved 2% growth internationally while it had been down in Q1. Overall, boat sales are going to continue to be uneven as the company intentionally continues to wind down some business, but engines continue to recover well.