Earnings from operation in Hewlett Packard's (NYSE:HPQ) Services division grew 227% to $1,289 million from $567 million in the year ago period driven by the EDS (NASDAQ:EDS) acquisition completed on August 26, 2008. The year ago quarter ended July 31, 2008 and therefore EDS's results from that period are not included.
Exclude the EDS numbers for an apples to apples comparison and it reveals continuing underlying weakness in enterprise storage and servers, desktops, laptops, printers, and printer supplies. Revenue from those segments were off 19% and operating income 22% from the year ago period.
CEO Mark Hurd said that "business is stabilizing" and I do see his point in that business does not seem to have gotten any worse in the last 6 months. That is the current quarter seems comparable to the Feb-Apr and Nov-Jan quarters. In fairness to John Chambers and Cisco, the same thing can be said about Cisco's (NASDAQ:CSCO) business. Still, the level at which business has stabilized is far below pre-Lehman levels.
Click to enlarge: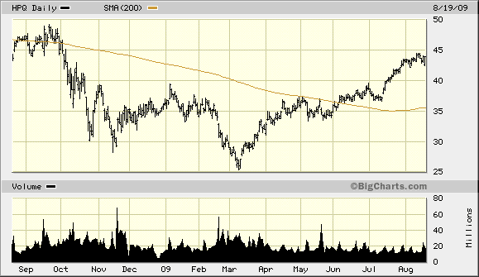 Disclosure: Top Gun has no position in Hewlett Packard shares.