Trade between China and Latin America is not new. From the 1500s until the 1800s, Asian commerce was transacted in silver "columnarios" minted in Latin America and transported to China from Acapulco via Manila. And in 20th century Shanghai, the unit of currency was a silver coin known as the "Mex Dollar."
But for the past 50 years, Latin America's commercial relationship with China has been virtually non-existent. This is changing very rapidly and the recent speed and scale of trade over the past several years has caught analysts by surprise. In 2004, President Hu Jintao declared that he believed Sino-Latin bilateral trade would grow to US$100 billion by 2010.
That record was broken two years ago. Trade between the two regions rose from $8.4 billion in 1995 to $140 billion last year. Today, China is Latin America's second largest trading partner, Brazil and Chile's largest export market, and the second largest market for Peru.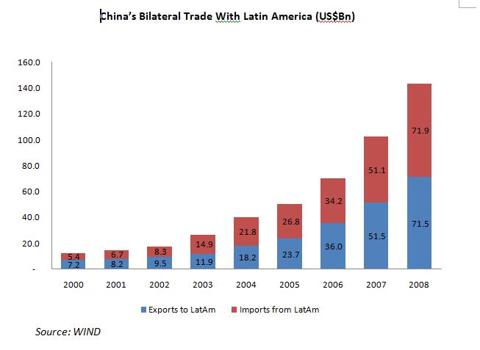 In the past two years alone, China has invested billions in Peru's Toromocho copper mining project, became the largest foreign investor in the Ecuadorian oil industry, created a multi-billion petroleum investment fund with Venezuela, and spent US$10 billion to finance Petrobras' (NYSE:PBR) offshore oil projects.
Last week, China National Petroleum Corporation and CNOOC (NYSE:CEO) bid roughly $17 billion for a stake in YPF, Argentina's largest oil company owned by Spain's Repsol.
To date, Chinese investment in Latin America has been overwhelmingly concentrated in the extractive industries, principally mining and oil. Latin America has an abundance of resources, including close to 10% of the world's crude oil, 50% of its soybean production and 47% of its copper.
According to the IMF, China's current nominal GDP per capita stands at around US$2,500. If this figure were to double (i.e. hit South Africa or Panama levels), Chinese consumption of minerals would increase astronomically. Iron ore could increase by 5x; oil consumption could increase as much as 8x; and copper 9x. The math is straightforward.
With increased spending power, Chinese consumers will acquire more automobiles, electronic goods, home appliances and other products.
Meanwhile, the Chinese government will continue to build schools, roads and power plants. These tectonic socioeconomic changes require resources that China does not have in great abundance.
Clem Sunter, a noted South African futurologist, and Head of the Anglo American Chairman's Fund, puts it this way:
The game is simple but unprecedented. Whereas Britain put 30 to 40 million people through an industrial revolution in the mid-to-late 19th Century and had the colonies to draw its raw materials from; whereas America put 150 million people through an industrial revolution at the turn of the 20th Century and had its own raw materials; China is putting 1.3 billion people through an industrial revolution with neither colonies nor substantial indigenous resources besides coal.