With a title like this, you might think that Spartan Motors, Inc. (NASDAQ:SPAR) is losing money...bleeding red ink, if you will. That is not the case at all. What was bleeding was Spartan Motor's market cap as the stock plunged. The company was trading at a high of $11.06 in mid-July and their stock has plummeted to close at $5.47 on August 18th.
Spartan Motors, Inc. designs, engineers and manufactures custom chassis and vehicles for the recreational vehicle, fire truck, ambulance, emergency-rescue, military and specialty vehicle markets.
You can see from the chart just how precipitous the decline was: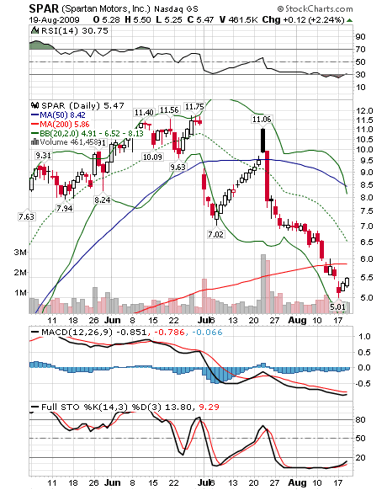 The stock has a terrible response to earnings that were released om July 23rd. I am reminded of the old axiom that certainly applied in Spartan's case: "buy on rumour, sell on news". The run up to earnings was impressive and the decline even more so.
Was the news that bad? It honestly doesn't matter. The market's reaction was telling. Now, I believe, is the time to take another look at Spartan Motors. From a chart perspective, the massive sell-off is over and volume has stabilized. From a stochastics standpoint, the stock is oversold and starting to bounce off the bottom. While not shown here, the stock is under accumulation again and the RSI indicates that the buyers are coming back into the stock.
While it is too early to tell, the MACD has made a slight upturn and is approaching the signal line. Much has to happen before anyone could call this stock bullish, but the signs are pointing that way.
What about Spartan Motors itself? I happen to be impressed with what they have done to reposition themselves in light of the current economic downturn. What does a company do when one of its main lines of business (Recreational Vehicle Chassis) declines 92.3% year over year? It focuses on other lines that are profitable and growing....emergency vehicles, special chassis and military vehicles.
The company has improved margins and remained profitable despite a near total meltdown in one of its key markets. Spartan Motors still posted a quarterly profit in Q2 of .$5.4 million, roughly half of the profit for the same quarter last year but a profit nonetheless.
The balance sheet shows good strength: Inventories are holding steady, liquidity and debt coverage is good and long-term debt is manageable.
In the July 23rd earnings release, John Sztykiel, president and CEO of Spartan Motors said
This was a good quarter, particularly in light of the short-term challenges facing our markets. Likewise, we're equally pleased with the consistent performance through the first six months of the year and believe our proven ability to flex the business and align costs with current business trends bode well for the future.
I couldn't agree more. I believe that Spartan Motors is worth another look.
Disclosure: No positions