The market seems to be treating the slump in Chinese equities as a healthy correction which is almost officially sanctioned, rather than symptomatic of something more sinister afoot. That remains the case given the price action over the past 24 hours. The S&P 500 was back in the black by yesterday afternoon, led by a rally in energy stocks after an unexpected drawdown in US inventories (albeit one that leaves inventories well above year earlier levels). The move seems counter intuitive and unsustainable given the weakness in US consumer spending, Chinese jitters. If hurricane season proves a non event it will be reversed. In typical August seesaw style those stocks which suffered yesterday i.e. oil producers and miners are the ones in vogue this European morning.
Given the absence of any particular news (there was some idle screen chatter regarding a further fiscal stimulus package) this suggests a market that remains fundamentally bullish. I think that's being reinforced by increasing confidence that in most cases central banks will not be quickly reversing course. Note that consumer cyclicals rose close to 1% despite what should have been seen as a consumption-sapping rise in crude. The only economic report of note was the MBA's mortgage applications index. New purchase applications did nudge higher for a fifth consecutive week.
Today's Market Moving Stories
In the UK short dated interest rates rallied again as the BoE minutes again reinforced the Bank's dovish stance, dampening the market's enthusiasm for pricing a rate hike in the first half of this year. Of particular note, three of the MPC members – including Governor King – voted to expand the Bank's QE programme by £75bn i.e. £25bn more than the decision that was reached. It will be interesting to see whether this dovishness is maintained next month in the face of this week's higher than expected inflation report and some further signs of improvement in the factory sector.
The August CBI survey of the UK manufacturing sector recorded a rise in the balance measuring output expectations to -5% from -14% the previous month, the highest reading since the middle of 2008. Encouraging was the further wind-down in stocks (which is supportive of future growth in output) and the rise in the balance measuring output prices (i.e. prices are not falling as sharply as they were). However, somewhat curiously, the recovery in new orders is turning out to be painfully slow – the orders balance was -54%, not much improved from the trough of -59%.
Now even the Federal Deposit Insurance Scheme (FDIC) needs a bailout in order to beef up its reserves after the massive drain that 77 bank failures this year has caused. The Independent Community Bankers of America noted that the failure of Colonial BancGroup drained $2.8bn from the FDIC's fund on its own. Remember that the FDIC is already imposing a special fee in order to push its reserves up, but the warning is that even the emergency fund has been depleted far faster than expected. The FDIC reported that at the end of the first quarter its fund was down to $13bn and the fund is now likely less than $10bn. It has a credit line available with the Treasury if needed.
Meanwhile, the FDIC is expected to vote on August 26th on how to deal with private equity funds that want to buy failed banks. Its initial proposal was that private funds would need to run capital ratios as much as three times those for existing banks and double that for start-up banks. The fund industry objected. The FDIC needs to walk a fine line here. As mentioned above its funds are so depleted that it needs to offload failed banks from its books, yet it does not want to walk them into the same capital problems that they failed for in the first place. The experience of Cerberus with Chysler is sure to be playing on the FDIC's mind when it considers the sale of banks to private equity.
Sticking with the FDIC, it is also expected to rule on August 26th on the way in which it will deal with the Jan 1st 2010 accounting rule change that will require banks to bring off balance sheet assets back onto their main statements. Recall that FDIC chair Sheila Bair commented earlier in the month that this shift gives her heartburn just to think about it.
Bank of Japan member Mizuno was no where near as hawkish in his comments today as usual. Although there were warnings about the need to consider exit plans and that unconventional policy could not be maintained forever, most of his observations were on the economic risks still faced. He said it was extremely uncertain that Japan's recent economic improvement could be sustained and in fact said there was a good chance output and exports could slow this autumn. In particular he noted that up to now economic recovery had been based almost entirely on official assistance measures – take those away and there was really very little propping many economies up. He also warned that Japan's potential growth may be less than 1% now.
Questioning Dr Doom. Is Nouriel Roubini a false Prophet?
Play the Bailout Game.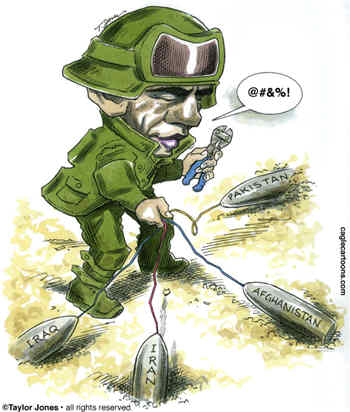 Equities In The News
Rio Tinto (RTP) has reported a 47% drop in first half EBITDA to $6,089mln, below the consensus of $6.7bn, and reflecting the very weak commodity price environment with average copper and aluminium prices around 50% lower during the period. Debt has however been reduced since June by the $14.8bn rights issue on July 3rd, and will be reduced further by $3.2bn of disposals announced. The company remains "cautious about the recent rally in prices" but reasonably confident about the future.
Dutch supermarket Ahold (AHO) reported a strong set of Q2 results this morning, with operating income rising 25.5% to €295mln (expectations €283mln). The good results were primarily due to a strong performance in the US, driven by the success of Ahold's cost cutting strategy (in contrast to some US peers).
Irish Building Society EBS reported that second quarter mortgage applications had increased 45% from the Q1 levels, illustrating a significant improvement in confidence among prospective buyers. This may partly reflect a significant pullback by other lenders from the market. They note their market share had increased to a staggering 18.3% from 5%.
Troubled former property tycoon Liam Carroll's new application for an examiner is expected to be considered today, according to reports this morning. The application would allow 100 days for the developer to come up with a new survival plan. It appears that the Carroll group is preparing a range of new valuation documentation and support from four of the banks which lend to Carroll. However, it is still uncertain if Carroll's bid for examinership will be any more successful on the second attempt.
Data Ahead Today
UK retail sales for July will be out at 09:30 BST (all times UK). Sales volumes should be up 0.4% reflecting summer sales and solid survey data. Though this series is notoriously volatile and one shouldn't read too much into the data. Many wonder out loud about the methodology.
In the US at 15:00, we get the Leading Indicators Index and the Philadelphia Fed Index. Leading Indicators should post a 0.8% gain, moving the annual growth rate into positive territory for the first time since August 2007. The Philly Fed is close to signalling expanding output and should rise to -2.
Earnings from Gamestop (NYSE:GME), Hormel (NYSE:HRL) and Sears (NASDAQ:SHLD).
And Finally… Good Fellas Spoof On Goldman Sachs

Disclosures: None