This is my first article on Seeking Alpha. As a long time visitor to the site, I have often gotten tremendous sources of viable information regarding market trends, and more specifically, my favorite companies in my own portfolio. For general details on how I "pick" my stocks, please visit the Info section on my profile page.
The purpose of this article will be a relatively short review of Ultratech, Inc. (NASDAQ:UTEK). Ultratech prominently came to my attention when I read an article from tech expert and fellow SA contributor Ashraf Eassa.
I will make several references to Ashraf's article in this post, but if you want to delve deep into it, here is the link:
Ashraf Eassa - "Buy Ultratech: Significant Upside As Foundry FinFET Delay Offers Compelling Entry Point"
Under my general guidelines for investing, guideline number 1 is asking yourself "Is this company undervalued?" There are many ways to answer this question -- the company could be large with depressed earnings and looking to leap back to profitability. Or, in the case of UTEK, the company could be relatively small, with solid prospects for overall capitalization growth.
UTEK is a relatively small (about 350 employees) semiconductor company based out of San Jose, CA. As Ashraf details in his article, the company operates in 3 segments: lithography, laser thermal technology, and inspection equipment. All three segments can be considered growth areas, and UTEK is competitively positioned in all three. This leads the basis for both his and my rationalization that UTEK has ample opportunity for growth.
Another important note is that due to the cyclical nature of the semiconductor industry, UTEK has recently had a moderate drop in share price. In my eyes, this is just further validation that the company is much undervalued. For more info about growth, especially the cyclical nature of the semiconductor industry and how UTEK can (and ideally will) take advantage of that, please refer to Ashraf's article. I will briefly explain why the company is attractive from my area of expertise: financial fundamentals.
First off, I'm going to start off with some liquidity ratios, which is where UTEK really shines in my eyes. Below are both quarterly and annual balance sheets (courtesy of Yahoo.com) for UTEK: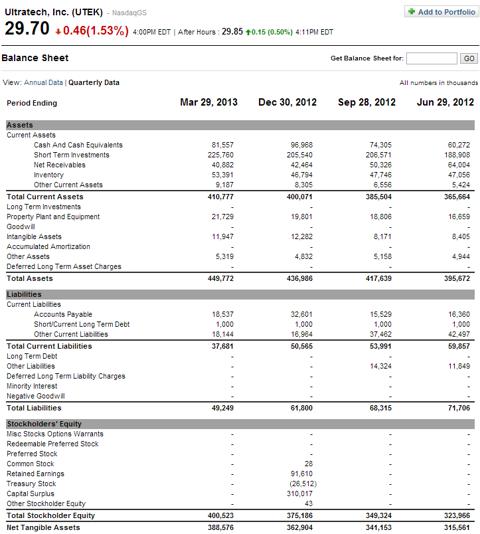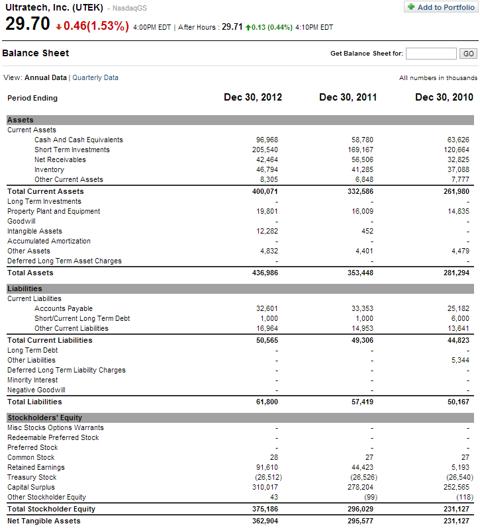 The first things that I like to look at in determining a company's financial liquidity are the current/quick/cash ratios, placing the most emphasis on the cash ratio. For those of you who do not know the ratios: current = current assets/current liabilities, quick = (current assets - inventory)/current liabilities, and cash = cash and cash equivalents/current liabilities. The reason the cash ratio is my favorite is because it is the most stringent of the three, cash being the most liquid of investments.
So, looking at the latest quarterly records (March 2013), we can see UTEK has a current ratio of 10.9x, a quick ratio of 9.5x, and a cash ratio of 2.2x. Coupled with the fact that UTEK has no long-term debt, this means that the company could completely pay off all of its liabilities with the cash it has on hand if it had to do so (and still have more than half of its cash on hand left over). Not only is this a tremendous display of financial austerity, but it also implies that if the company wanted to take out a loan, UTEK could likely obtain a highly favorable credit agreement due to its current lack of leverage and solid, growing revenues and earnings (which we will get to in a second). Typically, at this point I would also look into things such as operating cash flow/liabilities to determine if continuous operations are profitable enough to cover certain liabilities (interest and similar expenses). However, since UTEK has no long-term debt - and thus no significant interest payments - it is unnecessary in this case to do so in this case.
Above, you can see UTEK's annual income statement and statement of cash flows for the past three years (once again, courtesy of Yahoo.com). Starting with the income statement, you can see UTEK has displayed positive revenue, EBITDA, EBIT, and earnings growth every year since 2010. Operating margin for 2012 was 26%, up from 15% in 2010, while the profit margin for 2012 was 20%, up from 12% in 2010. In my opinion this shows tremendous cost management, as UTEK's top management team is doing a good job of reducing costs relative to growing revenue. I expect operating margin to be maintained somewhere in the 25% to 26% area for FY2013 and FY2014, while expecting profit margin to stay stable near 15%. These are relatively conservative estimates in my opinion due to UTEK announcing cost-cutting measures, including large salary cuts for top management officials. However, the cyclical nature of the semiconductor industry is likely the greatest risk to the continuance of this trend, as we have already seen weaker than expected guidance from UTEK for the remainder of this year. But remember - as "Intelligent Investors" (a nod to investing legend Benjamin Graham), we are tasked with buying low and selling high. There is no better time to buy than either an overall correction in the market or capitalizing on negative short-term outlooks for solid long-term companies. Furthermore, factoring in cash per share, the company is currently trading at a P/E of 11.1x (using FY2014e EPS of $1.70) - quite a discount from the industry average of ~15x and even more of a discount from UTEK's average P/E of ~18 over the last three years.
Moving on, the cash flow statement reads almost identical to the income statement. You can see operating cash flow rising with net income on an annual basis, while free cash flow remains strong even with heavy spending in CAPEX and other investments. Due to UTEK's superb balance sheet, I would support the company taking out some long-term debt in order to return value to shareholders through stock buybacks. **I am not a big fan of dividends as I believe that issuing dividends, much more so than stock buybacks, tell investors "growth is slowing."** However, should the company decide the cash is better spent on investing activities, that would be fine with me. I view this stock as a long-term win (though with short-term potential), so reinvesting earnings at this point would make for a good strategy.
So, in conclusion, I must say UTEK looks like a fantastic, undervalued, fundamental power play not even considering its growth potential. When throwing growth potential in the mix, the company appears even more undervalued, and becomes a growth stock as well as a value stock. Furthermore, the "safety" - and remember I use that term loosely when defining equities (and investments in general) - of the stock is relatively high which is reflected on a superb balance sheet and cash flow statement. I think at this point it can go without saying, but I am long UTEX for the long term.
Disclosure: I am long UTEK. I wrote this article myself, and it expresses my own opinions. I am not receiving compensation for it (other than from Seeking Alpha). I have no business relationship with any company whose stock is mentioned in this article.
Additional disclosure: Refer to Ashraf Eassa's article: "Buy Ultratech: Significant Upside As Foundry FinFET Delay Offers Compelling Entry Point". Ideas that are shared by Mr. Eassa are stated as such to avoid plagiarism. All other writings and opinions are my own.