It's been a great year for investors in Green Plains Renewable Energy, Inc. (NASDAQ:GPRE) as its share price has more than quadrupled from the 52-week low of $3.57 from July of 2012. On April 30, the company reported surprising positive earnings for the first quarter of 2013 and the stock has continued its steady uptrend ever since.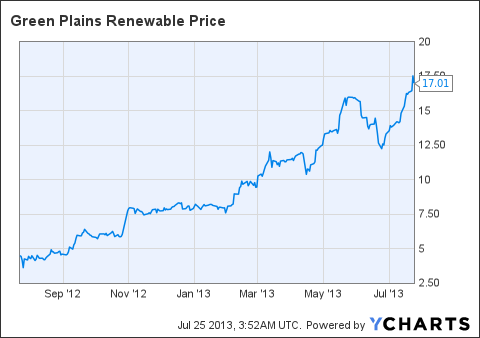 GPRE data by YCharts
Even after the big run-up, the stock still looks attractive as the 2013 earnings estimates have been raised dramatically by analysts over the last 90 days from $0.41 per share to $0.76 per share. This gives an expected PE of around 22 based on the current price of $17.01. In 2014, earnings are expected to increase by 67% to $1.27 per share, providing a forward PE of just over 13.
Reasons For Optimism
While analysts have significantly boosted earnings projections for the company, they may still be underestimating the potential upside. Prices for two of the company's main input costs, corn and natural gas, have decreased significantly since the end of the first quarter.
Green Plains provided some insight into the business in the first-quarter earnings conference call held on May 1. Several comments were made regarding input costs and margin expansion as the year progresses. I would like to highlight a few of these comments from this call.
Comments by Todd Becker, President and CEO:
(Highlights made by me)
In our ethanol production segment, we produced 170 million gallons of ethanol in the first quarter which is approximately 92% of our stated operating capacity. Margins started to expand during the last four weeks of the first quarter which positively influenced the end of Q1, but more importantly, allowed us to start locking away Q2 which I will give you more color on later in the call.

We expect better company performance in the second quarter. Margins have improved during the quarter even with the latest weather spike in corn.

We have very little left to lock away as we started aggressively during Q1, to lock away Q2. After experiencing the volatility of 2012, we felt we needed to move quickly to do this or we might have probably, while we probably might have missed some of the highest spot margins we have seen for a while, we are satisfied with maintaining our discipline approach to managing risks.

The third quarter remains undefined, but is much improved from where we were at the same time last year. The fundamentals of ethanol will need to take shape, and we believe under the current environment we will have better opportunities to lock margins away in the third quarter.
In summary, margins began to expand at the end of the first quarter and continued to improve in the second quarter. The company was aggressive in locking down margins for the second quarter, but at the time of the conference call, the third quarter remained undefined.
As you can see in the following chart this trend has continued since the call May 2, as the price for corn has continued to fall from roughly $650 to the current price of $508.60, a decline of over 20%.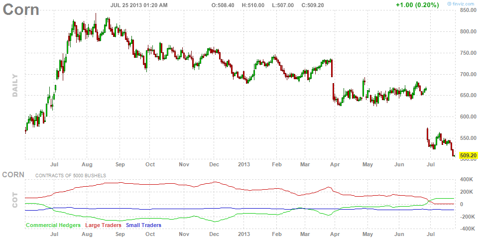 Natural gas too has dropped in price, falling from roughly $4.40 per mfc at the end of April to $3.71 today, a 16% drop.
While the major input costs have gone down, the spot price for ethanol has increased slightly since the May 1st call.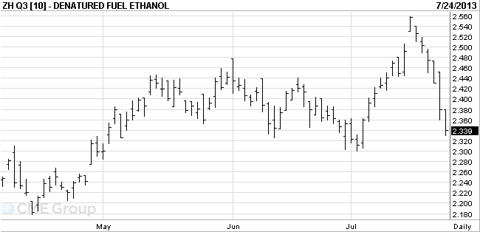 Increasing Production
The company CFO and Treasurer Jerry Peters also had some positive comments during the May 1st conference call:
Sales of ethanol of our own production facilities increased 1.2 million gallons as we continue to run at about 92% of our stated operating capacity.

With the improvement we've seen in ethanol margins for Q2, we currently expect to run closer to 95% of capacity across our platform and depending on forward margins, we may stay at that level for the balance of 2013.
Based on the dropping input costs and favorable gasoline and ethanol market prices, it is likely that Green Plains will indeed stay at that increased level of production for the second half of the year.
In addition to those comments by Mr. Peters about increasing production at existing plants, Green Plains also announced an acquisition on June 3rd of a 50 million gallon plant in Atkinson, Nebraska. This increases Green Plains' annual capacity from 740 million to 790 million gallons.
The combination of higher output at existing plants plus increased production from the acquisition should lead to increasing revenues in the second half of the year.
Improved Balance Sheet
Mr. Peters also had some positive comments regarding the financial position of the company and talked of lowered interest expense going forward.
His comments:
Overall, our balance sheet position is strong, and getting stronger. Total cash was approximately $242 million at the end of the quarter. We paid off the $27 million note for the repurchase of shares from NTR, that we completed in March of 2012, and also paid down ethanol plant debt by another $11 million this quarter.

In addition, after quarter end, we also completed the refinancing of our Bluffton term note, extending out the maturity to January 2015 and reducing the principal balance by $10 million.

We were also successful in reducing the amortization of this term note by approximately $4 million on an annual basis. As a result, our ethanol debt service going forward is around $0.09 per gallon which again, allows us more flexibility in the future.
Other Initiatives
In addition to the improving economics for ethanol, Green Plains is also working on using algae to produce hydro carbon fuels for the military. The joint venture BioProcess Algae received a grant for up to $6.4 million to build a pilot plant for production.
Green Plains also hopes to use this process to produce algae for fish meal users as touched on by President & CEO Todd Becker:
We have indicated that at one ton a day, we have to really focus our efforts down on a few long-term counter parties because we just won't have enough production for the demand that exists out there.

So if you look at the fish meal market, the 10 million ton a year market, if you look other high value commodity markets, it's much greater than what we're going to produce.

As we see success from there, and start to really build end market contractual obligations with users which we've very focused on, on getting to, at some of the highest value points early on, as well as potential long terms contracts with global fish meal users, we'll make a determination of how and what that next level of financial velocity or funding velocity will be. And whether that gets funded from the partners or that gets funded externally at some point.

So that's obviously something that we'll have to look at down the road. But we're really focused on truly improving out to get to a ton a day of finished production at a high quality selling price that can actually be put into product consistently next year.
While the algae production is currently in development stages only and doesn't provide any revenue to the company, it appears that if successful, the world market is pretty large for the product. Considering the algae production would be powered mainly by the CO2 byproduct from ethanol production, any revenues generated by this process should fall to the bottom line for the company.
Conclusion
Investing in a company like Green Plains Renewable Energy is not for the faint of heart. As you can see from the chart below, it has been an extremely bumpy ride since the company's inception in 2006.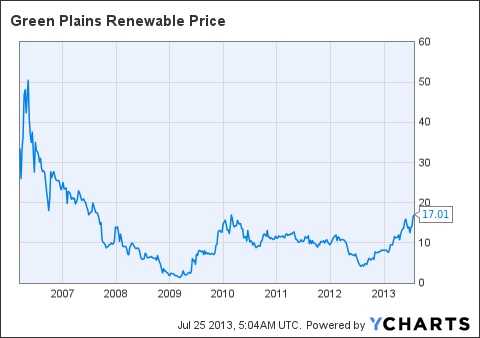 GPRE data by YCharts
While the ride has been bumpy, it appears that the company is hitting on all cylinders as we enter the second half of 2013. It has hit a commodity home run as corn has dropped to prices last seen in 2010 while gasoline and ethanol prices have climbed back towards multi-year highs.
While the stock has seen a steady increase off of its 2012 lows, the valuation doesn't seem overly rich based on expected earnings. However, with the company expecting to announce results for the second quarter on July 30, caution should be used by investors looking to initiate a position at this time. A miss on the second quarter could cause a pullback after the recent run-up and provide a better entry point for a new position.
Disclosure: I am long GPRE. I wrote this article myself, and it expresses my own opinions. I am not receiving compensation for it (other than from Seeking Alpha). I have no business relationship with any company whose stock is mentioned in this article.
Additional disclosure: I am a Civil Engineer by trade and am not a professional investment adviser or financial analyst. This article is not an endorsement for the stocks mentioned. Please perform your own due diligence before you decide to trade any securities or other products.