I am confident that Microsoft will carve out its profitable space in the most recent technology cycle some have called the Internet Cycle. This will mark IBM's (NYSE:IBM) 2nd transition after starting the original Mainframe Cycle back in the 1960s and surviving the PC Cycle dominated by the Four Horsemen, [Microsoft (NASDAQ:MSFT), Dell (NASDAQ:DELL), Intel (NASDAQ:INTC), and Cisco (NASDAQ:CSCO)] in the 1990s. With the evolution of virtualization and software the driving force behind cloud services as well as the expanding end-user appliance array - Microsoft has had no choice but to adapt.
A blog post at FT Alphaville titled Software eats the world, charges for the privilege discusses some of the shifts towards this new software-driven-cloud-computing-interconnected world we are entering and the opportunities for those companies over the next several years.
The question for me is whether Microsoft should be awarded a higher market value based on its evolution from the classic PC industry towards an integrated cloud based company that delivers services and software to multiple end users using multiple appliances. Will the $10.4 billion in R&D spent in Fiscal 2012 (June) deliver any competitive advantages?
Based on recent market's recent valuation -- the answer is no. The market premium for Microsoft's franchise has declined from $205.7B in Q4'07 (June) to $29.0B in FQ3'13 (March). That's a ~18% compounded annual decline in market premium. Partially offsetting the decline has been the ~14.1% increase in Invested Capital over the same time period.
Figure 1: Microsoft Enterprise Value Comparison
| | | |
| --- | --- | --- |
| Enterprise Value Components | FQ4'07 (June) | FQ4'13 (June) |
| Market Value Add (MVA) | $205.7B | $62.5B |
| Invested Capital (IC) | $$66.4B | $146.4B |
| Enterprise Value (MVA+IC) | $272.1B | $209.0B |
| Net Cash | $23.4B | $61.4B |
| Diluted Shares (Millions) | 9470 | 8442 |
| ROIC | 22.0% | 17.8% |
Figure 2: Microsoft Enterprise Value (Quarterly, Averaged Share Price)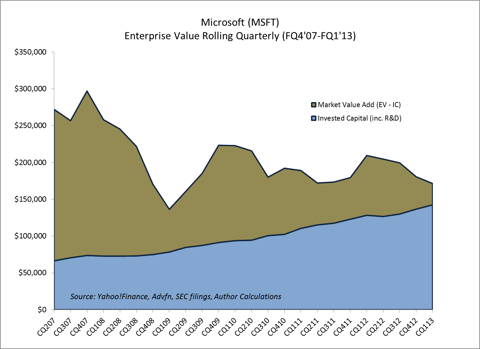 From a shareholder's perspective - Figure 2 highlights the significant premium the market was placing on Microsoft in FQ4'07. Unfortunately you don't see this when using a Price-to-Earnings (P/E) as a guide. While the Enterprise Value has declined in value and the premium dissipated - Microsoft's share price has been flat (unadjusted for dividends received) over that time period given the declining share base.
Looking at valuations across the technology landscape, clearly there is the group of new cloud-facing companies with very high asset multiples and a group of old-guard PC cycle companies that have attractive asset multiples. This group is largely from the SPDR Technology Sector (XLK), which also gives a relative valuation compared to other sectors such as Consumer Staples, Industrials, etc. Currently the group is a reasonably valued but its dispersion as you will see is fairly large.
Figure 3: Technology Group EV/IC Valuation Table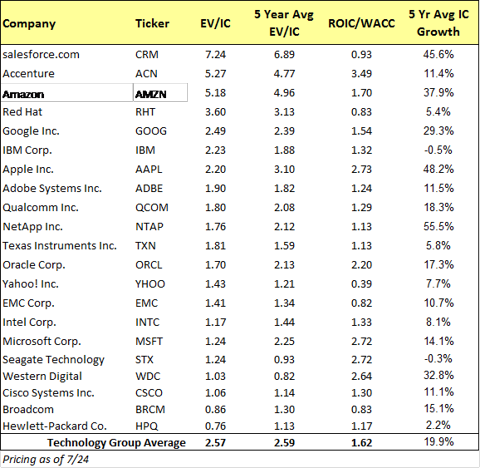 Figure 4 takes the same data but plots it with the solid black line showing a fair value demarcation line. What should jump out is that the software-slash-cloud technology companies such as Amazon (NASDAQ:AMZN), Red Hat (NYSE:RHT), and Salesforce.com (NYSE:CRM) are enjoying a significant premium relative to current profitability whereas the stalwart techs (Oracle (NASDAQ:ORCL), Hewlett-Packard (NYSE:HP), and Microsoft) are not.
Figure 4: Technology Group Valuation Plot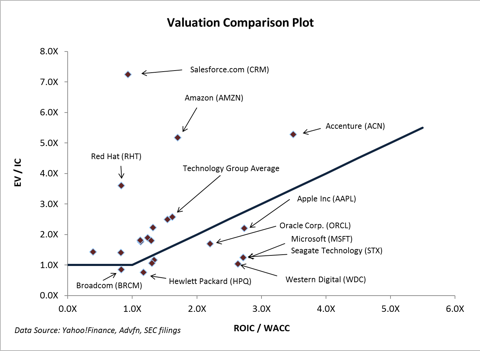 When companies fall below the line - it is often good to know why and whether this has created an investment opportunity. Apple (NASDAQ:AAPL) has drifted into value territory. Broadcom's (BRCM) price decline yesterday pushed it below the fair value line. Last November, when Hewlett-Packard (NYSE:HPQ) announced a massive write-down due to the bungled Autonomy acquisition and shares were demolished - the company was very cheap based on the assets in place (quality aside) and proved to be a reasonable value speculation.
While I don't believe there is a near-term catalyst for Microsoft, I do think that the company is the most attractive of the group given its strength in its software franchise and the push to integrate its business model towards a more distributed/cloud based model. Clearly the problems Microsoft faces on the device side (Surface, Windows Phone, Xbox) will create headaches for Microsoft and investors, but the company is expected to continue to dedicate significant resources to deliver on its overall business transformation.
Maybe if there wasn't a tablet distraction, Microsoft could attract valuations that IBM currently receives despite no growth in Invested Capital and an ROIC below Microsoft. IBM currently trades at 2.2X its Invested Capital versus Microsoft's 1.4X.
Expectations Investing
While I typically focus on short-hand firm multiples to gain a rough idea of a company's valuation - one can use a discount valuation model to try and back into the company's valuation and determine whether the implied expectations generate a favorable risk-to-reward situation.
Based on recent share price, to get at Microsoft's current valuation - I could assume no more growth in Invested Capital, no additional value created after 10-years as ROIC equals WACC (i.e. no more economic profits), and a 16% ROIC rate. Those are clearly low expectations based on the past 6 years of performance. Results are in Figure 5.
Adding modest expectations (still below current performance would suggest) including a modest terminal value -- share value jumps to $40. Note that if Microsoft was awarded a valuation closer to IBM - shares would trade in the mid-$40s (as shown in Figure 6.)
Figure 5: Microsoft EVA Discount Expectations Exercise (Low Expectation Scenario)

Figure 6: Microsoft EVA Discount Expectations Exercise (Modest Expectations)

Conclusion
From the linked article above:
Software is eating the world

Back in 1994, very few people would have predicted that the largest bookseller in the world would be a software company. Today, not only is it a software company, but all of Amazon's most important competitors are also software companies.
Microsoft's software franchise will eat its fair share of the world and the market is not pricing that outcome based on other firm valuations. I think expectations are low enough though that even if the thesis fails to materialize the strong profitability, above market yield not including share buybacks, will soften any negative outcomes. Microsoft has every opportunity to compete with others as a cloud service operator and R&D spending to the tune of $10.4B in fiscal 2013 will likely bear that out.
Disclosure: I am long MSFT, INTC. I wrote this article myself, and it expresses my own opinions. I am not receiving compensation for it (other than from Seeking Alpha). I have no business relationship with any company whose stock is mentioned in this article.
Additional disclosure: Clients of Smith Patrick Financial Advisors own Microsoft and Intel at the time of this writing. This is article is written for informational purposes and we believe investors should perform their own due diligence before making investment decisions.