GT Solar International Inc. changed its name to GT Advanced Technologies Inc. (GTAT) to reflect its diversification from the traditional long reliant solar industry to some of the advanced technologies having the potential to pitch GT as dark horse. This article reviews current business operations of GT, its market performance, challenges and the ray of hope for GT as well as for its investors awaiting at least some stock price hikes.
Key Business Operations
GT operates in three segments and its key clientele for selling its equipment and services includes polysilicon and sapphire producers and solar wafer manufacturers.
Diversification was a mandate for GT following last year's slowdown in its core solar industry after the slowdown in China. However, the company is involved in production of HiCz equipment with targeted module efficiency of 23-24%. The technology is advanced and has costs similar to the existing one. Following its launch in late 2013 or 2014, the product could turn out to be a boom and act as catalyst for GT to generate revenue gains.
In early July, the company already launched SiClone100 - a new Silicon Carbide (SiC) production furnace having capacity to produce high-quality crystals. This equipment can be a breakthrough for the power electronics industry for use in high power, high frequency and advanced devices. According to the Chief Executive of the company, SiClone100 lays the foundation for GT's SiC future plans, since the company is planning to provide all round production solutions to its customers.
In its sapphire segment, the company sells its produce to customers in the LED and other industries such as defense, aerospace and medical device manufacturing. This segment offers GT a unique growth opportunity considering the strength of its product line, which is significantly stronger than that used Corning's Gorilla Glass.

Geographical concentration
The majority of the company s revenue is derived from China and Korea.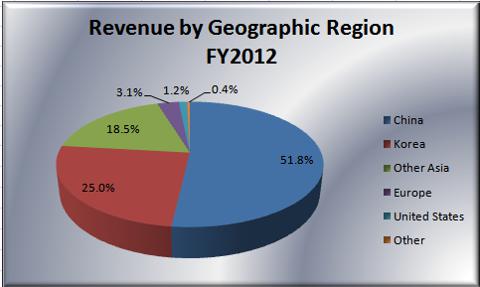 Competitors
Let's compare the performance of the GT with its competitors assuming an investment of $100 in all the stocks mentioned with reinvestment of all the dividends. The performance is compared over a period from July 24, 2008 to December 31, 2012.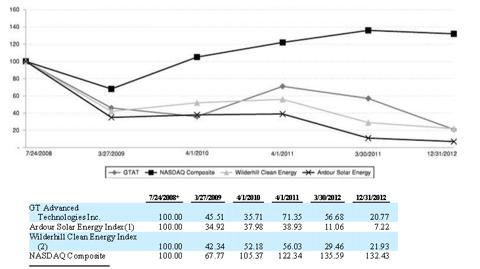 Technical Trends for GT
The 52-weeks trading range for GT is $2.61 and $7.09 per share. The trading volume had been huge since a month following the "buy" recommendation assigned by CanaccordGenuity. The stock also surpassed the price target of $5 estimated by CanaccordGenuity on June 26. It is currently trading about 80% above its 52-week low price, placed in the Nasdaq Gainers watch list.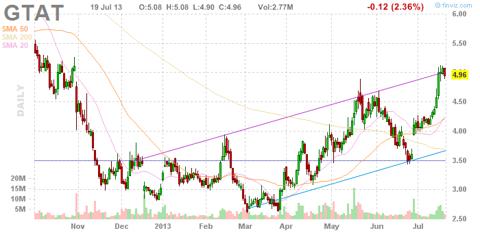 Source: Finviz.com
The challenge for GT
Solar equipment oversupply and inconsistent module production leaves little room for the need of production equipment. Another challenge is unfavorable subsidy regimes, and competition from Asian vendors. Most of GT's projected earnings are estimated to come from sales growth in sapphire production for LED and touchscreens. However, around half of GT's $1.25 billion backlog, last quarter, came from its sapphire segment. These developments keep analysts worried about the outlook of the stock.

Moreover, the company has reported a net loss of $18.7 million for 1Q2013, which is much less compared with estimations and to the last quarter loss of $159.4 million. However, it will be important to keep a watch on the company's diversification strategies as sales pick up, given that if the above fails to realize, the stock may lose its current momentum.
Growth Strategies and Opportunities for GT
Technological diversification can come in handy for GT and the launch of some newer equipment by late 2013 or 2014 can certainly help the company post revenue gains following an attractive sales boom. The company expects a turnaround from production of advanced equipment in the solar industry and diversification into highly potential sapphire touchscreens.
Following are the key acquisitions and contracts that can fuel the earnings estimate of GT:
GT acquired certain assets of Twin Creeks Technologies, Inc., and the business of Thermal Technology LLC during the last three quarters.
GT signs MoU with Powertec Energy, in which Powertec is intended to buy polysilicon technology and equipment from GT during FY2014.
Motorola Solutions (NYSE:MSI) has chosen GT as exclusive supplier of sapphire scan windows for its new multi-plane MP6000 imagers.
Conclusion
Sluggish sales figures are a primary concern with GT serving the solar, smartphone and LED markets. If these markets adopt GT's advanced and revolutionary products more exclusively, the company will attract cautious investors. A 'buy' stance is recommended with estimates of high revenue figures starting FY2014. GT can be a best buy for aggressive investors ready to take on risk over the short to medium term.
Disclosure: I have no positions in any stocks mentioned, and no plans to initiate any positions within the next 72 hours. I wrote this article myself, and it expresses my own opinions. I am not receiving compensation for it (other than from Seeking Alpha). I have no business relationship with any company whose stock is mentioned in this article.