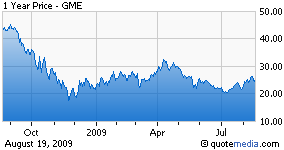 GameStop (NYSE:GME) shares are headed sharply lower Thursday morning after the video game retailer posted disappointing results for the fiscal second quarter ended August 1 - and reduced its guidance for the fiscal year ending January 2010.
For Q2, the company posted revenue of $1.74 billion and profits of 23 cents a share; the Street had expected $1.75 billion and 28 cents. Same-store sales tumbled 14.1%, "due to lower new console unit sales, a lack of strong new software titles compared to last year's record releases and customer caution due to the continued weak economy."
For Q3, GME sees profits of 27-33 cents a share, well below the Street at 41 cents. Comp store sales are expected to be down 6%-11%. The company sees Q4 profits of $1.47-$1.65, with comp store sales down 1%-7%. For the full year, GME cut EPS guidance to a range of $2.40 to $2.64, down from $2.83 to $2.93.
In early trading Thursday, GME is down $2.18, or 8.7%, to $23.
The Street had been highly supportive of the stock; but given weak video game sales how could they not see this coming?