Should you buy or sell the monster of the web here at $900? Many institutional growth investors with a long-term horizon will keep their Google (NASDAQ:GOOG) shares and probably even add to holdings here because they don't want to miss the ride to $1,000. But the recent spate of downward earnings estimate revisions brought GOOG down to a Zacks No. 5 Rank this week. And that means, at least in the short term, there is reason to be cautious.
A Quant Model All About EPS Momentum
Before I show you the damage to GOOG estimates, let me explain how the Zacks Rank works. We collect all analyst earnings estimate revisions (EER) every day for roughly 4,400 stocks and throw them into our quantitative model. The model classifies the EER based on the percentage of analysts in directional agreement, the magnitude of their changes, and to a lesser degree the potential for upside surprises. The top 5% of stocks with upward revisions (about 220 names) get the coveted Zacks No. 1 Rank Strong Buy designation. The bottom 5% of stocks with downward revisions (also about 220 names) get the dreaded Zacks No. 5 Rank Strong Sell mark.
This model has beaten the market by over 2-to-1 for the last three decades. It has purely numerical inputs and produces purely mathematical outputs that can change every day. But the reason the model and its relationships -- discovered in 1978 by Len Zacks, a PhD from MIT -- work so well is because earnings momentum is one of the consistently strongest predictors of stock price movement.
Why? Because it's usually the number one input of professional investors into their stock-picking and valuation models. And we all know who moves stocks the most, the institutions with their many billions of dollars all earmarked for stocks.
The GOOG EER Slash and Burn
Below are three tables we look at every day when evaluating the earnings momentum of stocks. What you see here is the hard data that put GOOG in the cellar relative to the estimate revisions of 4,399 other stocks.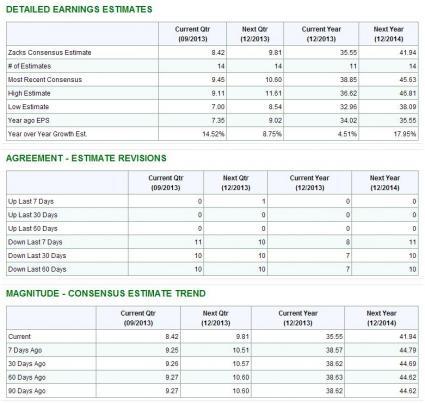 The main takeaway here is that the majority of analysts made downward revisions to quarterly and full-year estimates for the next 18 months. In aggregate, this year was taken down by 8% and next year by 6.4%. While the longer-term growth story may still be intact, with 18% EPS growth projected for next year, the recent slash and burn of estimates should alert you to some simple warning signs.
First, once a big earnings miss and change in guidance occurs, it often takes time for the analyst community to react and catch up. Here, most of the 14 covering analysts reacted quickly. But it doesn't mean they are done "adjusting" their growth outlook. Second, if the trend of downward EER continues, it could take another quarter or two of better news from the company before it turns around. The question you have to ask is: "Do I want to accept the risk of owning the shares for three to six months while the company proves to the Street that things aren't so bad?"
Monsters Behaving Badly -- Until Their Next Report
I think Google will continue to dominate the web in many ways because they appear dedicated to research and innovation, and they have access to vast amounts of data that is invaluable to other businesses. I'm not even knowledgeable enough about all their different business segments -- from paid search and clicks and data analysis to software, mobile, and new hardware exploits -- to give you an accurate depiction of where the earnings growth will come from. That's what I use the analysts and the Zacks Rank for.
But would I buy the stock here at $900? Not right now. And definitely not until the earnings picture becomes a little clearer. Back above a 22x forward P/E, you have to really be sure they are going to execute on all fronts to sustain that multiple. And we just don't have that certainty right now.
Would I short GOOG here? Probably not. But I'd tell everybody I know to consider lightening up on their holdings. That's because I think we'll have plenty of time to let this story unfold for the next few weeks and months without worry about the stock price getting away. As soon as the estimates turn back up, GOOG will probably turn back up and have a shot at the elusive $1,000 level. Until then, it's a "flight risk" for falling estimates.
Google: Free Stock Analysis Report (email registration required)
PowerShares QQQ Trust ETF (QQQ): ETF Research Reports (email registration required)