By Sumit Roy
Natural gas fell modestly to last trade near $3.65/mmbtu after the Energy Information Administration reported that operators injected 41 billion cubic feet into storage, below the 42 to 52 bcf build most analysts were expecting. The injection was above last year's build of 26 bcf, but below the five-year average build of 54 bcf.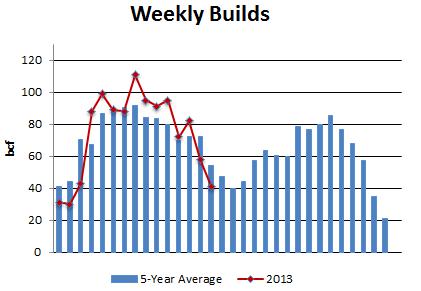 In turn, inventories now stand at 2,786 bcf, which is 403 bcf below the year-ago level and 42 bcf below the five-year average (calculated using a slightly different methodology than the EIA).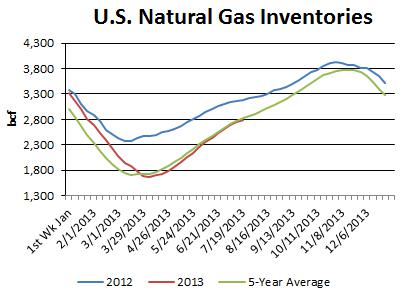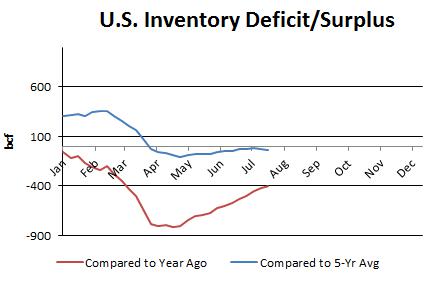 The weather last week was close to seasonal norms, but cooler than last year. The Edison Electric Institute said that utilities generated 92,585 GWh in the week ending July 20, which was 0.1% above the same week a year ago.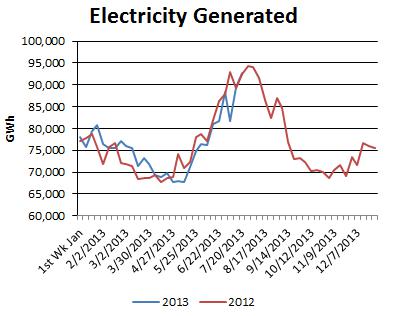 Looking forward, the NOAA's six- to 10-day outlook calls for mixed weather across the country.
NOAA Six- to 10-Day Outlook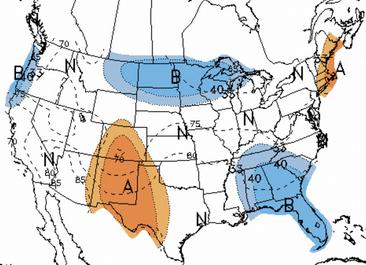 Meanwhile, the number of rigs drilling for natural gas in the U.S. rose by seven to 369 last week.
Natural Gas Rig Count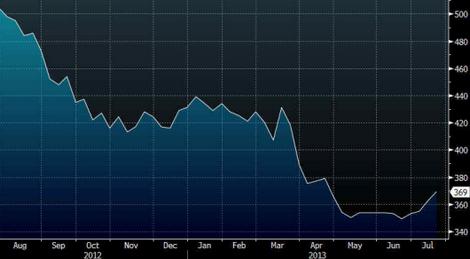 Natural Gas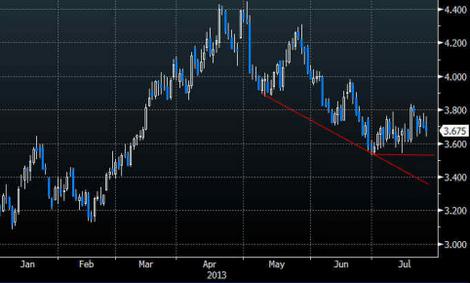 Bottom line: The latest inventory data from the EIA were bullish, as the deficit versus the five-year average rose from 29 bcf to 45 bcf. However, as today's price action clearly indicates, traders are looking forward and do not expect the deficit to expand meaningfully from here.
Summer demand typically peaks around this time of the year and declines steadily into the fall. Based on the last two modest injections, this year's demand seems to be fairly strong when temperatures are especially hot. However, as we saw during spring and the early part of summer, demand is not very resilient when temperatures and power burn decrease. This is likely due to the fact that coal has retaken a lot of base-load-generation demand from natural gas, leaving the latter to satisfy peak-generation demand during especially warm periods.
From a technical perspective, natural gas remains in a downtrend. A break of the support at $3.50/mmbtu exposes a path to the sloping trend line at $3.35.