Tenet Healthcare (NYSE:THC), a publicly traded company focused on providing quality healthcare via hospitals, has been on a tear this year. Its stock price has risen by over 300%, and the trend is clearly upwards. The rise in price may be partially attributable to improvement's in the company's financials: while the company did post a loss in the second quarter of 2009, its revenue continues to grow. Moreover, if discontinued operations were excluded from financials, the company would be profitable. This suggests the company may be on the right track.
Economic woes, however, affect all industries -- including healthcare. Will the Obama plan for creating more health insurance options help companies like THC? Perhaps, although government handouts typically come at the expense of greater regulatory scrutiny. Government handouts also increase the likelihood that political connections will impact how regulations are structured. Given that Tenet Healthcare has not been the best friend of the US government -- in 2006, the company settled on charges that it was overcharging the US federal government for Medicare expenses, paying $725 million in cash to the government while foregoing an additional $175 million in fees -- the company may not have the political connections needed to get the most out of proposed government-led healthcare reforms. Moreover, Trevor Fetter, CEO of THC, has expressed skepticism towards the Obama administration's healthcare plans, suggesting that hospitals will be forced to bear too much of the burden.
Fundamentally, I think the picture is a bit mixed, and is dependent much upon pending government legislation. Technically, however, I think THC, which has been on a strong uptrend, is due for a correction. The chart below, a weekly chart of THC, shows RSI overbought and declining, the price near the upper Bollinger band, and a doji as the most recent candlestick. With this in mind, this may be an opportunity for short-term short sellers. Alternatively, those bullish on THC may benefit from waiting for a pullback before going long.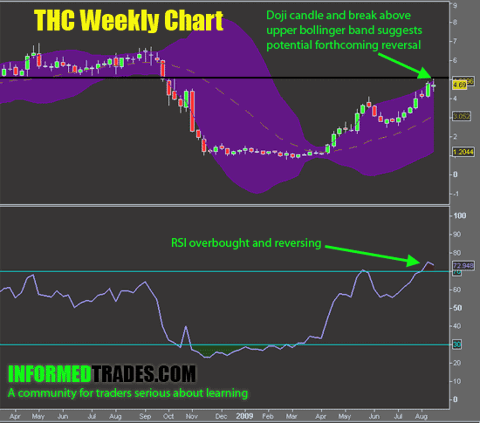 Disclosure: No position.