Strange times: Imagine a scenario in which a major city goes bankrupt, but one of its biggest companies turns in it best earnings performance in years. Although technically it's based in Dearborn, Michigan, Ford Motor Co., (NYSE:F), is the second largest US automaker, and has long been one of Detroit's "Big 3".
Ford's Q2 2013 earnings report included these highlights: "North America set second quarter and first half records for pre-tax profits; Asia Pacific Africa delivered its best-ever quarterly profit; Ford Credit delivered solid performance; South America returned to profitability: *Europe had a $348M loss, vs. $404M loss in Q2 2012: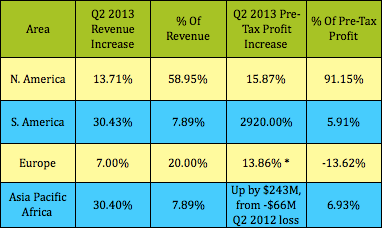 Earnings Valuations: Ford raised its full year company financial guidance, and now expects total company pre-tax profit to be equal to or higher than 2012, and Automotive operating-related cash flow to be substantially higher than 2012. Looking ahead to 2014, the average analysts' forecast is for 17.48% growth, which, given Ford's 10.70 PE, makes it look undervalued on a 2014 PEG basis:

Ford looks undervalued vs. its industry, on a Price/Sales basis, but is currently commanding a premium Price/Tangible Book: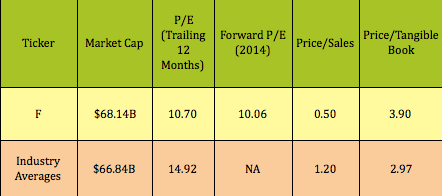 Dividends: Unlike many of the stocks we've profiled in recent articles, Ford isn't a high dividend stock. Faced with a cash crunch, Ford eliminated its quarterly dividend in 2006, and didn't reinstate until January 2012, at $.05. The company then doubled its dividend in January 2013, to $.10/share quarterly, which is where it stands currently. However, given Ford's low dividend payout ratio, there may a be a good chance that it will increase its dividends in 2014, if the projected earnings materialize. Ford goes ex-dividend on 7/31/13.

Options: You can improve upon Ford's dividend payout, via selling call options. This November trade, from our Covered Call Table, offers a call premium that pays 4 times Ford's next 2 quarterly dividends.

However, since the $17.00 call strike is only $.10 above Ford's $16.90 price/share, you may not get either of the 2 dividends, if Ford rises to or above $17.00 near either of the ex-dividend dates. (Your shares may be assigned/sold, in which case you'd pocket the $.10 price difference between the share price and the strike price.) Here are the various income scenarios for this trade:

Performance: Ford has had a big run up over the past 52 weeks, rising over 93%...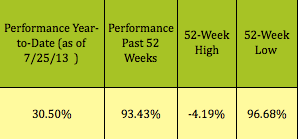 ...So if you're leery of buying at this price level, you may want to consider selling cash secured puts. This November trade offers you a breakeven that's about 6% below Ford's price/share.
You can find more details on this over 30 other trades in our free Cash Secured Puts Table.

Financials: Ford's efficiency metrics are a mixed bag - it has an impressive ROE, but it trails its industry in these other metrics.

Disclaimer: This article was written for informational purposes only. Author not responsible for any errors, omissions, or actions taken by third parties as a result of reading this article.
Disclosure: I have no positions in any stocks mentioned, and no plans to initiate any positions within the next 72 hours. I wrote this article myself, and it expresses my own opinions. I am not receiving compensation for it (other than from Seeking Alpha). I have no business relationship with any company whose stock is mentioned in this article.