August 20, 2009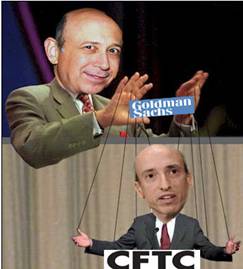 IF AIN'T BROKE, DON'T FIX IT

DBC (PowerShares DB Commodity Tracking Fund) and DBA (PowerShares DB Agricultural Fund) are in the news as the CFTC (Commodity Futures Trading Corporation) has revoked the position limit exemption for these funds. They have also intimidated the issuers of UNG (United States Natural Gas Fund) into not issuing more shares to meet demand, essentially breaking the issue as an effective product and needlessly costing investors a fortune. In the case of UNG, this is part of a government effort to squash speculation in energy markets, always a politically correct or populist thing to do.

In 2006, Deutsche Bank (NYSE:DB) creatively brought to market DBC and DBA and later partnered these with PowerShares in a marketing arrangement.

The lead product, DBC, is a wonderful creation. The primary benefit to investors was and is to give them exposure to commodity markets which are uncorrelated to conventional markets. This reduces overall portfolio risk, as most studies have demonstrated. Further, benefits included allowing investors market involvement without having to invest in expensive and often illiquid commodity pools, or exposure to potential high leverage.

To get these products launched, DB requested and was granted an exemption from the CFTC to exceed position limits since the fund would theoretically grow. Position limits exist to prevent individuals and other entities from "cornering" the market and/or creating undue volatility. Obviously, these aren't problems for an index-based product like DBC since these issues don't motivate them. The basic problem now is with grain markets where position limits are much tighter than other commodity sectors. DBC has exceeded these limits and will have to pare down some positions to comply with the commission's edicts.

Investors use products like DBC to achieve their goals, and stay with them because they have confidence in their reliability.

By this action the CFTC has disrupted a market and product that was doing its job, perhaps undermining investor confidence in the product's reliability. DBC will still work as a product going forward because DB is a resourceful organization, but psychology may suggest that these products have been needlessly damaged. Should that happen, it would be a shame!

So why pull the exemption now?

The image above may seem a little over the top and perhaps it is but let's look at some facts.

From Wikipedia below is an abbreviated description of Gary Gensler, the new agent of change from the Obama Administration:
"After receiving a BS and an MBA from the Wharton School of the University of Pennsylvania, Gary Gensler spent 18 years at Goldman Sachs, making partner when he was 30, becoming head of the company's fixed income and currency trading operations in Tokyo by the mid-'90s, and eventually the company's co-head of finance.[3]

As the Treasury Department's undersecretary for domestic finance in the last two years of the Clinton administration, Gensler found himself in the position of overseeing policies in the areas of U.S. financial markets, debt management, financial services, and community development. Gensler advocated the passage of the Commodity Futures Modernization Act of 2000, which exempted credit default swaps and other derivatives from regulation.

In March 2009, Senator Bernie Sanders (I-VT) attempted to block his nomination to head the Commodity Futures Trading Commission. A statement from Sanders' office said that Gensler "had worked with Sen. Phil Gramm and Alan Greenspan to exempt credit default swaps from regulation, which led to the collapse of AIG and has resulted in the largest taxpayer bailout in US history." He also accused Gensler of working to deregulate electronic energy trading, which led to the downfall of Enron and supporting the Gramm-Leach-Biley Act, which allowed American banks to become "too big to fail."[5]

Gensler is the co-author of a book (with Greg Baer), The Great Mutual Fund Trap. The thrust of the book is that active trading and investing is an inefficient strategy for individual investors, and that individuals should stick with index and exchange traded funds.

After proposing to enact limits on the speculative trading of oil, many sources, including the New York Times, have compared Mr. Gensler to Wesley Mouch (the character from Atlas Shrugged who was both portrayed as an incompetent lobbyist but eventually the country's economic dictator.)"
Is Gensler on the puppet strings of Goldman Sachs (NYSE:GS)? Well, once in the brotherhood, always in the brotherhood is probably enough said. But it goes deeper - much deeper. In the above excerpt from Wikipedia, note the section regarding swaps and Commissar Gensler's involvement with them. These are big in commodity market day to day trading. They dwarf anything DBC can or will do. And, intraday, these swaps exceed position limits routinely if regulators can figure them out. This doesn't even include what happens daily in OTC markets.

Who are the big players in this game? Goldman Sachs probably tops the list. Is Commissar Gensler going to check out Goldman Sachs' trading activity?

I spoke with an industry friend today who discussed the current CFTC action in the following manner:
"Suppose it's illegal to chew gum in a mall. Authorities stop the person from doing it. However, at the same time there isn't any rule from smoking crystal meth at the mall so it continues unabated. Such is the current situation with the CFTC's action where the low hanging fruit is easy pickings for regulators but the swap market remains unscathed."
DBC and DBA are not broken.

But positive psychology among the investment community is vital to maintain any product's success. Once a product is tarred with the brush that "something's wrong", it's hard to undo. This has been going on with leveraged products over the past few months whether they're from ProShares, Direxion, Rydex, Van Eck and now commodity products via PowerShares DB. They're easy pickings for regulators but in doing so they're doing great harm to the investment community and particularly individual investors who should be free to utilize products that protect them and provide opportunities heretofore unavailable.

My qualifications to address this subject are being a former Commodity Trading Advisor, Commodity Pool Operator, Introducing Broker and NFA Arbitrator (the Maytag repairman of arbitrators).

The CFTC should reverse course and Commissar Gensler should cut his strings to Capo dei capi*, or at the very least delve deeply into the swap market where Da Boyz play every day.

* Capo dei capi: The leader of all leaders or boss of bosses. The most powerful Mafia boss to whom all others defer.

Disclaimer: Among other issues the ETF Digest maintains positions in: DBC.
The comments are only the author's view of market activity and aren't recommendations to buy or sell any security. More detailed information, including actionable alerts, are available to subscribers at www.etfdigest.com.