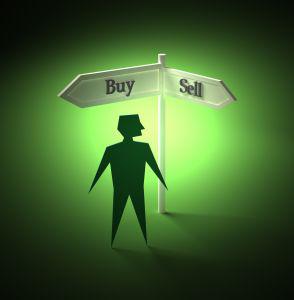 Yesterday, everything seemed so right with D.R. Horton (NYSE:DHI). Analysis had revealed a high quality, well-managed company (D.R. Horton: Built To Ride Housing's New Upswing). Then yesterday's excellent industry news ramped up sales and earnings expectations (Homebuilders: Today's Special Buying Opportunity). This morning, sure enough, Horton announced that it not only beat the average EPS estimate by 24%, but also exceeded the top of the analyst estimate range.
Reported: $0.42
Estimate: $0.34 ($0.29 to $0.40)
(Click here for the earnings call transcript)
These were just the results we needed to prove both that D.R. Horton was a leading builder and that the May-June mortgage fixed-rate rise hadn't killed the housing market. From Bloomberg: D.R. Horton Earnings Beat Analysts' Estimates on Price Increases
D.R. Horton Inc., the largest U.S. homebuilder by volume, reported fiscal third-quarter profit that beat analysts' estimates as demand for homes increased.

"Our homebuilding and financial services operations delivered strong results again this quarter," Chairman Donald R. Horton said in the statement. Rising sales prices reflected "pricing power across most of our markets and increased demand from move-up buyers."
The result? The stock market rewarded D.R. Horton's stock with a -9% drop.
So, what went wrong?
The weakness was buyer's orders (the precursor of sales and earnings) coming in below analysts' expectations. From Bloomberg: Homebuilders Fall as Pulte, Horton Orders Miss Estimates
PulteGroup Inc. (NYSE:PHM) and D.R. Horton Inc., the largest U.S. homebuilders, tumbled after reporting lower-than-expected orders, adding to concerns that higher mortgage rates will hamper the nation's housing recovery.

PulteGroup, based in Bloomfield Hills, Michigan, said second-quarter orders fell 12 percent on a lower community count. D.R. Horton said orders increased 12 percent, which was below analysts' forecast for 28 percent growth, according to Adam Rudiger, an analyst at Wells Fargo & Co. in Boston.

Rising mortgage rates contributed to increased cancellations and a dropoff in traffic in June, according to Fort Worth, Texas-based D.R. Horton. Borrowing costs have surged in the past two months on expectations that the Federal Reserve will scale back bond purchases. The 30-year average fixed mortgage rate was 4.31 percent in the week ended today, up from a near-record low of 3.35 percent in May, Freddie Mac said.
Therefore, the worry about the mortgage fixed-rate rise was apparently confirmed by the poor order showing. Hence, today's stock price hit.
So, now what?
Note: I am about to describe why I believe the rate rise continues to be an overweighted negative, meaning D.R. Horton remains an attractive stock investment. This conclusion is based on my analysis today and not on a felt need to maintain my viewpoint from my past articles. From my investment career with professional portfolio managers and my personal investing experience, I know that not all analytical expectations come true. Therefore, I have no problem changing my mind and reversing direction if the facts warrant it. In this case, however, as I describe below, I continue to believe that mortgage fixed-rate rise worries are overdone and that homebuilders will continue to see growth, with my preference being D.R. Horton.
The key question is whether that mortgage fixed-rate rise is a permanent hit. From the second Bloomberg article, here is the D.R. Horton CEO's view:
There's "no question" rising rates affected sales, D.R. Horton Chief Executive Officer Donald Tomnitz said today. "A lot of buyers were counting on trying to pick the low in the pricing and the low in the interest rates," Tomnitz said on a conference call with analysts. "They are a little bit shocked and disturbed by the fact that rates have moved up from where they were."
Note that key comment: "A lot of buyers were counting on trying to pick the low in the pricing and the low in the interest rates." In other words, the order cancellation came from bottom-fishing buyers. Unfortunately for them, the times have changed. New home (and existing home) demand is greater, supply is tighter, prices are higher and interest rates are rising from their abnormally low level. These are signs of a healthy housing market, not a troubled or shaky one. These facts and those buyers' reaction take me to what I believe is the key driver being underestimated by analysts: positive buyer psychology.
Buyer psychology, the significantly underrated positive force
Forget those bottom-fishing buyers who cancelled their orders. They either were hoping to flip their purchases or else they'll be back. They were not priced out of the new homes by the interest rate rise. Rather, they felt bad because they missed the lows. For comparison, think about those stock investors who, after missing the bottom, say they'll wait until prices fall back to buy. They are not the heart of the market - they are fringe buyers. The stock market (and the housing market) can happily grow without them.
The buyers to think about are those that really want a home of their own or want to move up in size, quality and/or location. Does a 4-1/2% mortgage kill their interest? No. Family formation is in full stride (just look at all those new rentals as well as the much-improved supply-demand house situation). Individuals' financial situations continue to improve, along with their confidence in their personal well-being. In other words, buyer psychology continues to move back to normal.
Now, about those "high" rates
An irrefutable fact: 4-1/2% is a low 30-year mortgage fixed-rate. For years, baby boomers thought rates under 6% were buried in their parent's history. There have been other rates that caused hiccups in the housing market, but they were truly high, particularly the dreaded high double-digit rates of the early 1980s. (See graph below.)
However, the move to 4-1/2% doesn't qualify as such a showstopper. It is financially and psychologically reasonable (AKA, "low"). And remember that home mortgage interest's deductibility means after tax, the rate is even lower. Moreover, buyers understand that the now-past 3-1/2% rate was Fed-created. They also know now that, without the Fed's influence, mortgage rates are free to rise further.
But that's not all. There is an alternative: Adjustable Rate Mortgages (ARMs). Those rates have moved little and are still in the very low 2-1/2% area (the 1-year ARMs). Yes, those rates can adjust higher, but the 2% difference is large. It makes a home, at closing, much more affordable. In addition, financial advisers now are discussing the wisdom of using such a mortgage if it is likely that the home will be sold within 5-7 years.
The bottom line
The fixed-rate mortgage rise, occurring close to the end of the June-ended quarter, adversely affected homebuilders' order books. However, the explanation looks to be the cancellation of orders by those disappointed by the rate rise, wanting to be able to take advantage of both low prices and low rates. Will this effect continue next quarter? Probably not. It seems to be a special episode that won't repeat. Rather, orders likely will continue to grow from the newly reported levels, reflecting true growth in demand.
From the financial aspect, the fixed-rate rise has not priced buyers out of the market. Not only is the new rate still low, but also the ARM alternative is significantly lower.
Therefore, my conclusion is that we, first, embrace D.R. Horton's just-reported excellent financial results. By producing earnings above the highest estimate, the company has ramped up the foundation on which future growth will be estimated and judged.
Then, for the future, we can look to three drivers of future growth:
Management's experience and skill in designing, building and marketing desirable homes
Buyers' desire for home ownership and the willingness, if need be, to compromise on features (e.g., size and location) to achieve affordability
Banks' return to full-fledged mortgage lending programs with less stringent credit requirements, lower down payments and products to aid affordability (e.g., ARMs). These shifts have already begun. (No, these aren't indications of a new housing bubble. They are a return to normal. We've got a long way to go before we get into bubble trouble.)
With those factors at work, the housing market can grow, even if (when) fixed-rate mortgages move to 5% or higher.
One last word: Potential
Having been caught up in years (2008-2012) of reversals, turmoil and scares, consumers and investors now are moving strongly towards normality. Apply that description - "normal" - to the economy and financial system, and we can envision significant growth from here. Looking back to the depths of 2009 can make us feel that we've come a long way and that maybe things are getting a bit toppy. However, looking at the historical pattern of new home sales and the fixed-rate mortgage, in particular, shows a potential for sizeable change ahead.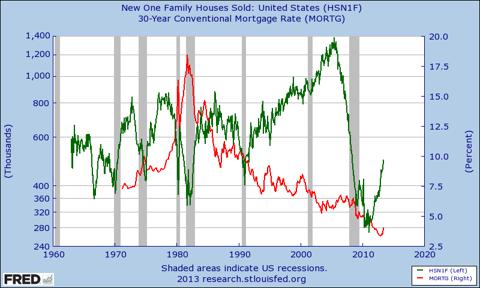 Click to enlarge
(Click to enlarge)
(Chart courtesy of Federal Reserve Bank of St. Louis - FRED)
So, what is it? Hold, fold or double-down?
For me, DHI is a hold because I already doubled down yesterday. If I hadn't then, I would have today. Ah, well.
Disclosure: I am long DHI. I wrote this article myself, and it expresses my own opinions. I am not receiving compensation for it (other than from Seeking Alpha). I have no business relationship with any company whose stock is mentioned in this article.