Readers have been receptive to my first two articles on the constituents underlying the S&P Buyback Index, which has tripled the cumulative performance of the S&P 500 (NYSEARCA:SPY) over the trailing twenty years as graphed below: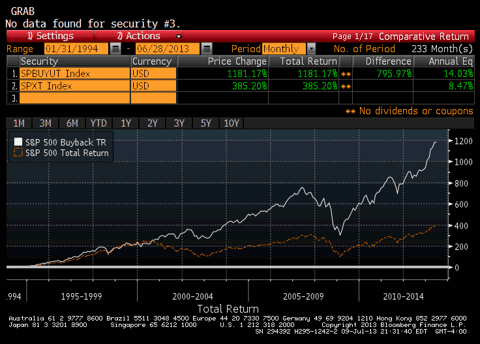 Source: Bloomberg
The S&P Buyback Index has also strongly outperformed the broad market gauge this year, besting the S&P 500 by over ten percent in 2013 (graphed below) with only two of the one hundred constituents posting negative year-to-date returns.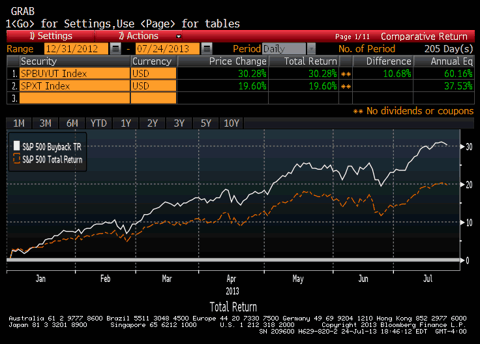 Below is a table of key financial and return metrics for the ten constituents discussed in this third version of the article: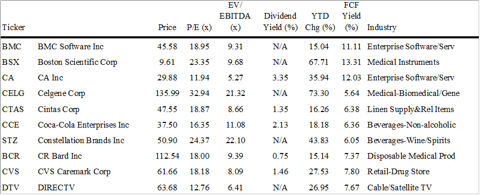 Through close of trading July 24th
BMC Software (BMC)
Headquartered in Houston, Texas, BMC Software is a global provider of software used to manage business-aligned information technology services. The company announced in May its decision to be purchased by the private equity consortium of Bain Capital, Golden Gate Capital, GIC and Insight Ventures for $6.9 billion.
As a private entity, BMC will necessarily fall off of the S&P Buyback Index, but readers should take note that companies with strong free cash flow generation are often targets of LBO firms who typically choose to finance the premium acquisition price for the company with debt and use that cash flow to pay themselves dividends and/or de-lever the company over time.
I have written about BMC once before on a list of ten companies that were trading with the highest level of free cash/enterprise value in the S&P 500. Those ten companies have collectively averaged a total return of 52% in 2013. BMC Software was the laggard at only a 15% year-to-date return. Perhaps the company sold too early.
Boston Scientific (BSX)
Over the last thirty-five years, Boston Scientific has expanded to become a leading global developer, manufacturer, and marketer of medical devices used in interventional medical specialties including cardiology and electrophysiology. For the last several years, the company has been a turnaround story after a leveraging transaction to purchase chief competitor Guidant in 2007 coupled with painful product recalls to depress the stock price and send the company's debt ratings into junk territory. After a series of mis-steps, the company has returned to full investment grade territory and healthy free cash flow generation employed in share repurchases has sent the stock soaring, up 68% in 2013.
At the Deutsche Bank Healthcare Conference in late June, CFO Jeffrey Capello addressed the company's capital allocation strategy with a brief history on the company stating: "About a year-and-a-half ago as we were approaching investment grade stage... we went to the board and said we thought the company was significantly undervalued and the stock price was in the $5's and put in a $1 billion share repurchase program and then we executed against that the last twelve months and we've bought back roughly... 13% of the company...".
For a company that produces $100 million of free cash flow a month, or nearly 9% of the current market value of the company per year even after its rapid rise, readers should note that Capello continued by saying that "we continue to believe the company is undervalued and we continue to be very supportive of the stock price and returning capital to shareholders." At 24x trailing earnings and with an enterprise multiple of 9.7x, expect the company to do additional bolt-on acquisitions like the recently announced purchase of C.R. Bard's electrophysiology assets and slow share repurchases, but know that the company has the capacity to continue to support the shares if needed.
CA Inc. (CA)
Like the aforementioned BMC Software, CA designs, develops, markets, licenses and supports standardized computer software products used with mainframe computers and in client/server environments. Additionally, the company offers various enterprise systems management, information management, and business applications solutions.
On last night's conference call, CFO Rich Beckert indicated that the company "ended Q1 with approximately $1 billion in net cash" and "paid $114 million in dividends and repurchased approximately two million shares for approximately $53 million." According to Beckert, the company is "authorized to repurchase and additional $452 million of common stock in fiscal 2014."
It is important to note that the net cash position is net of the company's total debt. Five hundred million, or forty percent, of long-term debt matures in December 2014. This debt carries a 6.25% coupon. The company could issue ten-year unsecured debt today at around 4.25%, cutting out $10 million of annual interest expense that would fall straight to the bottom line. With bond ratings of Baa2/BBB+/BBB+, the company could choose to incrementally re-lever without sacrificing investment grade ratings and potentially return several hundred million of cash to shareholders. The private equity companies buying BMC are going to attempt to service a much higher debt level with a similar business model when they complete the debt-financed acquisition.
However, cash flow was weak in the quarter due to what appears to be some one-time adjustments. The company has generated $1.1 - $1.4 billion of free cash flow for the last three years, has negative net debt, and recently quintupled the dividend from $0.05 per share to $0.25 per share. This is a company that is seeking to return cash to shareholders in its mature business, and at 12x trailing earnings and an enterprise multiple of only 5.3x is one of the cheaper companies on this list.
Celgene Corp. (CELG)
Celgene is a global biopharmaceutical company focused on the discovery, development, and commercialization of therapies designed to treat cancer and diseases of the immune system.
Celgene's stock has been a powerhouse over the past decade (28% annual return), and that trend has continued in 2013 with a year-to-date gain of over 70%. The company announced earnings earlier this week, solidly beating estimates. Management struck a well-deserved confident tone on the earnings call, and the company continues to aggressively bet on itself. The company repurchased $1.8 billion shares in the first half, and its Board authorized a new $3 billion share repurchase program. At an enterprise multiple of over 21x, one must be better versed on their product pipeline then I am to pick the stock to continue to outperform. This multiple is pricing in the expectation that the company continues pumping out blockbuster products. The company has had an extraordinary run, and is trading at an extraordinary multiple accordingly.
Cintas Corp. (CTAS)
Cintas designs, manufactures and implements uniform programs for companies employing five million people. The company also offers facility services, first aid and safety products, fire protection solutions, and document management. The company is the undisputed leader in the uniform services sector (70% of revenues) with three-eighths of the market, tripling its share over the last thirty years both organically and through bolt-on acquisitions. The company's route density allows it to leverage fixed costs and produce incremental margins relative to peers.
Cintas is a great company, and joins AT&T (NYSE:T), Beckton Dickinson (NYSE:BDX), C.R. Bard (NYSE:BCR), and Johnson & Johnson (NYSE:JNJ) as one of only five S&P Buyback Index constituents who are also members of both the Dividend Aristocrats and the S&P Low Volatility Index, strategies that I have demonstrated have outperformed the S&P 500 over long-time periods. Cintas's year-to-date equity return slightly trails the broader market.
Cintas has produced positive free cash flow for at least the last twenty-five years (the beginning of my dataset), and has paid an increasing dividend rate for the past thirty years. With just over 1x net leverage and single-A rated debt, this streak does not appear to be in near-term jeopardy. The company is still churning out seven percent-type earnings growth rates and has a long track record of returning cash to shareholders. In the past fifteen months, the company has bought back $338 million of stock (6% of the company) and had $162 million under the Board authorization as of May 31st. For buyers of high quality companies, Cintas fits the bill and I expect the company to generate market-like returns with perhaps slightly lower volatility prospectively.
Coca-Cola Enterprises (CCE)
Coca-Cola Enterprises markets, sells, manufactures and distributes beverages internationally, handling roughly eight percent of the Coca-Cola system's global volume. While most people relate the Coca-Cola (NYSE:KO) name to its Atlanta roots, CCE actually generates all of its revenues in Europe with the North American bottling operations owned by the parent company since 2010.
CCE's 2nd quarter results beat bottom line estimates despite weak operating trends due to the company's aggressive buybacks. While owning a shareholder-friendly stock is typically welcoming, sales declined by 2.5% in the quarter on both weaker pricing and sales. The company generates very solid free cash flow, but this is a European business that must continue to navigate macro headwinds. While the company increased its share repurchase estimate for the fiscal year from $500 million to $1 billion, these efforts may only serve to keep the stock from underperforming, given weak top-line growth. Conversely, accelerating growth in Europe could lead this stock to outperform given its relatively low multiple for its sector.
Constellation Brands (STZ)
Constellation Brands produces and markets alcoholic beverages globally. The company is the top premium wine producer in the world with leading populist brands Arbor Mist and Robert Mondavi. The company's beer line include Corona, Modelo Especial, Negra Modelo, Pacifico along with vodka brand SVEDKA and whiskey brand Black Velvet.
It has been good to be in the booze business. The company has directed its strong free cash flow to repurchasing shares, buying roughly a quarter of the company back since year-end 2010 at an average price of $20/share (current stock price $50) while concomitantly reducing net debt and completing several key acquisitions. At the company's recent investor meeting, management indicated that the company will continue to focus on debt paydown and expects to achieve its three to four times leverage target in two years. When the company is in this position, which will likely correspond with investment grade debt ratings, the company will shift its capital allocation to further returning cash to shareholders, which includes evaluating the initiation of a dividend.
The company has really stretched a buck the past few years, simultaneously buying back shares at attractive prices while de-levering and funding capital expenditures. The company now trades at a multiple befitting a high margin, steady business, and I believe that the stock will market perform after its strong run.
CR Bard Inc.
C.R. Bard designs, manufactures, packages, distributes, and sells medical, surgical, diagnostic, and patient care devices to hospitals and healthcare facilities globally. The company's specialties include vascular, urological, oncological, and surgical products.
The company released results this week showing a modest revenue growth that helped drive the EPS beat. The company repurchased 1.7 million shares in the quarter, or roughly two percent of the share count. The company does not commit to a specific share repurchase plan, choosing to buy shares when opportunities are available after other strategic uses of cash. Research and development investment grew by nearly a third year-over-year, indicating that organic growth objectives may be the source of cash flow deployment in the near-term.
The company has underperformed over the last year and offers an attractive free cash flow yield. The company has a market value six percent less than it did at year-end 2007, but is producing EBITDA and free cash flow roughly forty percent higher. While the company no longer operates with the negative net debt in which it operated in the 2000s, the company still has less than one turn of net leverage and operates with A-rated debt. Even trading near its 52-week high, the company offers comparatively good risk/return relative to other domestic large cap stocks.
CVS Caremark (CVS)
CVS Caremark is an integrated pharmacy healthcare provider offering pharmacy benefit management services, retail and specialty pharmacies, and retail clinics at 7,400 retail stores. The business model is not complicated. CVS leverages its vertically integrated model to drive volume through its expansive fixed asset base to increase the cash produced by the organization. Under this relatively simple framework, the company expects to return $5 billion to $6 billion to its shareholders per year.
The company has modestly underperformed rival Walgreens, and I expect that CVS's enhanced shareholder focus will help it catch its chief competitor over the next twelve months as Walgreens integrates Alliance Boots. No healthcare organizations in the country have more touch points than these drugstore duopolists, and I expect that the Affordable Care Act will positively impact these companies (even if it is a broader drag on economic growth). I expect CVS to modestly outperform the broader market over the intermediate term from its current reasonable valuation while being a relatively defensive play given its tremendous cash flow generation.
DIRECTV (DTV)
DIRECTV provides digital television entertainment in the United States to over twenty million customers and in Latin America to an additional sixteen million customers. While the company has a narrow product offering, operates in a mature market, and faces stiff competition from deep pocketed peers, I view the current valuation as reasonably attractive (trailing earnings multiple in the bottom quintile of S&P Buyback Index constituents) and believe that the company will continue to be a strong repurchaser of its shares. In recent periods, the company has been an industry leader in returning cash to shareholders, and its expanding emerging market footprint in Latin America can help drive top-line growth away from the industry plateau in the United States.
Summary
As I featured in the first two version of this article, and will further detail over seven additional articles introducing the remainder of the S&P Buyback Index constituents, collectively this is a group that trades at a slight earnings discount to the broader market while generating much higher cash flow per share (5.4x more cash flow per share than the average S&P 500 member.) The Buyback Index is both underweight utility and consumer staples companies that have come under pressure recently due to higher interest rates while also underweight underperforming materials stocks hampered by falling commodity prices.
Readers who stick through the remainder of these articles will see a listing of companies with a bent towards healthcare, financial, and consumer discretionary stocks with stable business profiles. These companies also are collectively smaller than the broader index constituents with an average market capitalization roughly three quarters of the size of the average S&P 500 constituent. While there is currently not an exchange traded fund that replicates this particular index, readers of the first version of this article pointed me to the PowerShares Buyback Achievers Portfolio ETF (NASDAQ:PKW), which tracks U.S. companies that have repurchased at least five percent or more of their shares over the trailing twelve months. As seen below, the Buyback Achievers have strongly tracked the returns of the S&P Buyback Index over the last five years with both buyback indices strongly outperforming the S&P 500 over that time period.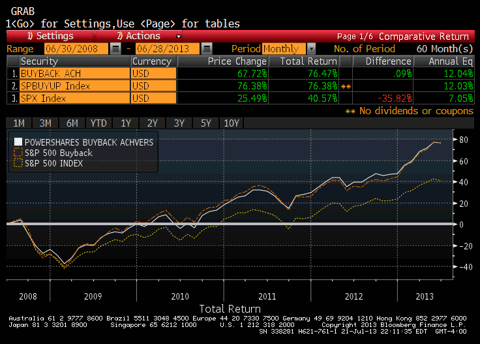 Excluding BMC, which is pending acquisition, the list in this article has returned an equal-weighted 36% return year-to-date, so a lot of the value here has already been wrung from the shares. Again absent BMC, all but the beverage companies, CCE and STZ hit new 52-week highs in the past week. For readers, I hope that some themes are starting to take shape. These are companies that produce tremendous amounts of cash flow, and have the ability to return cash to shareholders while maintaining investment grade debt ratings. The trick will be finding the companies that have these favorable characteristics but still trade at reasonable multiples that portend above market future returns. At the end of this ten article series, I will be offering my pick of ten companies that I believe will produce risk-adjusted returns in excess of the broader market over the next twelve months.
Disclosure: I am long SPY. I wrote this article myself, and it expresses my own opinions. I am not receiving compensation for it (other than from Seeking Alpha). I have no business relationship with any company whose stock is mentioned in this article.