News Corporation (NASDAQ:NWS) is a diversified media company including such brand names as Fox, The Wall Street Journal, Barron's and MySpace. The company derives substantial revenues from the sale of advertising in its TV, broadcast and cable networks, newspapers and inserts, websites and direct broadcast satellite services. Following chart shows its revenue by segments for fiscal 2009 (ending June 30, 2009).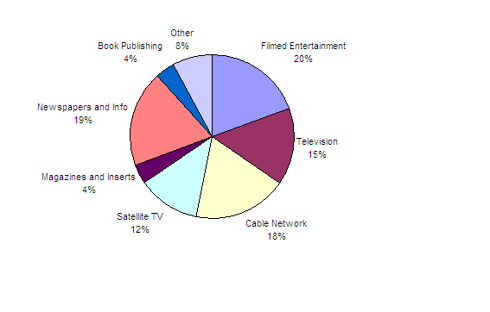 Click to enlarge
Excluding charges, the company's operating profit slid 30% in its fiscal fourth quarter from a year earlier, as earnings growth at its cable TV networks wasn't enough to offset weaker results in other ads driven segments.
The following table shows each segment's operation margin for fiscal 2009 as compared to fiscal 2008:
| | | |
| --- | --- | --- |
| | | |
| | | |
| | | |
| Cable Network Programming | | |
| Direct Broadcast Satellite Television | | |
| | | |
| Newspapers and Information Services | | |
| | | |
| Other (including MySpace) | | |
| | | |
| | | |
As you can see from the table above, even in its fiscal 2008 (before recession began), its overall operation margin was only 16%. News Corp is in an industry that seems to be in a state of shock from the combination of the economic crisis and the digital revolution. On the broadcasting side, it has an ad-supported business model that does not work, according to Chase Carey, News Corp's new president and CEO.
Following table from eMarketer.com shows the 2009 projected ad revenue percentage changes by media segments, which further supports Mr.Carey's point.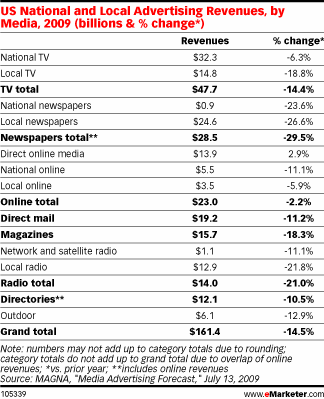 A new report from PricewaterhouseCoopers shows advertising expenditures worldwide will total $467.3 billion by 2013, about 2.5 percent lower than 2008's total of $479.3 billion. A fundamentally new advertising and marketing sector will emerge from the recession -- one that's slow to recover its previous spending levels and forced to be leaner and meaner.
Clearly the hope is in digital. Google Inc. (NASDAQ:GOOG), which has struggled for nearly three years to turn YouTube into an advertising platform, is aggressively pushing new ad formats and ramping up deals with media companies for the online video site. It will distribute a range of short clips from Time Warner (NYSE:TWX) properties such as CNN and the Cartoon Network. The agreement follows similar deals struck with Walt Disney Co (NYSE:DIS)'s ABC and ESPN.
Facebook, partly owned by Microsoft Corporation (NASDAQ:MSFT), is eating MySpace's lunch. Seems like News Corp has become a victim of new media such as search, social network and video.
However, News Corp still has a chance to catch up with new media and the new wave of leaner and meaner ad spending. Rupert Murdoch said his global media conglomerate is seeing signs of life in moribund advertising markets. Recent study also shows relative stabilization in some media channels, most notably newspaper and magazine reading. Time spent with the Internet, as it turns out, doesn't balloon indefinitely. That might sound obvious, but this is the year web surfing leveled off at 12 hours a week after growing from less than six hours a week in 2004, according to Advertising Age (adage.com).
MySpace has acquired iLike, a two-year-old social-music application company. With the move, MySpace would appear to be deepening its commitment to having digital music serve as one of the site's core content offerings. MySpace might use iLike's recommendation platform for other media, including video, entertainment and games. It may also evolve away from social networking to become more of an entertainment portal.
There is still over $14.3 billion of Goodwill settling on News Corp's balance sheet. From time to time it might give investors a surprise by another huge impairment charge. Also, some institution investors might not be willing to invest in a company that has multiple classes of common shares. However, with forward P/E of 12, News Corp seems like it is fairly valued.
Disclose: I have no position on NWS. NWS is my company's client. All data is from public available sources including SEC fillings.