Share price at time of writing: $22.98
Introduction: Intel's Stock Performance Reflects Weak PC Market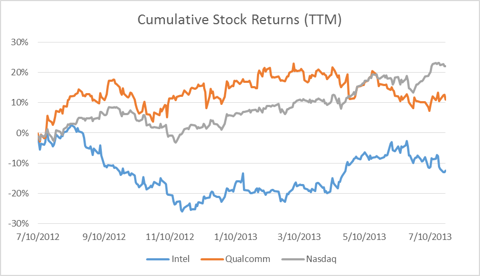 Anyone that has followed the tech industry for the past year knows that the PC market is in a rut. PC shipments have been declining, and all related stocks have struggled. HP (NYSE:HPQ) and Dell (NASDAQ:DELL) are both hitting bottoms, while Microsoft (NASDAQ:MSFT) has struggled to meet guidance. The cumulative stock return chart above shows that while Intel (NASDAQ:INTC) is down more than 10% on a TTM basis, the overall market has been rising, with the Nasdaq up by more than 20%. Stocks that are positioned to benefit from the growth of mobile device sales, such as Qualcomm (NASDAQ:QCOM), have also performed well.
Intel's main problems can be divided into two parts:
1. It is suffering from a very weak traditional PC market, and supplying powerful PC processors is its bread-and-butter business.
2. It has not yet capitalized from the massive shift in consumer interest to smartphones and tablets.
In this article, I will summarize my valuation of Intel to show that even if the PC market picks up, Intel's current valuation is not cheap enough if other catalysts do not materialize. The main catalyst that would boost the stock is significant success with mobile devices. I will also discuss Intel's continued technological prowess, and how this makes it likely to successfully expand into the mobile devices market, while fighting off attacks from ARM and its manufacturers in the traditional PC market.
Worst-Case and Conservative Scenario Valuations
The projections below are made in a full DCF and public comparables model with my own assumptions. You can buy and download a valuation model for Intel and make changes/input your assumptions yourself here.
Projecting revenue growth of 0% until the end of 2017, followed by a terminal growth rate of 2%, and a discount rate of 11.6%, gives a DCF valuation of $18.32/share, a downside of about -20%. Note that I consider this to be the worst-case scenario (realistically).
My conservative scenario, which assumes little success in the mobile devices market, is a revenue growth rate of 2% for 2013, followed by 4% growth rates through 2017 as PC shipments pick up, mostly driven by sales in emerging markets, and as sales from Data Servers continue to grow modestly. A terminal growth rate of 3% and a discount rate of 11.6% result in a valuation of $22.18/share, a downside of about -3.5%. This shows that Intel's current valuation reflects a general consensus that Intel will not make significant inroads in the mobile devices market. Analysts believe that PC shipments will show modest growth in the next 5 years, helping Intel to grow sales in the mid-low single digits - and there will be little other significant catalysts for the stock.
My opinion differs from this consensus: I believe that Intel will begin to gain significant market share in tablets in 2014, and in smartphones soon after.
Intel Will Succeed in Mobile
Most technology enthusiasts agree that tablets and PCs are on a path to convergence. Laptops are becoming more energy efficient, tablets are becoming more powerful, and mobile OSs are gaining useful features every year. This is the biggest danger to Intel's business - the more tablets become like PCs, the greater their ability to cannibalize PC sales. While many people criticize Windows 8, it's hard to deny that Microsoft (MSFT) is at the forefront of this convergence - with its new PC/tablet OS, Microsoft has essentially leapfrogged this gradual convergence and attempted to skip ahead to what most devices will be like in 2-3 years. Windows has a PC operating system market share of over 90%, making Windows 8 a crucial development for Intel. Several developments have opened the door for future mobile catalysts for Intel:
1. Windows RT has flopped. RT is the version of Windows 8 that was designed to run on ARM mobile chips (non-Intel). This was a significant attack on both Intel's dominance in PCs and its chances in the tablet market, as Windows has only been compatible with x86 architecture chips [mostly Intel, but also AMD (NYSE:AMD)]. However, Windows 8 RT has been one of the biggest flops in recent technology releases - in part because of the poor performance of the ARM-based chips, and in part because RT devices cannot use legacy Windows applications (a huge downside). Microsoft just took a $900m write-down related to the Surface RT, and many manufacturers have canceled future RT devices in favor of full Windows 8 tablets. All of this means that Microsoft's tablet strategy strongly depends on Intel, and will continue to do so. It also means that we are still very far from ARM-based devices replacing traditional PCs for power users or in the workplace.
2. Intel's new Haswell chips are delivering in power efficiency. For years Intel has been behind on power efficiency, which has held it back in the mobile market. As of about a year ago Intel's Atom chips could closely match competitors' chips in performance and battery life. However, its more powerful core chips were not efficient enough to permit for tablets that could truly be great at both being a tablet and a PC. This is going to change in the next few months as more Haswell-based devices are released. Intel has improved power consumption by 50%, which means that transformable and devices like the Surface Pro will become much more viable options for consumers once they are refreshed.
3. The hybrid experience is becoming more refined. The Surface Pro got great reviews (even though it has poor battery life), and most of the major manufacturers are bringing out more and more exciting devices. We are clearly in a transition phase in which companies like HP, Dell and Asus are no longer focused on traditional designs and user experiences. This will bring a lot of innovation to Intel-based devices in the next months, which will help to grasp consumers' attention and drive future demand.
4. If devices like the Surface Pro end up being winners in future versions, the main competitors will have to adapt. Let's imagine that Microsoft pulls off its vision and can truly drive user experiences on PCs/hybrids that are as good as the iPad in tablet mode, and as good as a laptop in productivity mode. Apple and Google will need to adapt. In 2006, Apple switched from Power-PC-based chips for its computers to Intel processors, mostly because it realized that Intel's technology prowess would open up more possibilities in the future. While I wouldn't say that this kind of a transition is likely for Apple today, it could happen, and if it did it would completely disrupt Intel's valuation (to the upside). Again, Microsoft is an important part of this, because the success of Windows-based tablets alters the probability of others changing their strategies. Samsung has already switched to Intel for the Galaxy Tab 3, so I would not rule out the possibility of Apple making changes (see here).
Upside Valuation: If Mobile Gains Momentum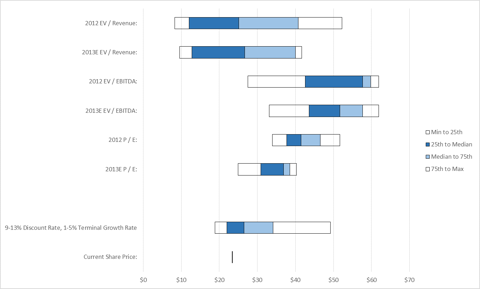 As you can see above, my assumptions for the valuation of Intel's stock yield is fairly variable results (if mobile gains momentum). I would ignore the EV/EBITDA-based valuations, as EBITDA is a bad comparable measure for Intel because of its extremely important CAPEX investments. I would say that if mobile gains momentum, Intel will most likely rise from its current trading range of $21-$24 to somewhere in between $25-$30. Any share price above $30 would either require very significant progress in mobile chip sales without a significant reduction in margins, or big news that induces hype such as the announcement of Apple switching to Intel for one of its major product lines. Overall, significant progress in mobile should cause a 15-25% rise over the next year.
Conclusion
Intel is an extremely high-quality company that has suffered from a very weak PC market. This weakness has hurt the stock, and is the basis for a potential buying opportunity. It is important to remember just how high of a quality business Intel is: its profit margins are stronger that its peers (at over 20%), it has almost complete dominance over PC processors, it generates strong yearly cash flows, and, most importantly, it has an extremely powerful moat (a result of over $10B/year in CAPEX).
However, Intel is close to fairly priced if the mobile market evades its grasp. For this reason, a long-term play (2+ years) depends largely on one's belief that Intel's technological prowess (and apparent reorganization under the new CEO) will lead to large gains in the mobile devices market. The risk proposition is favorable with a 20% worst-case scenario downside, and a medium-term upside of 15-25% with much greater (but unpredictable) upside in a 2-4 year horizon. If you want to see how your assumptions affect Intel's valuation, you can download a full excel valuation model here.
Disclosure: I am long INTC. I wrote this article myself, and it expresses my own opinions. I am not receiving compensation for it (other than from Seeking Alpha). I have no business relationship with any company whose stock is mentioned in this article.