It is once again time to take a look at how the weekly sales data for Arena's (NASDAQ:ARNA) Belviq is tracking. This weekly tracking has become something that many investors look forward to as they assess the pathway that sales are tracking on. Perhaps more than any other articles, this series generates substantial comments and e-mails. In order to be as clear as possible please consider the following:
The data used is from IMS Healthcare. This company reports numbers each Friday.
I adjust the IMS data up 30% to account for any under-estimates that can arise for a number of reasons.
Another company, Symphony Health, also tracks sales data. It typically comes out later in the day, and after the sales data from IMS has carried its impact on the markets. I track Symphony data, and I adjust it up by 20%.
The tracking blue and gray paths are my models on how Eisai can arrive at $150 million in gross sales by the end of the year. The $150 million seems to be the subject of continued debate. In May of this year, the Eisai CEO outlined a $200 million target by Eisai's year end of March 31, 2014. On June 7th Lonnel Coates, CEO of Eisai America outlined $150 million by the "end of the year." Coates was at, and spoke during the Eisai shareholder referencing $200 million by March 31st of 2014. Some investors (mostly retail) have argued (after the sales numbers began to roll in) that the $150 million was actually for March 31st of 2014. Essentially, to believe that the $150 million was meant for March you must believe that Eisai told its investors $200 million in mid May and then trimmed the target by 25% three weeks later on launch day. I am sticking with the $150 million by the end of the year as Eisai's GROSS sales number. It is important to understand that gross sales is the number prior to discounts and adjustments. The gray and blue lines track Eisai's goals, not Arena's goals.
I have added an "analysts' expectations" line to the graph (depicted in Yellow). This line tracks to $55 million in gross sales by the end of the year. If we assume that the average prescription is $125, it would take $55 million in gross sales to bring in the $10 million in Belviq royalties to Arena that these analysts are modeling in arriving at $12 price targets for Arena. The yellow line is tracking analysts' goals for Arena.
I have not modeled the Credit Suisse sales expectations. They are below that of Leerink Swan and Jefferies. Credit Suisse carries a $5 price target on Arena.
The orange line depicts my 30% adjusted IMS sales. It is currently pacing just above the blue hockey stick model and the yellow analysts' model.
I have not stated that the company will track to any particular line. Currently the gray straight-line model to $150 million seems unattainable (though it is still early).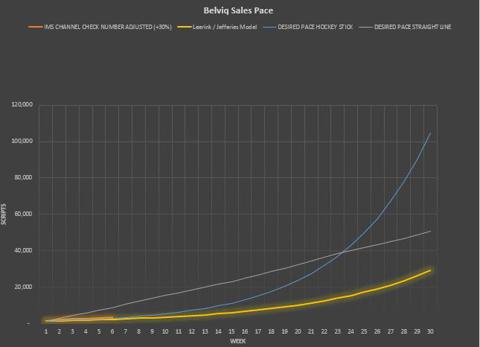 As stated, we are early in the game. It is my opinion that somewhere between week 12 and week 16 we will be able to determine a trend line that will point to the likely result by the end of the year.
The IMS sales data for the week of July 19th on Arena's anti-obesity drug Belviq was 2,840. My adjusted total for the week is 3,692. Belviq sales are tracking just above the hockey stick model as well as the analysts model in my chart.
Perhaps the most frequent complaint I see about the prescription numbers is that the sales are tracking ahead of competitor Vivus (NASDAQ:VVUS) yet Arena is not seeing stock price traction from the numbers. The main reason that the stock is not gaining traction from the numbers is that they are not yet offering a positive surprise to the upside. The street is expecting modest weekly growth, but is fearful of the number of free prescriptions that are out there. IMS has estimated that 70% of the prescriptions are free 15-day scripts. Symphony has their estimate closer to 60%. This presents an unknown for investors. What we do not yet have a good handle on is how many of the free prescriptions translate into paying prescriptions. On one hand, the free prescriptions help to get exposure to doctors and consumers. On the other hand, they impact the bottom line. Until the street gets more comfortable with the average script price and the pace of growth the equity will not make long lasting bold moves upward.
One comparison that investors in the sector may want to look at is how the Belviq launch compares to the launch of competitor Vivus and its anti-obesity drug Qsymia. The chart below depicts unadjusted numbers. In its 6th week Vivus saw a sharp drop in prescriptions. This is likely attributable to consumers discontinuing use. What we see with Arena in the 6th week is continued growth. This could be indicative of the refill rate being decent, as well as the 15-day free trial remaining an attractive proposition for consumers. For comparison, the Vivus pace delivered just about $6.5 million in revenue on about 90,000 total prescriptions. This implied an average script price of $72 for Qsymia.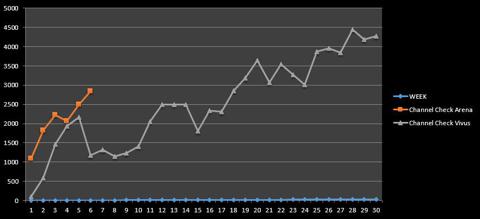 Summary
Belviq sales are not setting records, but they are not by any means failing. Essentially they are at levels that are tracking to just above analyst expectations that would derive a $12 price target. We are still early in the process, but as each week passes we have more data to consider. Arena will be conducting its quarterly conference call on August 1st. This happens to be the same day that Eisai is holding its call. Investors would love to see guidance and gain some transparency on the sales pace. Should that happen, this model will be adjusted accordingly. Investors should bear in mind that it is anticipated that Arena will use the "sell-in" method of revenue recognition. This will reflect sales of Belviq to wholesalers rather than reflect consumer purchases. This will make Q2 carry some impressive "stock-up" numbers, but will not help in modeling consumer sales and demand. Investors also need to bear in mind that only 3 weeks of sales were attributable to Q2. A big positive in Q2 will be a one-time $65 million payment from Eisai, which is part of the deal between the two companies. Stay Tuned.
Disclosure: I am long ARNA. I wrote this article myself, and it expresses my own opinions. I am not receiving compensation for it (other than from Seeking Alpha). I have no business relationship with any company whose stock is mentioned in this article.
Additional disclosure: I have no position in Vivus