Investors seemed a bit puzzled as they watched the immediate reaction of the share price of Sirius XM (NASDAQ:SIRI) to the release of Q2's numbers before the bell.
A pre-market pop to the $3.78 / $3.79 area very briefly seemed to hold until the opening bell, at which point Sirius XM dropped down to a day's low of $3.66. This prompted a few concerned remarks and questions in both email and the comment section of my first reactions to the call.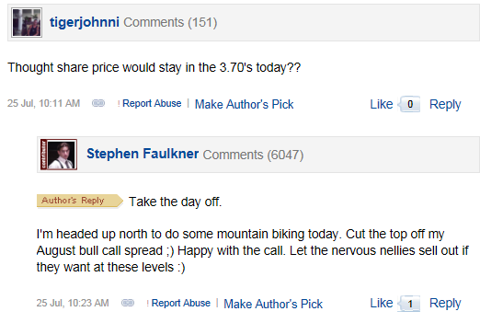 Now I know tigerjohnni can handle a bit of a share price dip. That wasn't really the issue. I think the real question here was 'how could the share price go down after such a good call?' I mean, as Spencer Osborne illustrated, the company is now in the record business... beating records that is. The company really came through this quarter with some outstanding results. Why didn't investors see a big jump like some other stocks receiving good reports?
I don't know.
That's the short and sweet of it. I can't tell you, and I won't bother to try to rationalize it. All I can say is that the behavior of the share price was healthy and strong and I am not concerned in the least with how it behaved. Notice my response to Tiger at 10:23. I took the day away from the computer to go mountain biking and leave everything behind. I heard the call, and I was impressed. After the share price dipped I "cut the top off" my August bull call spread, buying back my short $4's on the top end at a loss of only commission and let my $3.50's ride.
Nervous? No. And when I checked the closing share price for the day later in the evening I was happy to see a new post merger all-time high close of $3.78 and an on paper profit on all my positions.
There may be a lesson to be learned here. When listening to an earnings call and taking time to go over the filing, if you are happy or impressed with it, then hold fast. Unless you see news come out pointing out something you may have missed, assume that the ensuing tug of war in trading that day or over the next few days will eventually move in the appropriate direction.
I have been told conviction is overrated, but I will stress again and again that it is not. Conviction has made me more money than it has ever lost me, and conviction is what allowed me to cover out the top end of that bull call spread when the share price dipped with speed and confidence rather than look for reasons the share price went down. Anyone who wanted to buy after the call was given a gift at 3.66, and it appears that many seized that opportunity.

Look at the volume as the share price scraped $3.66. When the melee died down in that area, it was a steady climb all day long, and while I was slightly off when I said the following :
$SIRI intra day 30 minute 5 SMA support. I'll take 4 cents an hour. Resistance $3.75 break after noon?
The day showed 2 cent appreciation per hour and that $3.75 break came around 2:45. Close enough.
Look behind the scenes
I have mentioned this before, but looking behind the scenes at money flow activity can sometimes give clues as to the day's activity. If more people are buying the asking price through the day, money flow will come in high. AVAFIN's money flow data takes a look at every single trade to come through the ticker and I have found it to be a more accurate measure of money flow versus the standard 'money flow' indicator included in some charting software which looks at price and volume only and is highly unreliable.
So what does AVAFIN have for Sirius XM's money flow after the call?

Over 2 shares bought for every share sold as indicated by the B/S ratio of 2.16, and a net cash flow positive of $88.53 million into the stock. Buyers ruled the day here, and while every buyer is purchasing from a seller, the shares were largely going for the asking price. It was a 'seller's market' with the sellers commanding the premium, and believe it or not that's the best thing for those who are long the stock.
Short interest decreased
Nasdaq's freshly released short data from the closing date of July 15th shows that shorts covered a significant number of shares leading up to Sirius XM's second quarter call.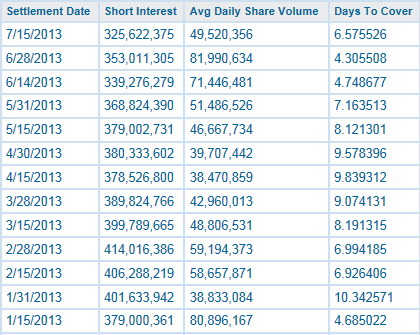 Around 27.5 million shares were covered since the June 28th reporting period and it seems these were covered just in time. I expect the share price to continue to appreciate over the coming sessions.
Will investors get a huge big run up of 20% overnight? This is highly unlikely and quite honestly, not what 'investors' should want. While that's certainly a trader's dream, Sirius XM has seen nice stable straight line long-term appreciation and investors should not wish for that to change.
I'm looking for the share price to at least reach up into the $3.90's based on the quality of the second quarter call as well as initial reaction from the Street. New post-merger high share prices, high positive money flow, and a good amount of short covering leading into the call bodes well for the stock.
Summary
Keep a cool head when earnings are released. Check yourself before you check the Street, and let the nervous hands play tug of war over the following day as long as your own expectations are met or beat. It can mean the difference between selling out into a bear trap dip in early trading, or holding through to the end of the day into all-time highs.
Disclosure: I am long SIRI. I wrote this article myself, and it expresses my own opinions. I am not receiving compensation for it (other than from Seeking Alpha). I have no business relationship with any company whose stock is mentioned in this article.
Additional disclosure: I am long SIRI January 2014 $2, $2.5, $3 and $3.5 calls. I am long SIRI August $3.5 calls.