Yesterday was a big day for earnings, both before and after the bell, as well as for the conference calls that were held. There was a ton of data to go over and press releases and news articles to read, but earnings season is exciting because of this. It is even more exciting when one is correct about their calls on both the bullish side and bearish side.
We are seeing mobile become a game changer in the tech world. It is upsetting some very lucrative franchises while, at least for the time being, creating opportunities for new names to step in and take market share. Mobile has been a big story this quarter, and based off of what we've learned and most likely will continue to learn through the end of the season, this will be a multi-year transition affecting numerous sub-sectors of the industry.
Chart of the Day
Will the results from the big names that reported yesterday be enough to propel the index higher? We are at all-time highs right now and facing a bit of resistance, but those numbers were strong and point to further growth ahead. It is all about valuation right now, and as long as the market continues to view these stocks as growth plays the index should head higher. The day the market decides to view these names as value plays is when we have a problem being bullish.
Click to enlarge images.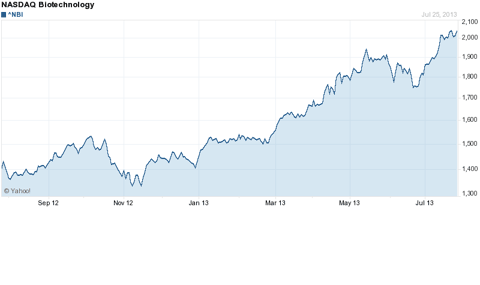 Source: Yahoo Finance.
We have economic news due out today and it is as follows:
Michigan Sentiment (9:55 a.m. ET): 84.1
Asian markets finished mixed today:
All Ordinaries -- up 0.11%
Shanghai Composite -- down 0.51%
Nikkei 225 -- down 2.97%
NZSE 50 -- up 0.11%
Seoul Composite -- up 0.06%
In Europe, markets are trading lower this morning:
CAC 40 -- up 0.57%
DAX -- down 0.53%
FTSE 100 -- down 0.18%
OSE -- down 0.32%
Biotechnology
We did not have time to cover it yesterday but our big cap biotechs, which we are bullish on, reported solid earnings. Celgene (NASDAQ:CELG) beat analysts' estimates by $0.08/share while also beating on revenues for the quarter -- something a lot of companies are struggling with (i.e., true organic top-line growth). Even better for investors is the fact that Celgene also raised their guidance for full-year results as their cancer drug offerings are doing very well, with Revlimid leading the way. Investors responded accordingly, pushing shares higher by nearly $5/share, which enabled the shares to hit a new 52-week and all-time high while finishing the session at $140.65/share. We remain bullish on the name and aside from small sales to book profits here and there, we would maintain positions at this time. The press release announcing the results is located here and the conference call transcript can be viewed here.
Celgene is looking strong, very strong. Could the latest move be another "step up" in the chart? If the stock can hold $140/share and build a base, we are inclined to say yes.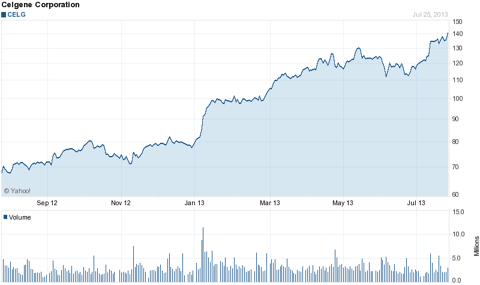 Source: Yahoo Finance.
Biogen Idec (NASDAQ:BIIB) also reported a strong quarter yesterday. However, investors' enthusiasm was certainly not displayed via the less-than-1% move in the company's shares after beating the consensus EPS figure by $0.35, beating on revenues, and guiding higher for the full-year 2013 results. The company reported double-digit top- and bottom-line growth when measured year over year, which is not being done by many $50 billion-plus market cap companies right now. Shares were trading up to $229/share in pre-market trading this morning and we would expect shares to retest highs before the end of the year. We are bullish on this name and could see investors purchasing shares here as 2013 results have been somewhat "de-risked." The press release announcing the company's quarterly results is located here and the conference call transcript can be viewed here.
Consumer Goods
We have been bullish on Starbucks (NASDAQ:SBUX) for nearly as long as we have written our morning updates here on Seeking Alpha. We took some heat as we rode the shares lower and off of their highs about a year ago, but that bullishness has paid off. Sure, we have advised taking some profits here and there, but that is merely being prudent with gains. After yesterday's close the company reported another strong quarter and posted solid comps. Volume in the stock during Thursday's session was above average with over 8 million shares exchanging hands as investors and traders positioned their portfolios for the news. The market was bullish heading into the announcement, as shares closed very close to the high of the day with the chart rising from the lower left to the upper right -- a pattern readers know we love as it denotes extremely strong bullishness.
This chart does not show it, but based off of pre-market action the stock was set to open at an all-time high.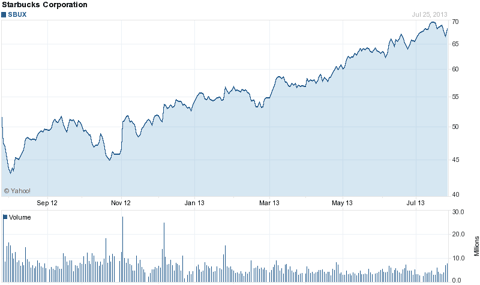 Source: Yahoo Finance.
The company beat by $0.02 on the EPS consensus while meeting analysts' revenue projections and guided their full-year EPS in line with the current consensus. The numbers were helped by strong same-store sales figures in the U.S. and lower costs for the company, something we alluded to in our commodity-focused article (located here) yesterday. Coffee prices are falling and that is very good for Starbucks, but it is also something to pay attention to moving forward because the commodity has been in a five-year bear market. The company's press release announcing their quarterly results can be found here, with the conference call audio recording located here and the transcript version located here. This type of growth cannot last, but we remain bullish for the time being. We would also expect readers to smartly take money off of the table here and moving forward as shares were trading up over 6% on the news and sitting at a new 52-week and all-time high in pre-market trading.
Technology
Although China is an area we have steered clear of recently when it comes to companies we highlight, Baidu (NASDAQ:BIDU) is a name we pointed out to investors a while back as it was approaching $100/share. The overall economy in China may be questionable at this time, but the transition of the population into the information age is something that will not be stopped by growth lagging by a few percentage points. We are bullish on that transition long term simply because it has transcended economic conditions in other countries around the world over the past 25 years. Yes, the company saw profits drop a bit in the past quarter, but they did beat the EPS consensus while also beating on the overall net profit numbers. And they saw revenues rise by nearly 40% (the press release announcing the quarterly results is available here).
The mobile segment is really exciting as it appears that Baidu is beating the competition there. With that segment only representing a bit over 10% of revenues, investors could see this power both top- and bottom-line figures higher as the company steals market share. With the number of Chinese who have mobile Internet access now at nearly 465 million people, the company is looking at a number of potential M&A deals in the mobile space. This is part of the reason that net income for the quarter was down (i.e., the company saw an increase in administration and advertising costs as they spent to attract new traffic and increased staff by about 10% in anticipation of future deals). The stock should test $130/share and at that time may be a short-term sell, but long term we like the prospects as there is a lot going right for the company. We encourage readers to check out the conference call transcript located here for further research.
One name we have been extremely bearish on is Zynga (NASDAQ:ZNGA). That's because it has not been a barometer of Facebook's (NASDAQ:FB) success for a very long time -- maybe even since before it came public, but that is an entirely different story. Looking at the company's results from last night and the bombshell they dropped on investors proves our analysis of the online gambling situation to be correct. We have been very vocal about selling Zynga shares if you had them, and as we watched the shares rallied nearly 7% after Facebook's earnings. Since the transition to mobile, the company has had a hard time with their gaming portfolio and Facebook's great quarter was all about the great mobile numbers.
Talk about an ugly chart -- the sad thing is that after last night's revelations, it is only going to get worse today.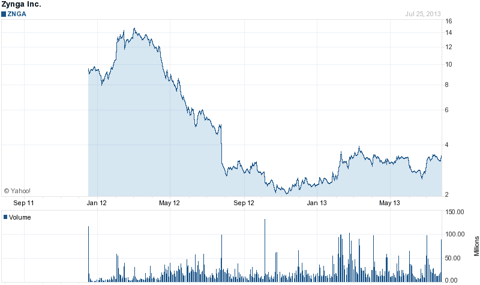 Source: Yahoo Finance.
The company did beat on both EPS and revenue consensus, but guided lower for the year. Zynga is cutting costs and has decided not to pursue real money gaming (read: gambling) in the United States, and it sure sounds as if they are looking hard at whether to continue to pursue the U.K. market with their joint venture partner. The press release announcing the quarterly results is located here with the transcript of the conference call located here. Shares in pre-market activity were trading lower by $0.61 (17.43%) and were quoted to open at $2.89/share. Readers should also note that Needham lowered their recommendation on the firm from a "Buy" to a "Hold" this morning.
Disclosure: I have no positions in any stocks mentioned, and no plans to initiate any positions within the next 72 hours. I wrote this article myself, and it expresses my own opinions. I am not receiving compensation for it (other than from Seeking Alpha). I have no business relationship with any company whose stock is mentioned in this article.