As a writer and financial journalist, I often get asked why REITs are so interesting. In fact, I was prepared for the exact question this week when I was going up an elevator in New York City.
Needless to say, my short answer is that "I write about commercial real estate"; however, I never feel satisfied with the short answer and, as my wife will tell you, I love to talk. So, I began my elevator pitch:
I write about REITs because the asset sector pays out high and steady dividends. Every investor should consider some allocation to REITs since they provide the benefits of commercial real estate along with the advantages of investing in a publicly traded stock. The special investment characteristics of income-producing real estate provide REIT investors with competitive long-term rates of return that complement the returns from other stocks and from bonds.
In an article earlier this week (How Big Of A Slice Is In Your Intelligent REIT Portfolio?) I went into a more detailed explanation of REITs by explaining that a larger portfolio allocation (for REITs) could provide meaningful benefits. As I wrote:
The other thing to know is that REITs can provide insurance against broader stock market movements, including those in the utilities, oil & gas, and consumer staples sectors. Historically (and outside of 2009-2010), REITs have continued to perform and pay out income to investors, even when there are macroeconomic shocks to the market that impact these other sectors.
My closing comments were more direct as I always like to mention the key differentiator for REITs and the most important value proposition summed up in one word called "dividends." As I explained:
REITs should be a core part of an investment allocation strategy as they have a proven track record of long-term performance, due in large part to their dividends. They generally operate with a longer-term investment horizon, typically use low-to-moderate leverage in their business model and have acted as a stabilizing force within the real estate sector during times of economic uncertainty.
The Most Important Thing
Everyone has his or her own tolerance for risk. For some, mortgage REITs may not be considered a risky sector, while for others they may be. I always tell people that you know when your risk is too high when the "thrill of victory is not worth the agony of defeat." In other words, and as Howard Marks (author of The Most Important Thing) wrote:
It's the investor's job to intelligently bear risk for profit. Doing it well is what separates the best from the rest.
When it comes to REIT investing, I believe dividends are "the most important thing" and, in fact, my conviction for REIT dividends is always part of my elevator pitch. I never fail to tell novice and experienced investors that I consider REIT dividends to be the "holy grail" and although I love to see Mr. Market move REIT stocks in the right direction, I always preach about the "most important thing." I never compromise the fact that REIT dividends are the "heart and soul" of the REIT model and the consistency in REIT dividends is the most essential element and the most persuasive test of repeatability.
So what do I mean by repeatability?
In one of my favorite books, Repeatability: Build Enduring Businesses for a World of Constant Change by Chris Zook and James Allen, the co-authors wrote:
The power of a repeatable model lies in the way it turns the sources of differentiation into routines, behaviors, and activity systems… that strongest source of differentiation in a company's business are its crown jewels.
So how is it that REIT dividends are like "crown jewels" and why is it important to have growing REIT dividends. Well, I asked Brad Case, Sr. VP with NAREIT why REIT dividends are so important:
Of course this is a great time to acquire assets, but listed REITs (unlike most private real estate investment managers) have excellent access to the capital markets. That means REITs don't have to hoard their cash to make investments, so I think investors can expect the improving economy to benefit them in the form of dividend growth.
Comparatively speaking, dividend growth is a key differentiator for REITs and the snapshot below (provided by NAREIT) illustrates the argument: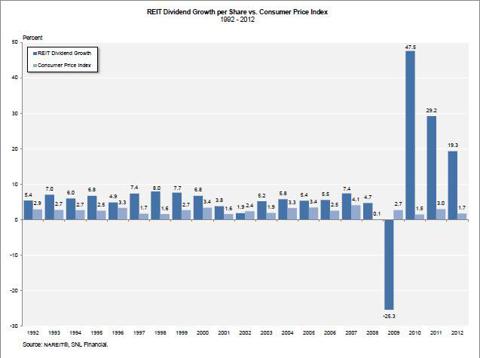 So What's a Good Barometer That REIT Dividends Will Grow?
In the book, Investing in REITs, the author, Ralph Block wrote:
Another criterion for separating REIT "have" from REIT "have nots" is the dividend policy…One key issue for investors is the REIT's payout ratio…A modest payout ratio is also good insurance against unexpected events that might cause a temporary downturn in free cash flow.
In a recent interview (by phone) Matt Werner, Portfolio Manager with Chilton Capital Management explained:
We emphasize a long-term view of real estate investing to our clients. But looking into the second half of this year, there are opportunities for some guidance increases, based on some numbers that have been reported so far. There are some easy comps for lodging companies and the payout ratio in terms of dividends over AFFO is extremely low right now, so there could be higher dividends going into the second half of the year.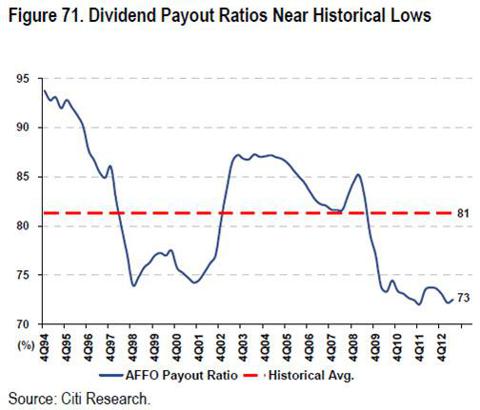 The Crown Jewel Keeps Shining
Thursday Realty Income (NYSE:O) announced second quarter and mid-year earnings and, once again, the Triple Net REIT delivers strong results. Revenue (Q2-13) increased 63.0% to $184.3 million as compared to $113.1 million (for Q2-12). Revenue, for the six months (ended June 30, 2013) increased 58.1% to $355.5 million as compared to $224.9 million (for the same period in 2012).
Net income available to common stockholders (for Q2-13) was $44.2 million as compared to $33.0 million (for Q2-12). Funds from Operations (or FFO) for Q2-13 increased 81.7% to $118.5 million as compared to $65.2 million (for Q2-12). FFO per share (for Q2-13) increased 22.4% to $0.60 as compared to $0.49 (for Q2-12).
Realty Income's occupancy jumped 50 basis points to 98.2%, closing in on the all time high of 98.8% reached in Q1-07. During the latest quarter (Q2-13) Realty Income purchased 190 properties totaling $738.1 million at a 6.8% cap rate. On the conference call Thursday, Realty Income made a reference to the fact that the company had heavy acquisition activity with a record of $15 billion of deals "sourced" in the second quarter (and $20 billion year-to-date).
The company's CEO noted that the most recent quarter has seen "record transaction flow" and it has been the "most inquisitive quarter" in its history. In short, Realty Income is crushing it as evidenced by guidance being increased to $1.25 billion.
As of the latest quarter (Q2-13) Realty Income owns 3,681 properties located in 49 states and Puerto Rico, leased to 194 commercial enterprises doing business in 46 industries. The properties are leased under long-term, net leases with a weighted average remaining lease term of approximately 11.0 years.
In June (2013) Realty Income announced the 63rd consecutive quarterly dividend increase (the third increase this year), which is the 72nd increase in the amount of the dividend since the company's listing on the NYSE in 1994. The annualized dividend amount (as of June 30, 2013) was approximately $2.179 per share. The amount of the monthly dividends paid increased 24.5% to $0.544 per share, in the second quarter of 2013 from $0.437 per share for the same period in 2012.
I caught up with Rich Moore (by phone), Analyst with RBC Capital Markets, Thursday. His company has a sector perform rating on Realty Income and he said:
Realty Income has a very, very, very stable operating platform with a nice steady revenue stream of income (internal growth) and a strong ability to grow externally with over $2 Trillion of opportunities (as referenced by Realty Income's CEO, Tom Lewis).
Don't Compromise Your Conviction for The Monthly Dividend Company
Realty Income has turned in another impressive report card. Let's look at some historical trends (using the latest Fun Graphs by FAST Graph). Here is a snapshot of the company's historical assets and debt: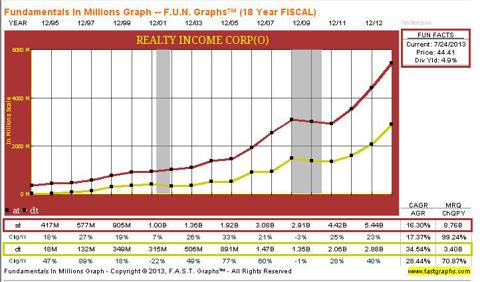 Here is a snapshot of dividends paid: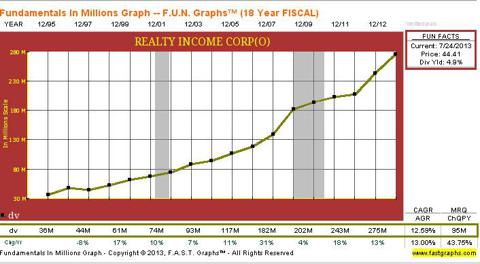 Here is a snapshot of dividends paid per share: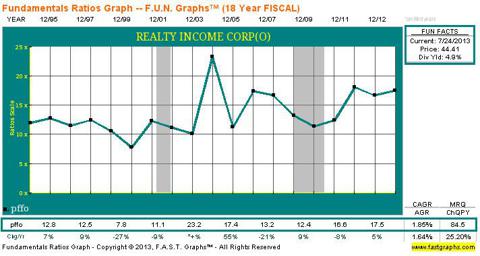 As noted above, one of the most important dividend metrics is the dividend payout ratio. In the first quarter (Q1-13), Realty Income's payout ratio was 89.6% and in the second quarter (Q2-3) it was 91%. This all important metric tells me that Realty Income has plenty of room to grow, even if the company doesn't grow. (Keep in mind that when a company pays over 100% there is more risk.) The snapshot below provides a good illustration of Realty Income's FFO per share (green line) compared with its dividends per share (brown line).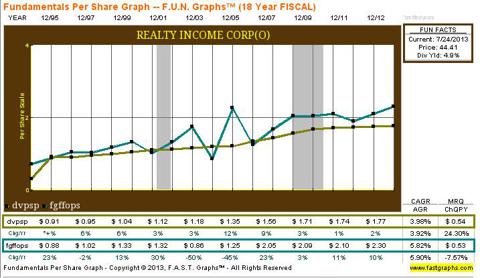 On the Realty Income conference call Thursday, the company's CEO, Tom Lewis, referred to the recent REIT sell-off as "taper tantrum." Here's a snapshot of the 90-day stock price history (shares dropped around 20% since May 21st through Thursday):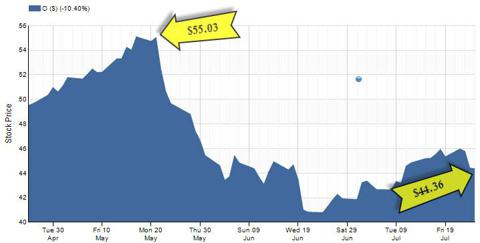 Realty Income's recent price was $44.36 with a P/FFO of 18.5x. Here is a snapshot illustrating the 90-day price to funds from operations history during the latest 90 days.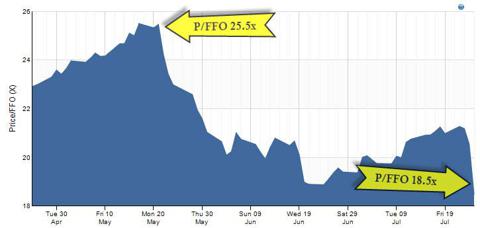 The FAST Graph below illustrates Realty Income's model platform of repeatability. The shaded aqua blue area represents the "monthly dividend company's" steady and growing 19-year dividend history. As you can see, Realty Income increased its dividend for over 19 years in a row - a stalwart record of repeatability.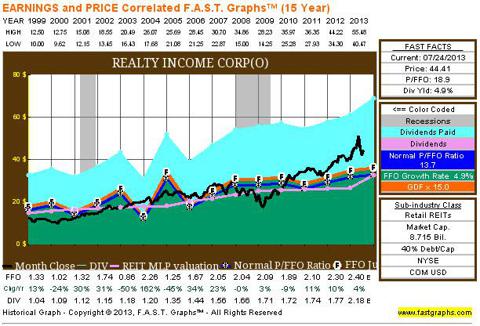 In my home town, there's a famous restaurant called The Beacon. Before I was married with kids I used to eat there every week and one of my favorite menu items was called "The Cheeseburger A-Plenty." Let me show how much I enjoyed my weekly, yet sinful, outing: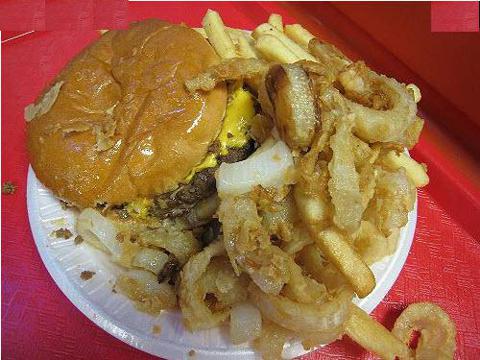 Much like the Beacon Restaurant, Realty Income is also a "beacon for dividends." In fact, I find that Realty Income's dividend policy and track record for paying out high and steady dividends is as appetizing as eating a mouth watering cheeseburger-a-plenty. Clearly Realty Income is not a "value meal" at $44.36 (and a P/FFO of 18.5x); however, the REIT does provide a tasteful 4.91% dividend yield. More importantly, there is strong indication (and more recent validation from Q3-13 earnings) that the dividend stream will continue to increase. Here is snapshot (zooming-in) of the fairly valued REIT: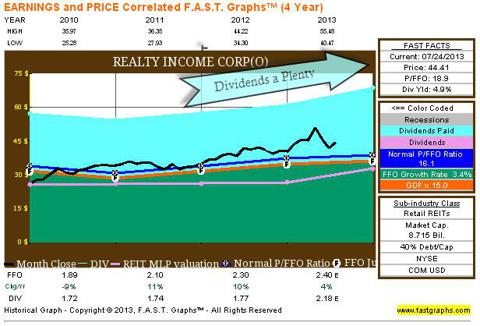 Earlier this week, someone asked me to compare the performance of Realty Income and Capstead Mortgage Corporation (NYSE:CMO), a mortgage REIT that closed at $11.89 paying a 10.43% dividend yield. This is a picture of Capstead (using FAST Graph) and, as you can see, I would not recommend looking at this snapshot after eating a Cheeseburger-A-Plenty… it may make you nauseated: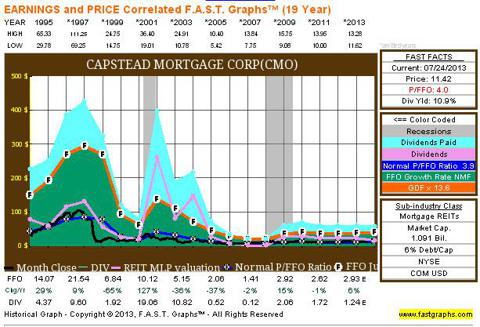 Now by way of performance, Capstead returned (including reinvested dividends) 13.4% over 19 years and Realty Income returned (including reinvested dividends) 16.9%. Over the last two-year period Capstead returned (with dividend reinvested) 5.6% and Realty Income returned 21.7%. Capstead's returned a negative 16.27% over the least twelve months compared with 6.48% for Realty Income.
So my elevator pitch for REIT investing is a mouthful but I must tell you all that I have a strong conviction for REIT dividends. My confession is well supported by the argument that REIT dividends provide well-balanced income enhanced by a very efficient forced component of repeatability. That defensive attribute of sustainability is especially advantageous when considering the shares of high quality companies with a long track record of profitable operations and in strong financial condition. A "sleep well at night" company, as defined by the legendary Ben Graham:
One of the most persuasive tests of high quality is an uninterrupted record of dividend payments going back over many years. We think that a record of continuous dividend payments for the last 20 years or more is an important plus factor in the company's quality rating.
Finally, I caught up with Realty Income's CEO late Thursday (by phone) and he provided me with a quick word on the Q3-13 results:
In our recent quarter, dividends per share to shareholders were up 24.5% compared to the same period a year ago. The positive results from the operations of our portfolio, coupled with a robust acquisitions environment, leads us to be optimistic relative continued dividend growth.
No more cheeseburgers-a-plenty for me but there's "more dividends-a-plenty" for "the monthly dividend company"...now it's time to sleep well at night!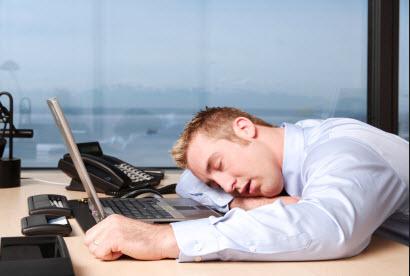 I own shares in Realty Income and the company is also a pick in my SWAN (sleep well at night) REIT portfolio in the Intelligent REIT Investor newsletter.
Sources: SNL Financial and FAST Graphs
Note: This article is intended to provide information to interested parties. As I have no knowledge of individual investor circumstances, goals, and/or portfolio concentration or diversification, readers are expected to complete their own due diligence before purchasing any stocks mentioned or recommended.
Disclosure: I am long O. I wrote this article myself, and it expresses my own opinions. I am not receiving compensation for it (other than from Seeking Alpha). I have no business relationship with any company whose stock is mentioned in this article.