In my previous article, written on the 30th of January, 2013, Harman International Industries (NYSE:HAR) was quoted against a price/earnings ratio of 10.70. I concluded that the stock was too cheap and should at least quote against a P/E ratio of 15. Today, a few months later, I noticed that the company quoted against a forward P/E of 15.
In today's article, I will discuss Harman International again and show you why I feel the company is still worth a buy. I will do this by discussing most of Harman's risks, as the stock is often seen as risky and volatile.
Suppliers
Harman uses rare earth minerals in its products, specifically rare earth neodymium magnets. A significant disruption in the supply of neodymium would have a material impact on its consolidated results of operations. An increase in price would also seriously affect Harman's business in a negative way.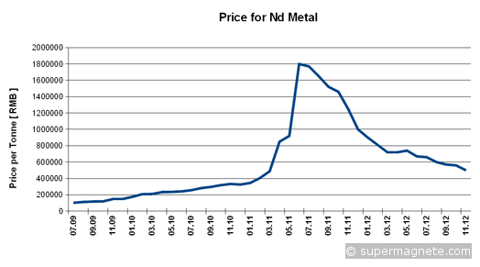 The cost for the raw material neodymium, which is the determining factor for pricing the neodymium iron boron magnets Harman uses, increased about fivefold between January 2011 and June 2011. The main producer China severely restricted its export and thereby inflated prices. Luckily, the situation has relaxed since September 2011, which allowed Harman's suppliers to reduce their prices several times.
BMW & Volkswagen are doing good
Harman is obviously subject to various risks related to its dependence on key customers.
For the fiscal year ended June 30, 2012, approximately 74% of its net sales were to automobile manufacturers. Furthermore, Harman's automotive customers are not contractually obligated to any long-term purchase of its products. The sudden loss of BMW (good for 19% of net sales) or Audi/Volkswagen (good for 14% of net sales) or any of its other significant automotive customers would have a material adverse effect on Harman's consolidated net sales, results of operations and financial condition.
Because of this, it is very important to follow the conditions of these main car manufactures.
BMW & Volkswagen group's first quarter figures 2013
Despite the increasingly uncertain political and economic climate, the BMW Group and the Volkswagen group remained firmly on track throughout the first quarter of 2013. BMW and Volkswagen again surpassed the previous year´s first-quarter record figures by selling respectively a total of 448,200 vehicles (an increase of +5.3% compared to the same period last year) and a total of 2.3 million vehicles (a 4.8% increase on a year-to-year basis) .
It is obviously good for Harman that its two main customers were able to report decent figures, but it is way too early to become optimistic. Both companies stated that the high public-sector debt levels, particularly in Europe, will continue to pose a risk to economic growth in the foreseeable future. And that further risks come from uncertainties stoked by the fear of a slowdown in economic growth in China and by the politically precarious situation in a number of crisis regions.
On the first of August, BMW and Volkswagen will release their Q2 results on their website. These numbers will give more insight into the current development of the car industry. Don't forget to check them out as they are vital for Harman.
Eurozone crisis will most likely not impact Harman's sales in a significant way
Approximately 53% of Harman's sales of fiscal 2012 were denominated in Euros. Certain eurozone countries (Spain, Italy, Portugal, Greece,..) in which Harman operates have received financial aid packages from the European Union in the form of loans and restructuring of their sovereign debt and have introduced comprehensive fiscal austerity measures.
Harman fears that if dissolution and replacement of the Euro currency and the potential reintroduction of individual European Union currencies should occur as a result of the continued euro zone crisis, it could expose them to increased foreign exchange risks.
I strongly believe Harman should not become too pessimistic about the eurozone, as Mario Draghi, President of the European Central Bank, has pledged to do "whatever it takes" to protect the eurozone from collapse - including fighting unreasonably high government borrowing costs. I don't think a country will leave the eurozone anytime soon. Plus, since mid 2012 almost all yields of the most problematic countries have shown a significant decline to more 'normal' levels. For example: Italy.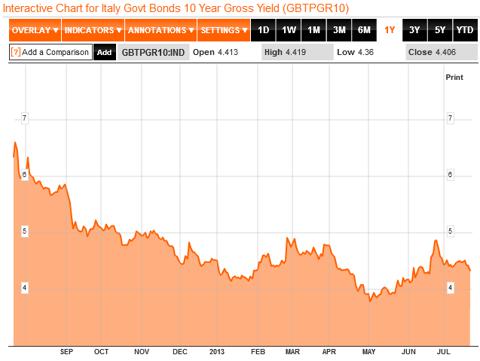 Harman's brands remain valuable
Harman's success is dependent to a large extent upon its ability to maintain and enhance the value of its brands, and its customers' connection to its brands. Brand value can be severely damaged even by isolated incidents, particularly if the incidents receive considerable negative publicity or result in litigation. So far, Harman has always been able to protect its brand and patents successfully, plus it has been able to grow its customer base substantially over the years. Furthermore, Harman is constantly in the news by the launches of revolutionary, next-generation products and systems or by getting awards or nominations for its high-tech products with excellent quality.
For example, Harman recently received the Global Industry Leadership Award for In-Vehicle Infotainment, a very prestigious price, showing us once again who really is the one and only leader of the industry.
Frost & Sullivan selected Harman for its Industry Leadership Award based on the company's demonstrated excellence in capturing the highest market share within the infotainment industry. In a report accompanying the award, Frost & Sullivan analysts point to the loyalty and satisfaction levels reported by Harman's OEM customers, as well as the company's strong commitment to meeting customer demands and strengthening its market position, as evidenced by the numerous product awards it has received from OEMs such as Toyota, Lexus, Subaru and BMW for its audio and infotainment systems.
Source: Here
Harman's biggest challenge is not as frightening as it seems
Sales of Harman's infotainment products represent more than half of its net sales. GPS/navigation technologies are increasingly being incorporated into devices such as mobile handsets and tablets. Mobile handsets are frequently GPS-enabled and many companies are now offering navigation software for such devices. In future years, if auto makers choose to replace embedded infotainment systems with mobile handset devices, the acceptance of this technology by consumers may negatively impact the demand for Harman's infotainment products.
Thankfully, Harman's infotainment products have a lot more functions than just a navigation system. Its latest NTG5 infotainment system for example, is connected to the internet, has social media, can be fully controlled via speech and has other unique futures such as sophisticated layered graphics so drivers can see "through" buildings and obstacles on the route ahead to anticipate road maneuvers.
I am pretty sure that it will take a long time before smartphones can replace all the above mentioned functions.
Furthermore, if there would be a decline in Harman's infotainment business, the decline could be compensated by the increased sales of premium audio systems.
While many automotive infotainment functions are migrating out of built-in car electronic systems and into portable devices like smartphones, music remains a basic feature that all vehicles must have," said Mark Boyadjis, senior analyst and regional manager for automotive electronics research at IHS. "This means that audio systems that can produce high-quality sound will continue to be in demand. Furthermore, while premium audio previously was restricted to luxury and high-end cars, its usage is now broadening to include mid-range automobiles as well. This will steadily grow the market size for premium audio systems.
Harman is creating massive shareholders value
On June 27, 2013 Harman announced to expand its share buyback program by $200M after its previous $200M share buyback program of 2011. A total of $270M will be bought back in future years, as there still was $70M left of the previous buyback program.
Considering the current share price of $56, a total of 4.8 million shares could be bought back. Bringing the total number of shares outstanding to 64.31 million. Further, the company announced to double its annual dividend from $0.6 to $1.20, making clear that the company is well determined to use its $432M cash pile to create shareholders value.
Source: Share buyback here
Source: Dividend raise
Harman reported decent quarterly results despite weak automotive market
Harman's latest 2 quarters were weaker than expected, but at least the company was able to remain more than profitable. In its latest third quarter results, the company was able to raise its EPS guidance again to $3.00 after it was cut from $3.67 to $2.70-$2.90.
The company was able to compensate the weaker European automotive market by sales growth in home and multimedia products in the Lifestyle Division and in the Professional Division.
Management made also clear that it will try to proactively protect its EPS. It announced - together with the disappointing results - that it will cut 1,000 jobs by FY 2014, delivering the company +- $35M in annualized savings or $0.50 EPS.
To enhance returns for our shareholders, we are taking the right steps to reduce costs, continue to drive innovation and expand our portfolio to achieve profitable growth. Economic headwinds and the slow-down in the automotive sector in Europe created a difficult operating environment for Harman during the second quarter, and we expect these conditions to continue for the first half of calendar year 2013 … Our fundamental strategy remains unchanged and with higher margin order backlog we continue to believe that Fiscal 2014 and 2015 will be strong years for Harman.
Source: Here
Future Growth in emerging markets and hybrid/electric cars industry
Harman recently developed a new mid-range infotainment system that will deliver industry-leading performance at an affordable price and that will allow Harman to further penetrate the emerging mid-range automotive market (Tata motors (NYSE:TTM), Geely, etc).
The company is also developing environmentally friendly technologies to reduce power consumption and product weight, a growing area of opportunity for environmentally conscious customers. Harman partnered with Lotus Engineering (UK) to develop active noise management applications for both conventional and hybrid/electric cars. This technology will be an important component for conventional, hybrid and electric vehicles in the future.
During the fiscal year ended June 30, 2012, Harman's sales in the emerging markets grew to $528.6 million, an increase of $123.7 million, or 30.6% over the prior fiscal year. During the fiscal year ended June 30, 2011, sales grew in these emerging markets to $404.9 million, an increase of $163.6 million, or 67.8% over the prior fiscal year. I expect Harman's market share to continue to grow significantly in these countries.
Conclusion
At first one could say that Harman is a very risky company reporting disappointing quarterly results, but once one takes a deeper look, one should notice that the risks are restricted and that the quarterly results were good considering the circumstances.
In my opinion, Harman is in good shape. The company never had so many customers and never was so shareholder focused as now. Continuous product innovation, brand awareness and expansion in the BRIC countries will ensure Harman's growth and leadership in the industry. I don't expect the road to higher earnings to be flawless; I'm sure there will be a lot of pitfalls and traps, but I think Harman is well managed and is able to make it to the other end.
If you feel confident enough to own some Harman stock, make sure to use the pitfalls and traps in your favor. I'd suggest you get in on serious pullbacks of at least 10% (for example after disappointing quarterly results) and then hold the shares for a). a quick recovery or b). for the long-term. Either way, both strategies will definitely not hurt your wealth, trust me.
Reminder for the reader: If BMW & Volkswagen's next quarter figures are good, Harman could easily jump above $60. If not, there will probably be a great buying opportunity.
Disclosure: I have no positions in any stocks mentioned, and no plans to initiate any positions within the next 72 hours. I wrote this article myself, and it expresses my own opinions. I am not receiving compensation for it (other than from Seeking Alpha). I have no business relationship with any company whose stock is mentioned in this article.