Schlumberger (NYSE:SLB) reported earnings back on July 19, 2013, before the market opened where the CFO Simon Ayat projected strong cash flow over the next five years, which will allow the company to increase the share buybacks and take advantage of growth opportunities. A five-year plan is usually unheard of from a company. He reminded us the priority of the company is to reinvest in the company organically through capital projects, then the dividend, followed by acquisitions and buybacks. Schlumberger managed to achieve double-digit year-over-year revenue growth and margin expansion through almost every segment of the company. With that in mind I'd like to take a moment to evaluate the stock on a fundamental, financial, and technical basis to see if it's worth adding more to my position right now for the dividend portion of my portfolio.
Fundamentals
Schlumberger currently trades at a trailing 12-month P/E ratio of 17.68, which is fairly priced, but I mainly like to purchase a stock based on where the company is going in the future as opposed to what it has done in the past. On that note, the 1-year forward-looking P/E ratio of 14.62 is currently inexpensively priced as well for the future in terms of the right here, right now. Next year's estimated earnings are $5.65/share and I'd consider the stock cheap until at least $84.75. The PEG ratio (1.01), which measures the ratio of the price you're currently paying for the trailing 12-month earnings on the stock while dividing it by the earnings growth of the company for a specified amount of time (I like looking at a 5-year horizon), tells me that Schlumberger is fairly priced based on a 5-year EPS growth rate of 17.42%.
Financials
On a financial basis the things I look for are the dividend payouts, return on assets, equity and investment. Schlumberger boasts a dividend of 1.51% with a payout ratio of 20.7% while sporting return on assets, equity and investment values of 12.3%, 21.3% and 11.8% respectively; which are all respectable values. If maybe you feel the market will retract a little more and would like a safety play I don't believe the 1.51% yield of this company is good enough for you to take shelter in for the time being but the dividend growth prospects are phenomenal.
Technicals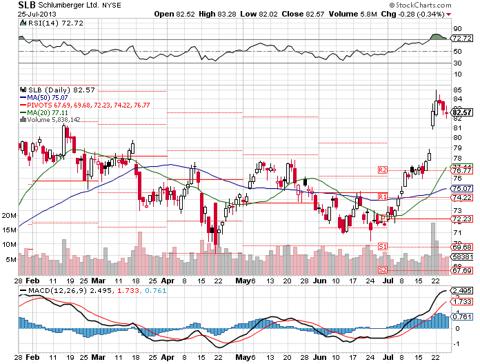 Looking first at the relative strength index chart [RSI] at the top, I see the stock in overbought territory with a value of 72.72 but with downward trajectory, which is a bearish pattern. To confirm that, I will look at the moving average convergence-divergence (MACD) chart next and see that the black line is above the red line with the divergence bars decreasing in height, indicating the stock is trading with downward momentum. As for the stock price itself ($82.57), I'm looking at $83.28 (52-week high) to act as resistance and the 20-day moving average to act as support. Quite honestly with the RSI and MACD behaving as they are I don't see the stock testing any upside resistance at all and I only see it going downwards to the 20-day moving average. I would definitely wait until I see how the stock behaves against the 20-day moving average before adding to my position.
Recent News
On July 22, 2013 Schlumberger was upgraded to a "buy" rating from "neutral" with a price target of $97 at Global Hunter after the oil services company beat earnings and announced an expansion to its share repurchase program.
On July 19, 2013 the company beat earnings by $0.04 per share and beat revenue by $0.03 billion.
On July 18, 2013 the company announced a quarterly dividend rate of $0.3125 per share with an ex-date of August 30, 2013 and a pay date of October 11, 2013.
Conclusion
Schlumberger is inexpensively valued based on future earnings and fairly valued on future growth prospects. The growth prospects are in double digits for the company, so I'd like to see the price of the stock itself come down a little for it to be more attractive. Financially, the payout ratio is extremely low in spite of recently raising its quarterly dividend 11% back in February of 2013. The company has only been raising the dividends since 2011, after a brief halt in increases back in 2009 and 2010. This dividend growth doesn't bother me as I see this to be a well-run company with great growth prospects, which will in turn allow the company to increase the dividend going forward. The technical situation of how the stock is currently trading is what is telling me that it can trade to the downside for a bit and I believe if I can get a pullback as I'm expecting I will add to my position in this fabulous company. Other than the technical situation I believe the stock is almost ripe for a little bit of picking.
Disclosure: I am long SLB. I wrote this article myself, and it expresses my own opinions. I am not receiving compensation for it (other than from Seeking Alpha). I have no business relationship with any company whose stock is mentioned in this article.