The mid-July short interest figures were released this week, so below is an updated look at the Russell 1,000 stocks with the highest short interest as a percentage of float. As shown, Cliffs Natural Resources (NYSE:CLF) is the most heavily shorted stock in the index with 36.89% of its float sold short. With a decline of 53.15% year to date, the shorts have certainly been winning on CLF. Behind CLF as the second most shorted stock in the Russell 1,000 is Herbalife (NYSE:HLF). As shown, 35.98% of HLF's float is short, which translates into about 30 million shares. Bill Ackman is thought to be short roughly 20 million of those 30 million shares, however, so keep that in mind. With a year-to-date gain of 73%, unlike CLF, the shorts are not winning on HLF so far this year.
Rounding out the top five most heavily shorted Russell 1,000 stocks are NSM, FSL and IPGP. Other notables on the list include Sears (NASDAQ:SHLD), Tesla (NASDAQ:TSLA), JC Penney (NYSE:JCP), Green Mountain Coffee (NASDAQ:GMCR), Pandora (NYSE:P) and Lennar (NYSE:LEN).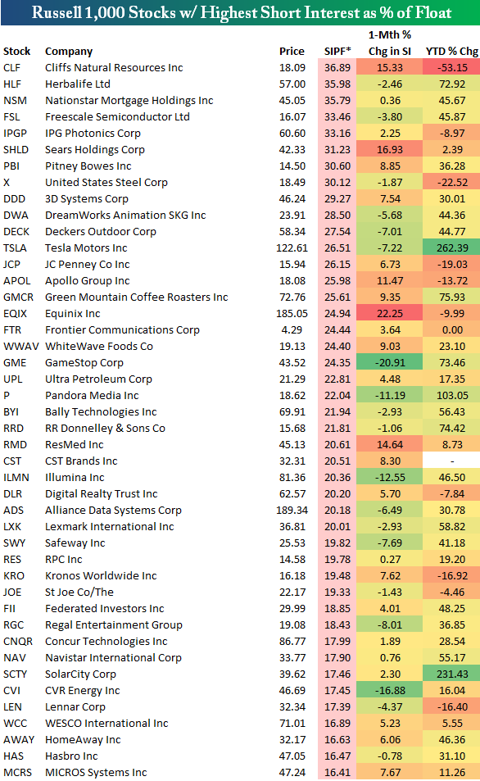 We also ran a filter for the Russell 1,000 stocks that have seen the biggest increases in short interest over the last month. As shown below, Nielsen Holdings (NYSE:NLSN) ranks first in this regard at +176.91%. Taylor Morrison (NYSE:TMHC) ranks second at +173.53%, followed by WP Carey (NYSE:WPC) and Alexandria Real Estate (NYSE:ARE).