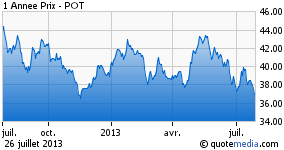 Potash Corporation of Saskatchewan (NYSE:POT), the world's biggest fertilizer producer, reported a lower-than-expected quarterly profit on Thursday and cut its outlook as prices of its crop nutrients fell. The world's largest potash producer by capacity blamed weak prices for potash and its other fertilizer products for weaker-than-expected earnings.
Potash Corp. 2Q13 Results
POT reported 2Q13 EPS of $0.73, missing consensus estimates of $0.81 by 8 cents. The lower than expected spot pricing during the quarter, mainly in Brazil and SE Asia, weakness in Phosphates segment, and lower earnings from equity investments all contributed to the earnings miss. While volumes continue trend positively in key geographies, it is clear the pricing concessions have been made to spur demand.
POT lowered its annual EPS guidance to $2.45 to $2.70 ($2.75 to $3.25 previously forecasted), below consensus sell-side estimates of $2.88 for 2013. Potash segment gross profit was guided down to $1.8 $2.1 billion, from $1.9 $2.4 billion previously forecasted. The company, however, maintained potash volume guidance of 8.5 million to 9.2 million tons. The company also lowered combined Phosphate and Nitrogen gross profit to $1.3 to $1.5 billion, from $1.4 to $1.7 billion previously forecasted.
"The magnitude of the cut was a little bit worse than we were thinking," Jeff Nelson, a St. Louis-based analyst at Edward Jones & Co., who had estimated full-year profit of $3.20 a share, said today in a telephone interview. "Nutrient pricing is under pressure and the company is getting hurt by production curtailments."
Non-segment items also contributed to the guidance reduction, with POT expecting lower equity earnings, higher interest costs, and a higher tax rate than previously forecasted. However, SG&A expenses are also expected to be slightly lower. The company now expects 3Q13 EPS to be in the range of $0.45 to $0.60 vs. consensus estimates of $0.73. POT also tweaked global demand guidance to approximately 56 million potash tons from the previous range of 55 million to 57 million.
Market Update - Where Do We Go From Here?
Fertilizer companies continue to operating in a challenging environment. Industry fundamentals have come under increasing pressure in recent months, with significant declines in global nitrogen pricing from Chinese oversupply and delayed Indian imports weighing on phosphates. Potash markets, on the other hand, have been steadier. But the absence of a 2H Chinese import contract has added to near-term uncertainty. However, we think the delay could ultimately prove supportive of a price increase later in the year.
Phosphate - Reduced Indian Subsidies and Rupee Depreciation Continue To Impact
India is the biggest phosphate importing country and it relies completely on foreign supplies but reduced subsidies by the government and depreciation of the Indian rupee has made phosphate and potash fertilizers more expensive for farmers and manufacturers in India.
The sharp depreciation of the Indian Rupee delayed the start of annual Indian DAP imports and created a global supply overhang that has weighed on phosphate markets in recent months, with Tampa DAP prices down about 10% in the last three months as a result. But at the same time, prices of major inputs have also been falling, with sulphur and ammonia down 50% and 15% respectively. The decline in the prices of inputs has at least partially offset some of the near-term margin pressure for North American producers.
Looking ahead, we believe that low Indian YTD imports coupled with a favorable monsoon season is likely to support domestic demand in coming months. This should also result in a healthy supply-demand situation by year-end, suggesting a less dire outlook than recent fundamentals would otherwise suggest.
Source: Goldman Sachs
Nitrogen - Weak Domestic Chinese Consumption and Reduced Export Tariffs
Midwest urea and UAN prices are down 20-30% from early spring. The main reason behind this has been urea oversupply in China, where weak domestic consumption, lower coal prices, and reduced export tariffs have driven a collapse in floor Chinese production costs to below $300 per metric ton, with recent international sales having been concluded in the $280-290 per metric ton range.
Yara International ASA (OTCPK:YARIY), the largest publicly traded nitrogen-fertilizer maker, also postponed an expansion of its Belle Plaine plant in Canada to stem rising costs and prevent a surplus of urea.
Commenting on the Nitrogen market fundamentals POT said in a statement that, "robust industrial and agricultural demand led to increased shipments from U.S. producers for most products during the quarter. Even with substantial domestic requirements, a delayed spring application season and significant product availability from offshore suppliers put downward pressure on key benchmark prices. This was most notable in urea as U.S. imports rose sharply during the past nine months, whereas prices for ammonia and other nitrogen products fell less dramatically on tighter supply / demand fundamentals.
Potash Remains Steady But Chinese Contract A Near Term Uncertainty
Potash markets have largely been steady over the last few months, with solid North American export demand. Buyers in all key markets have been actively securing new supply. Canpotex delivered on 1H contracts to China and India and South American imports remained robust.
Looking ahead the near-term market for potash remains challenging due to the uncertainty surrounding the Chinese contracts. However, the delay in signing the contract could ultimately prove favorable in contract resolution, as it will allow Chinese inventories to be drawn down and better position Canpotex to push through price increase.
$2 Billion Buyback Program Announced
A day before POT released its quarterly earnings; the company said that it would buy back up to $2 billion of its outstanding common shares, deploying its growing free cash flow as it winds down a 10-year mine expansion program. The Saskatoon based company announced that its Board of Directors has approved a one-year share repurchase program, authorizing up to $2 billion in repurchases of company's outstanding shares (approximately 5% of its outstanding common shares).
Fertilizer rivals Agrium Inc. (NYSE:AGU) and The Mosaic Co. (NYSE:MOS) are also returning more cash to shareholders. Agrium intends to buy back up to 5% of its stock, while Mosaic said in May that it plans to use surplus cash to buy back shares.
Investors should view POT's buy back announcement as an incremental positive, but cautious pricing commentary and soft 2H13 profit outlook are expected to mute its positive impact.
Conclusion and Investment Thesis
We are bullish on POT. We believe an inflection point in potash and phosphate fundamentals and recently announced $2 billion buybacks will ultimately reward investors' patience through a tight near-term operating environment. Broader market uncertainty on the timing and pricing of the Chinese contract in a seasonally weak period for the fertilizer demand is reflected in both POT and MOS's cautious outlook for 3Q13. However, we believe these are short-term pressures and that market conditions will improve as U.S. fall application season approaches and global markets have better visibility to the outcome of Chinese price negotiations. In the meantime, the announced production cuts in 3Q by all major producers are likely to lead to considerable reductions in potash inventories in coming months. POT has already indicated that by year-end it plans to cut its inventories by almost 50%.
On the other hand, delay in the Indian contract coupled with a favorable monsoon season should also result in a positive supply-demand situation by year-end for the phosphate business. In the interim, a high dividend yield of 3.7% and a new $2 billion buyback program pays for investors' patience and presents a good entry-point.
Disclosure: I have no positions in any stocks mentioned, and no plans to initiate any positions within the next 72 hours. I wrote this article myself, and it expresses my own opinions. I am not receiving compensation for it (other than from Seeking Alpha). I have no business relationship with any company whose stock is mentioned in this article.