Much like its sister stock Philip Morris International (NYSE:PM), Altria Group's (NYSE:MO) Q2 2013 results were impacted by the strong dollar. However, Altria continues to see growth in its non-cigarette segments, particularly its wine and smokeless products segments. Altria is a proven dividend growth stock, with 44 consecutive years of annual dividend increases. Altria currently offers a $0.44 per share quarterly dividend and yields around 4.90%.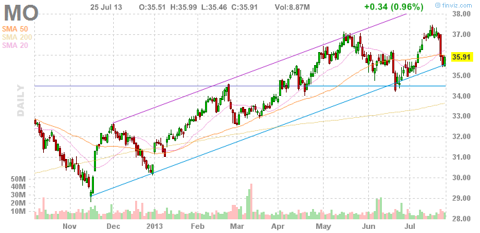 Q2 2013 Overview
On July 23, Altria reported its Q2 2013 results. Altria's adjusted EPS came in at $0.62, a 5.1% increase from the $0.59 reported last year. For the first six months of 2013, Altria's adjusted EPS was $1.16, a 7.4% increase from the $1.08 last year.

Altria was able to increase its adjusted EPS even though it saw revenues decline. For the quarter, Altria posted revenues of $6.3B, down 2.8% from the $6.5B last year. To get a better look at Altria's revenues, let us break it down by segment:
Smokeable Products
Nearly all of this decline in revenues came from Altria's smokeable products segment. Net revenues fell 3.8% to $5.7B. When excluding excise taxes, net revenues fell 2.3% to $3.9B. However, adjusted OCI actually increased 1.5% to $1.69B, mostly fueled by cost cutting and higher pricing.
Altria's decline in smokeable products revenues was a result of lower volumes. Total volumes fell 6.7% to 34.1B units, led by the Marlboro brand, which saw volumes decline 7.2% to 29.1B. However, Altria was actually able to increase its total cigarette market share to 50.7% in the quarter.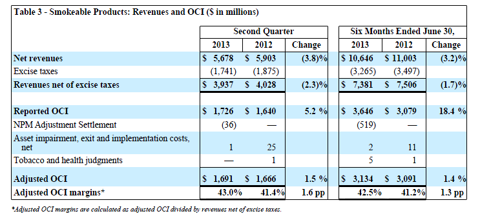 Smokeless Products
One area of growth for Altria continues to be its smokeless tobacco products. This segment posted a 7.5% increase in revenues to $458M and a 12.5% increase in OCI to $270M. These increases were due to higher volumes and prices. Volumes for this segment increased 4.6% to 200M units, led by Copenhagen, which saw its volumes surge 8.8%. Altria estimates that this segment has posted a 5% growth rate over the past 12 months.

Wine
An area seldom discussed in regards to Altria is its Wine segment. For the quarter, Altria saw revenues in this segment increase 7.0% to $137M and OCI increase 13.6% to $25M. These increases were a result of increased volumes, which were up 7.7% to 1.85M units.
Dividend, Targeted Dividend Payout Ratio, and Share Buybacks
As noted above, Altria currently offers a $0.44 per share quarterly dividend, or $1.76 annualized. Q3 is typically when Altria announces its annual dividend increase. We can easily estimate Altria's new dividend level. During the Q2 2013 conference call, Altria mentioned that:
Altria expects to continue to return a large amount of cash to shareholders in the form of dividends by maintaining a dividend payout ratio target of approximately 80% of its adjusted diluted EPS. Future dividend payments remain subject to the discretion of the Board.
To figure out the expected dividend increase, we need to estimate Altria's adjusted diluted EPS for FY 2013. Luckily, Altria has already provided a pretty good estimate in its guidance below

80% of the FY 2013 EPS range of $2.36 to $2.41 would be about $1.89 to $1.92 annually, or $0.4725 to $0.48 per share. This points towards a 7% to 9% increase in Altria's dividend level.
When looking at Altria's total returns to shareholders, it is also necessary to look at share buybacks. In the quarter, Altria repurchased 3.7M shares for about $135M for an average cost per share of $36.27. When combining dividend payments and share buybacks, Altria has returned around $3.4B to its shareholders over the last twelve months, or about 5% of its market cap.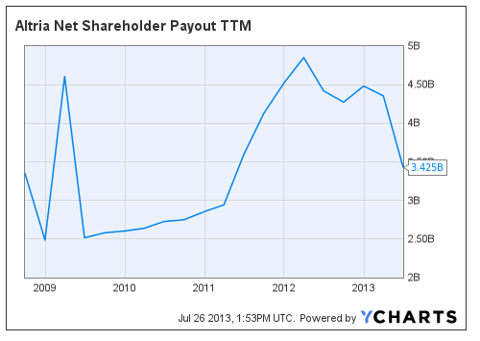 Upcoming Catalyst: MarkTen E-Cigarette
During the Q2 conference call, Altria mentioned that its subsidiary "Nu Mark" will be introducing the MarkTen e-cigarette into the Indiana market by August 2013. This is a major step for Altria as it currently has little to no presence in the growing e-cigarette market. Reynolds American (NYSE:RAI) and Lorillard (NYSE:LO) have already released similar products in certain markets. Altria was frankly behind the curve in this market and needed to catch up to its competitors.
Conclusion
For those looking for a stock with a high-yield and moderate EPS growth, Altria is a solid choice. The company has consistently managed to boost its EPS even in the face of volume declines in its core business. Altria is also more diversified than its domestic tobacco peers due to its holdings in SABMiller (OTCPK:SBMRY), leadership in the growing smokeless tobacco category, and wine segment.
Disclaimer: The opinions in this article are for informational purposes only and should not be construed as a recommendation to buy or sell the stocks mentioned. Please do your own due diligence before making any investment decision.
Disclosure: I am long PM, MO. I wrote this article myself, and it expresses my own opinions. I am not receiving compensation for it (other than from Seeking Alpha). I have no business relationship with any company whose stock is mentioned in this article.