There are accumulating risks to the current stock market rally, as I detailed in a previous article. While many different approaches to the market can yield profits, my inclination at this time of the cycle is to identify defensive opportunities. I believe we are in the mature phase of a stock market advance that began over 4 years ago. If I am correct, more money will be made in the coming year on the short side - for willing risk-takers, and cash will reward the conservative investor.
Late-stage bull market advances cultivate parabolic blow-offs. These blow-offs are symptomatic of frustrated buyers who miss increasingly shallow pullbacks. This frustration buying is then combined with greed, momentum-chasing buyers, and short squeezes. The resulting parabolic blow-offs, which can be enormously profitable- but very few are able to get out before the inevitable plunge. The key to navigating this part of the cycle is to follow up winners with trailing stops. For those willing to be more aggressive, the advance sets up the opportunity for prime short-selling candidates.
Short candidates should be showing signs of fatigue, extreme volume, or technical topping patterns. Another way to spot casualties is to find stocks that plunge on good news. This is a very effective tool to navigate markets: it is not the news that matters; it is how the stocks react to the news. Stocks often top on good news and bottom on bad news.
Here is a brief look at some recent news flow on the homebuilder sector from a recent Reuters article:
7/16/13 Reuters: Homebuilder confidence rose in July to a 7 ½ year high as tightening supply and solid demand even in the face of rising mortgage rates fueled the sector's recovery, data from the NAHB released on Tuesday showed.
Homebuilders felt even more optimistic for the coming months with the gauge of expectations for single-family home sales for the next six months accelerating to 67 from a revised 60, while the component on prospective buyer traffic increased 5 points to 45. Both sub-indexes strengthened to levels not seen since late 2005.
More related statistics from Yahoo Finance:
7/25/13 Finance.Yahoo.com: New home sales increased to an annualized pace of 497,000-up 8.3% from May (which was revised down from an initial estimate of 476,000 to 459,000) and up 38% from a year ago.
At the end of May, there were 161,000 new homes for sale, representing a 3.9-month supply. The median time a new home has been on the market has shrunk from nine months last summer to the current figure of five months.
Homebuilders reported first quarter earnings last month, and overall, the reports were quite good. Reports noted particular strength in the West Coast, and also in the entry-level and first-time move-up sector. KB Homes (KBH) and Lennar (NYSE:LEN) had strong quarters.
More earnings:
Ryland Group (NYSE:RYL): beat estimates by $0.16
PulteGroup, Inc. (NYSE:PHM): missed the median estimate of $0.30 by $0.04, and revenues were below estimates as well, but earnings were up 136% year over year to $0.26.
So, mostly great news. The rational expectation would be that these stocks should be going higher.
Yet, many of the homebuilders have gotten clobbered lately despite the good news: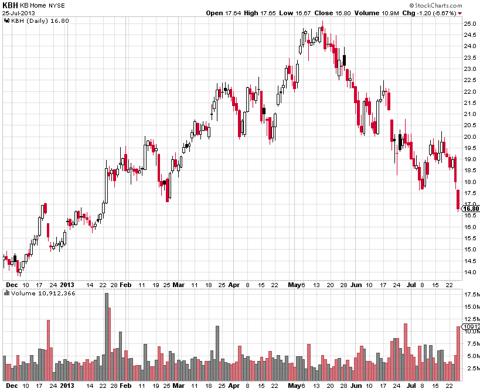 Click to enlarge
KB Home has erased nearly all of the gains of 2013 in 8 weeks, and that is how corrections play out- the market tends to fall much faster than it rises.
PulteGroup, Inc. has fared even worse, trading now at the lowest level since December: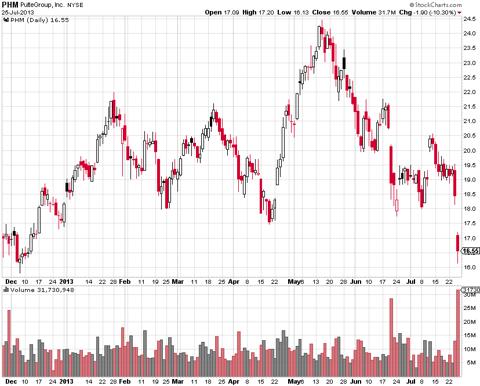 Click to enlarge
Market tops are not synchronous for all stocks. Some sectors top out and decline significantly, before the broader averages start down. Before we look deeper into current price action, we will turn back to the last major market top in 2007, which may offer some guidance. In 2007, Lowe's (NYSE:LOW) and KB Home (NYSE:KBH) peaked early in the year: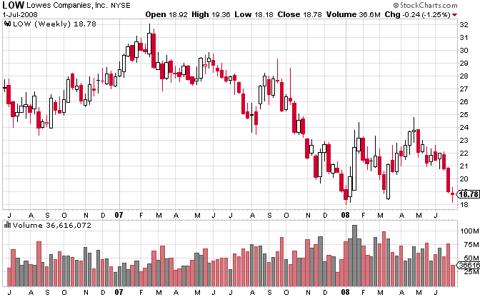 Click to enlarge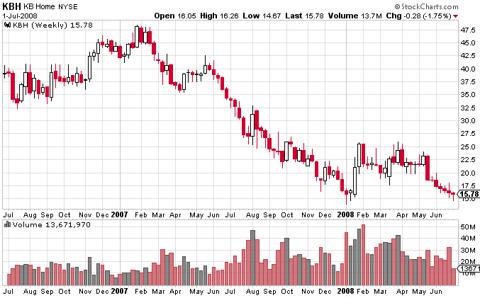 Click to enlarge
Upon further inspection, you may be surprised to see such similar patterns. KBH peaked first and then led on the downside throughout 2007. Note that LOW held up a little better into September, but ultimately succumbed to the same forces that drove KBH and the other homebuilders down. By comparison, the S&P500 (NYSEARCA:SPY) advanced to an all-time high in October, while KBH and LOW were falling: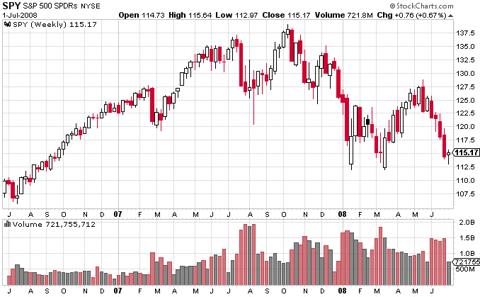 Click to enlarge
Now, here's a look at the most recent 2 years for KB Home and Lowe's for further insight: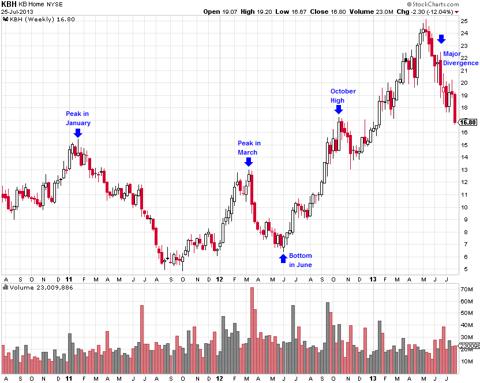 Click to enlarge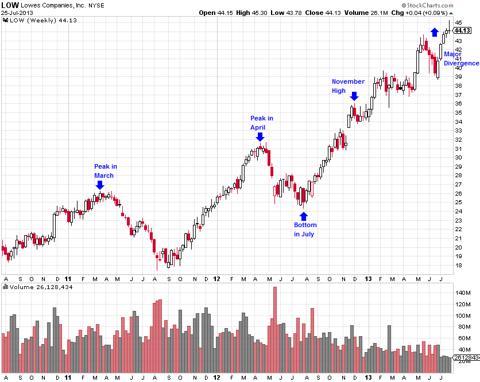 Click to enlarge
Look closely at the blue arrows in the charts above. There is a strong tendency for price action in KB Home to lead Lowe's.
While the two stocks have trended in the same direction, it is clear that they peaked and bottomed before at nearly every turn (they bottomed simultaneously in August 2011) for one very obvious reason: earnings roll out for homebuilders a month before Lowe's and Home Depot (NYSE:HD). Although simplistic in nature, the pattern has been consistent. It appears that institutional investors are driven by the same psychological responses to news flow in homebuilding stocks and in Lowe's - but key turning points happen on a one-month lag due to the staggered release of earnings. This simple method can be very effective to identify groups that may be next in line to lose momentum, as homebuilding stocks have already done.
Conclusion
From a macro perspective, stocks are overvalued. Instead of trying to capture the gasping advances of a late-stage bull market, I believe it is time to focus on short opportunities. However, late-stage bull markets are dangerous to short because they are often characterized by climax tops that are precarious to short sellers.
My strategy is to short candidates by utilizing patterns that help to identify loss of momentum. It is clear that homebuilders, particularly KBH and LOW have trended in the same direction, although that trend does not necessarily have to continue. It is also evident that while KBH and LOW trend in the same general direction, KBH often tops and bottoms before LOW and that is attributable in large part to earnings season.
Despite very positive news flow for homebuilders, they have been hit particularly hard, including KBH. The decline accelerated despite positive earnings news. At the same time, LOW has levitated along with the overall stock market to new highs around 45.
Lowe's reports earnings on August 21, a few weeks from now. I expect that Lowe's will report robust earnings, just as most of the homebuilders did, and yet the stock will likely get punished anyway. Remember that the news itself is not as important as the resulting price action.
One general risk to the strategy: falling Treasury Bonds (NYSEARCA:TLT) have impacted mortgage rates and have been a recent impediment to home buyers. If Treasury Bonds rally significantly in the weeks ahead and reverse the condition, homebuilders could stage a significant recovery.
I have not yet shorted LOW, but I am looking at the LOW Sep 45p options, which closed at $2.06 today. Break even on the trade would be just under 43, only another 1.20 lower. Volatility may pick up long before the puts expire.
Disclosure: I have no positions in any stocks mentioned, but may initiate a short position in LOW over the next 72 hours. I wrote this article myself, and it expresses my own opinions. I am not receiving compensation for it (other than from Seeking Alpha). I have no business relationship with any company whose stock is mentioned in this article.