Ironwood Pharmaceuticals (NASDAQ:IRWD) reported its Q2 2013 numbers on July 23, 2013 invoking a lot of interest among industry analysts regarding the forecasting fundamentals and prospects over the medium and long term.
The Company's Current Financials
Ironwood Pharmaceuticals has reported relatively strong sales figures of $28.8 million in Q2 2013 thanks to the launch of its flag ship product 'Linzess' in December 2012. This product is jointly marketed with Forest Laboratories (NYSE:FRX) in the U.S. The spurt in new sales has built up a healthy receivables pipeline amounting to $5.2 million over the next quarters. Also, thanks to this new revenue stream, Ironwood has managed to double its cash reserves to a healthy $300 million in the past two quarters from just over $168 million in December 2012.
The company reported in its 2Q13 results of this year that more than 70% of high prescribing gastroenterologists and approximately 40% of high prescribing primary care physicians have already prescribed Linzess and approximately 1,000 physicians are writing their first Linzess prescription every week.
Ironwood's European partner, Almirall S.A., launched CONSTELLA in Germany, the U.K., and the Nordic countries. Almirall will also be launched in other European countries in 2013 and 2014.
These are some of the positive indicators investors have been waiting for, since this fledgling company has a fantastic, recently approved, wonder drug that is expected to generate high revenue streams. The stock price has experienced a rally of around 11%, and is currently trading at around $11 per share.
Future Prospects
Ironwood's biggest money generator is currently Linzess. This medicine is prescribed only to adults in the age group above 17 years and is prohibited for use by children or for providing pediatric care. The company is slated to initiate clinical trails which will open up this wonder drug to pediatric patients (read patient age group from 1 to 17 years old). I believe, if granted approval, this new drug would provide a significant revenue stream, shoring up the fundamentals of this company.

Source: ironwoodpharma.com
Linzess will be profitable over the coming periods.
Ironwood has ventured into the lucrative markets of Europe by partnering with Almirall SA in 2013. Ageing populations of the UK, Germany and the Nordic countries will constitute a big money spinning target market for Ironwood's fast moving geriatric medicines. In my opinion, Ironwood would greatly add to its bottom line by expanding its footprint in Europe and eventually to the rest of the world.
Areas of Concern
For a company with a market capitalization of over $1.2 billion, Ironwood has been noticeable for its sluggish performance over the past few quarters in comparison to its peers such as AVEO and GW.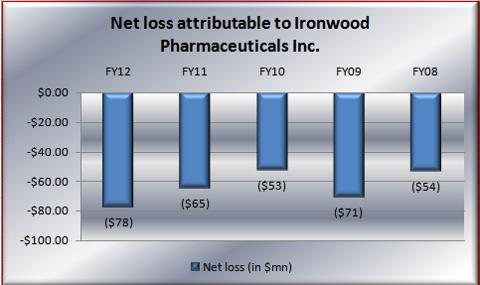 From a 52-week high price of close to $19, the stock price has steadily lost value in the market and had sunk to a low of $9 in the same period before recovering to the current $11 per share. I attribute this erratic price fluctuation as the market's response to the prevailing inherent weakness in Ironwood's fundamentals.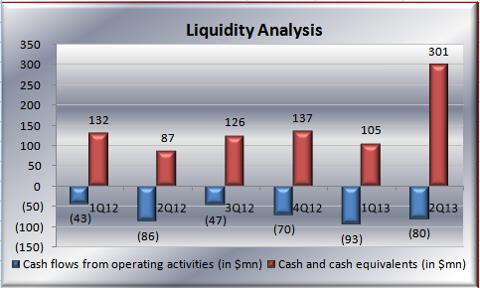 Its operating loss has ballooned by over 68% to $65 million for the quarter ending June 30 as compared to $40.8 million loss in 2Q12. Revenue has dipped significantly by 34% to $9.6 million as compared to $14.6 million in 2Q12. However, the most troublesome aspect that concerns me is the rate of cash spending.
Ironwood employs only 500 people but spends a staggering $80 million under the operations header in the quarter ending June 30. At this rate its current cash reserves of $300 million will get exhausted within the next four quarters.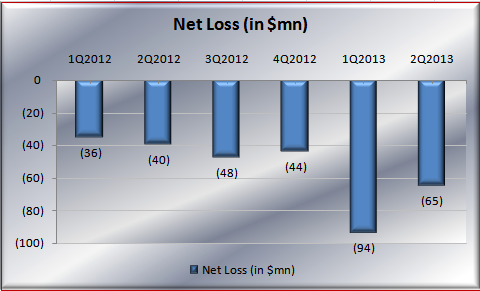 My fear for the company is the following: given that research and new product development are the primary drivers for this company, will it be compelled to fund its new research and development-related activities by bringing in additional investors? Then, if this is so, will it not dilute the position of its current shareholders? The only viable alternative at this stage appears to be expensive debt, but this too will put pressure on its margins.
Competitive Landscape
Ironwood is operating in a tough competitive landscape with industry bellwethers such as Abbott Laboratories (NYSE:ABT) with a market cap of $56 billion, Johnson & Johnson (NYSE:JNJ) with a $259 billion market cap, Pfizer (NYSE:PFE) with a $207 billion market cap shaping the counters of the pharmaceutical market place.
Ironwood's closest competitors are AVEO Pharmaceuticals (NASDAQ:AVEO) with a market cap of $1.29 and GW Pharmaceuticals (NASDAQ:GWPH) with a market cap of $1.31 billion. These companies are better placed thanks to better management practices and have a robust pipeline of new products which are slated to hit the markets in the later part of 2013.
Conclusion
In my opinion, and upon close reading of the fine print in Ironwood's 2Q13 report, investors should sit on the fence till the stock spells out more details.
The company is going through a tough phase right now. It is currently dependent on a very few set of products to earn revenue, attempting to overcome this by entering into new markets and at the same time building a more diverse product pipeline. As a result, an investor is better off backing more profitable pharmaceutical companies while keeping an eye out on how Ironwood navigates out of this tight corner.
Disclosure: I have no positions in any stocks mentioned, and no plans to initiate any positions within the next 72 hours. I wrote this article myself, and it expresses my own opinions. I am not receiving compensation for it (other than from Seeking Alpha). I have no business relationship with any company whose stock is mentioned in this article.