Well after many months of asking when BlackBerry (NASDAQ:BBRY) short-sellers will ever cover, the latest short interest data from NASDAQ indicates that the short covering has begun.
As the table from NASDAQ below indicates, as of the settlement date of 7/15/2013, short interest in BlackBerry common shares were 160,837,750 as compared to 184,415,558 on the previous settlement date of 6/28/2013. That's about 16 million share reduction in short interest. We have not seen short interest that low since the first quarter of 2013.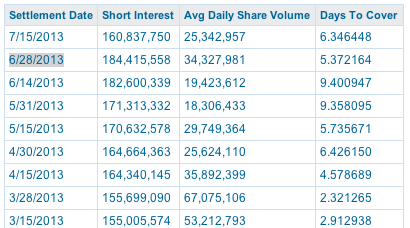 I am assuming that since that date short interest has probably been reduced even more, which we will see on the next report.
The average analyst's price target for BlackBerry has been reduced to about $10 as per yahoo, or about a 10% higher from current levels. The stock however continues to slide, and the culprit is probably that the company is not much in the news anymore.
Obviously many short-sellers don't see much more downside from current levels, and that's probably one of the reasons they are covering. Besides, everyday is not Christmas, and shorting BlackBerry just before earnings when most big firms were expecting much better results, does not happen every day.
As for myself, I continue to be very bullish on the stock -- more than ever -- because today the company is approaching valuation levels of Apple (NASDAQ:AAPL) of many years ago. As a reminder many years ago Apple was trading for its cash on the books, and the market was giving the business away for free.
BlackBerry today is trading close to those levels. And while many might say that this company will never get off the ground, they were saying the same for Apple back then. Obviously I don't expect that BlackBerry to become Apple anytime soon, but I do expect the company will do a lot better in the future.
Either way, unless BlackBerry's management manages to screw things up very bad in the immediate future, this company is trading at valuations that you don't find every day, and valuations that produce millionaires every once in a while.
Disclosure: I have no positions in any stocks mentioned, and no plans to initiate any positions within the next 72 hours. I wrote this article myself, and it expresses my own opinions. I am not receiving compensation for it (other than from Seeking Alpha). I have no business relationship with any company whose stock is mentioned in this article.