Following on from my Syngenta (NYSE:SYT) analysis, the next stock I am appraising in the agriculture and related space is Potash Corp (NYSE:POT), the world's biggest potash producer.
Historically corn prices and the share prices of the fertilizer stocks have been well-correlated and therefore unsurprisingly with corn around 20 month lows due to the large anticipated U.S. crop, Potash Corp's share price is also weak, around similar levels to the lows of the last 18 months as shown below.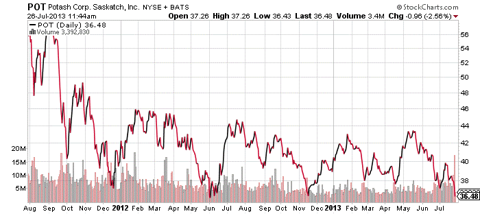 This shape of a share price chart is always interesting to me as I like to find out-of-favour stocks, especially when it is mated with some interesting relative value research. Potash Corp had this useful chart in its presentation pack. Fertilizer remains nicely affordable for farmers even under a bearish corn crop price projection (US$4/bushel):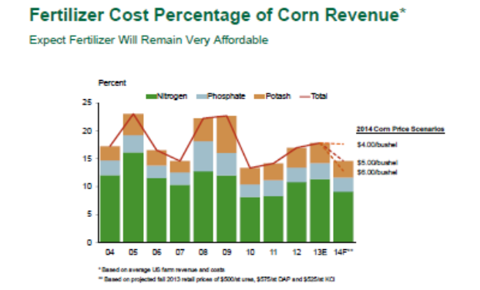 A week or so ago I saw one of Potash Corp's peers put the same case in a slightly different way. This chart is from Mosaic's (NYSE:MOS) update. It also sees good affordability.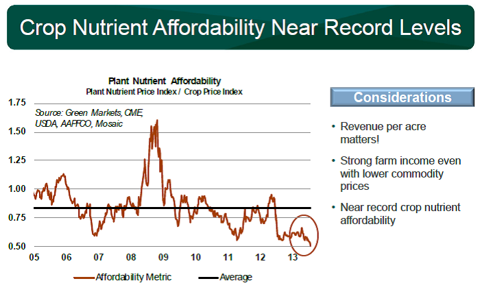 Now this is important because the industry has been hurting. Potash Corp's CEO William Doyle made these comments on the conference call -
Demand will drive the potash price and of course we've been in a flat period now for almost six years and it's a hangover of the Great Recession. We need global growth in our business, no doubt about that. And so, we think that this is the first growth year over the next four to five years. We think that 2013 will when we look back that will be the first growth here that you see and then we think that we're going to see some stronger growth years going out
And where is this growth coming from? From both the developed and the emerging world markets: everybody needs to boost their harvest yields due to rising populations etc.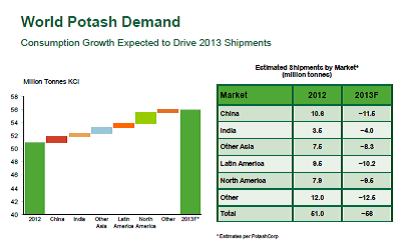 This sounds most appealing: a strong theme structurally with a tactical upswing. So why is the share around 18-month lows? This is because we still await that critical upswing in demand/prices paid by the key emerging countries. China and India, in particular, have been - and still are - slow in upping their demand from companies such as Potash Corp, preparing to play off competing suppliers rather than get stability by locking into longer-term supplies. Confusing factors like the Indian elections in mid-2014 have also led to an unwillingness to do deals.
India and China can only pontificate on these issues for so long - ultimately they need to boost yields and affordability is good now. At some point it is going to make sense to do some big deals. And Potash Corp - with the biggest and longest-life potash fields - is the company (via its fertilizer marketing concern) in pole position.
That does not help the shorter-term though and the numbers announcement saw a forecast of Q3 EPS of $0.45-$0.60 versus a $0.74 consensus and full-year of $2.45-$2.70 versus a $2.88 consensus. This is what pushed the share down post results.
I was pleased though to see, in the presentation document and conference call [pdf], the company talk about shareholder value more overtly. Note this summary slide about the quarter from the presentation document: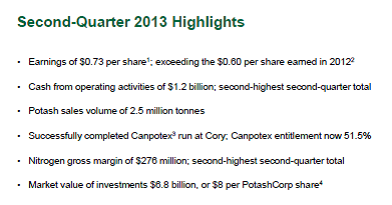 Strong cash flow and an attractive range of other investments (for example in Israel) which forms its global associate network. I have not seen the company been quite so vocal about this before. That is good.
Additionally it highlighted the position of its ongoing capex programme, which is largely complete. This contrasts with the rising cost of greenfield projects: companies such as BHP Billiton (NYSE:BHP) and Vale (NYSE:VALE) have mothballed greenfield projects recently. Again Potash Corp's long-life assets have put it in a good position - that is after all why BHP Billiton wanted to buy the company a few years ago (blocked by the Canadian government).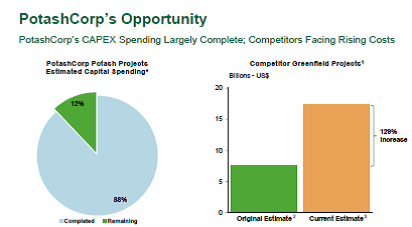 CEO William Doyle further developed these themes during the conference call:
The good news is with the CapEx winding down, we have a lot more opportunity - lot more capability I should say to give the cash back to our shareholders and you're going to see a consistent approach there.
It announced a $2bn buyback as noted above too.
Potash Corp has attractive structural characteristics within the agricultural theme as well as its own long-life asset / shareholder return friendly orientation. It is definitely possible the numbers have bottomed.
The company trades on x10 EV/ebit ($36.5bn EV, c. $3.6bn FY operating profit) and pays a well-covered 3.7% yield. The buyback nicely augments that return to shareholders by a further 6%.
I think you get recovery in profits and sentiment in H2 going into 2014 and that provides the scope for the share price to rise. I think it is a buy at the current share price and should be re-reviewed at the $43 resistance level on the share price chart. A full price/volume recovery, or an appreciation of the company's potash asset base, would lead to a higher price than this.
I always think you should look to buy long-life, quality assets in the mining/related areas. Potash Corp fits the bill in the specific potash/fertilizer sector.
Disclosure: I am long POT. I wrote this article myself, and it expresses my own opinions. I am not receiving compensation for it. I have no business relationship with any company whose stock is mentioned in this article.