It was just five weeks ago when the weekly sales of Vivus' (NASDAQ:VVUS) Qsymia was in the 4,000s for the fourth consecutive week. During the subsequent weeks sales went to the 5,000s, then the 6,000s, then the 7,000s, and this week topped 9,000. In the last 5 weeks the weekly prescriptions of Qsymia have more than doubled, making the sales chart take on a hockey stick like formation.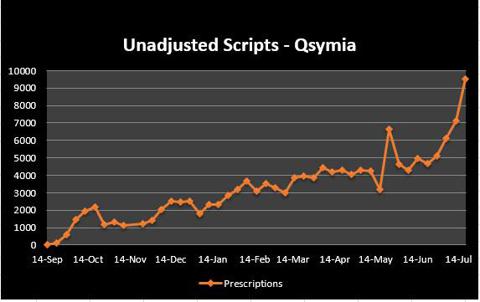 After a slow start that worried the street and investors, it appears that sales are finally beginning to show growth to levels that alleviate some worries about the potential of the anti-obesity space. Be mindful, sales are not yet at levels that scream blockbuster or profits, but getting over 9,000 prescriptions this week at least shows that the concept of prescription anti-obesity drugs has some viability.
These big moves started when Qsymia was made available at some 8,000 retail pharmacies at the beginning of July. I had once stated that I did not feel the retail pharmacies would have a massive impact on sales. At first I thought that I had underestimated the importance, but this week's blow-out number got me thinking deeper.
Investors need to bear in mind that the following is speculation and filled with unsubstantiated assumptions. Prior to July 1st, the only way to obtain a prescription for Qsymia was through a certified mail order pharmacy. When the retail channel opened up it would make sense that the sales would increase. What I think may be happening is that perhaps some of these sales might be getting double counted as consumers switch from mail-order to retail. I want to be crystal clear that this is speculation. IF, in theory, some double counting is happening, it should be worked out of the system in the next couple of weeks.
Please bear in mind that I believe fully that Qsymia sales are indeed increasing. My only reason for even bringing up the issue is that the last 4 weeks have seen very impressive growth. IF there has been no double counting then this trend on Qsymia is very positive for Vivus as well as the anti-obesity sector as a whole. The reason is that it shows that traction will happen as time passes. Arena Pharmaceuticals (NASDAQ:ARNA) investors should watch the progress on Qsymia as closely as they watch sales progress on Belviq.
The biggest and most import issue in the anti-obesity sector right now is garnering insurance coverage. That news is difficult to track, but very important. The more we see insurance cover these anti-obesity meds, the more likely that sales numbers will get to very impressive levels.
In my opinion it is important to see what happens with Qsymia prescriptions over the next two weeks. I consider Vivus a very speculative play at the moment due to a new Board and management, as well as a general uncertainty about the near term prospects in the anti-obesity space. Stay tuned.
Disclosure: I am long ARNA. I wrote this article myself, and it expresses my own opinions. I am not receiving compensation for it (other than from Seeking Alpha). I have no business relationship with any company whose stock is mentioned in this article.
Additional disclosure: I have no position in Vivus.