A little over two weeks ago I posted an article highlighting the looming threat of increased prime mortgage defaults. Since then it has been reported that one in three foreclosure actions are now prime mortgages. It had been one out of five foreclosures in the first quarter this year.
Calculated Risk (here) has two charts relating to this. The first shows the distribution of mortgages by type.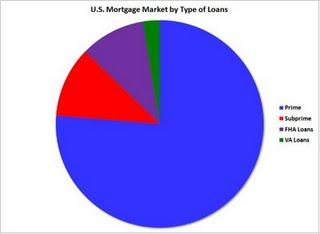 More than 75% of all mortgages are prime. The second chart shows that prime mortgages now constitute more than half of all serious delinquencies (90 days or more delinquent) and foreclosures. The percentage of prime mortgages in serious trouble may be smaller than other classes (especially subprime), but the absolute number of prime loans is so large that prime foreclosures will equal or exceed the numbers from other categories in coming months.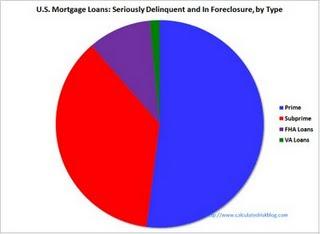 Subprime mortgage delinquencies and foreclosures are still large, more than doubling their share of the market. But the implication is that, in absolute numbers, prime will provide substantially more foreclosures over the next 6-12 months.
It may be inferred that the rise from 20% of foreclosures being in prime mortgages in the first quarter, which grew to to 33% in the second quarter, is about to go to 50% or more in the coming quarters.
In another post, Calculated Risk reported on the conference call by MBA Chief Economist Jay Brinkmann on August 20.
The problem is moving to prime loans, and fixed rate prime loans. Although the delinquency rate is lower for prime fixed rate than for other loans, these loans make up 65.5% of all loans - so the increase matters.

Brinkmann expects delinquencies to peak in mid-2010.

Brinkmann expects foreclosures to peak at the end of 2010.

Note: The MBA data shows about 5.8 million loans delinquent or in the foreclosure process nationwide. I believe the MBA surveys covers close to 90% of the mortgage market. Many of these loans will cure, but the foreclosure pipeline is still building.
The following graph, from the Mortgage Bankers Association, courtesy of Calculated Risk, shows how the rate of subprime foreclosures is showing a leveling, while the number of delinquent loans is accelerating.
There is a logical disconnect here. Since foreclosure comes after delinquency, one would expect that the growth rate of delinquencies should decline before foreclosures. The fact that it is happening exactly in reverse implies that:
A significant number of delinquencies are being resolved without going into foreclosure proceedings OR
A wave of additional foreclosures in subprime will come to catch up with the higher delinquency rate.
I have heard nothing to indicate that 1. is occurring, so my expectation is for 2. to be the outcome.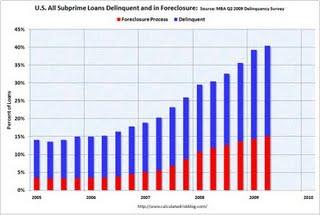 Although I have pointed out in a recent article at TheStreet.com that comparing prices to historical references might imply that we are within 10% of a price bottom (on average nationally), it is hard to conceive that house prices can bottom before foreclosures peak. If that peak really is 16 months away, the bottom in national average home price could be more than 10% down from here.
It is possible that the the burden of increased foreclosures on the national average home price could by offset by a change in sales patterns, Currently the increase in sales volumes over the past several months has been dominated by large increases of sales in the lowest cost homes (below $200,000). Above $200,000 sales volumes are still falling; the higher the price the greater the decline in sales.
If this were to change and expensive home sales were to start increasing, the average price per house could increase. An example: If you sell 50 homes for $100,000, obviously $100,000 is the average. If you add one sale at $600,000, the average for the 51 sales is $109,800. This is an increase of almost 10% in the average price per house with an increase of only 2% in sales volume.
A related news item Friday morning came from the National Association of Realtors (NAR). In their monthly news release (here), they report the fourth consecutive month of increasing existing home sales. There was an all-time record jump of 7.2% from the previous month.
The report includes a statement that some areas in the country have demand for foreclosure properties outstripping supply. If that becomes a trend, then median and average home prices in those markets should rise, since distressed properties sell for 15% to 20% less than corresponding "normal" sales.
So there is another factor that could put a floor under the national average home price.
However, I have to add five caveats to this seemingly bullish existing home sales report:
The potential for a greater flow of homes into foreclosure may increase the supply more than the NAR reported demand can absorb going forward.
In July, 31% of all sales were distressed properties.
Inventory remained at 9.4 months in spite of higher sales volume. Obviously, supply increased proportionately to sales.
The pattern of rising sales volume this year repeats the same pattern experienced last year, when sales volumes increased for five months in a row. This year there have been four consecutive increases. This is a seasonal pattern seen most years and was discussed here.
The entire rise in in sales volume in July was due to higher condo sales. Single family existing home sales actually dropped slightly.
Not only is the anticipated prime mortgage default problem arriving, it is growing and will probably be with us for more than a year. This author did not anticipate this would be a big problem six months ago; I (and many others) were focused on Alt-A mortgages and variable mortgage resets. They may still have a contribution to this mess. I will be doing further analysis to try to sort out all this.
Note: This week Zachs had a good Seeking Alpha article on prime mortgages here.