Early Friday morning, 8/21/09, U.S. stocks hit intra-day 10 1/2 month highs. It took little more than a headline: "Existing Home Sales Fastest In 2 Years."
On the one hand, it appears the "quantitative easing" efforts by the Federal Reserve are working swimmingly. The Fed's buying long-term treasuries. Interest rates on mortgages remain near historic lows. And foreclosure hunters, as well as first-time home-buyers, have stepped up to the home purchasing plate.
Yet the Fed is only part of the "stimulating" picture. U.S. authorities like the Federal Reserve and Congress have collectively authorized nearly $13 trillion in spending. The largest bond fund company in the world, PIMCO, adamantly decries that the U.S. dollar is going to weaken further against other world currencies.
The trend evidence is certainly there. The $USD Index, which tracks the dollar against a basket of other major currencies, is down 12% from the peak of fear in March.
Of course, a weaker dollar is not necessarily a bad thing, since it helps U.S. exporters and multinationals that generate more than 50% of their revenue from abroad. It's a collapse that many fret about.
Nevertheless, if companies like PIMCO are expressing doubts that the $USD can maintain its status as the "world currency," and if the U.S. government decides to spend/print far more than other countries to get out of a recession, one can certainly look for further dollar devaluation. Here are 3 ETFs that stand to benefit.
1. Powershares DB Dollar Bearish (NYSEARCA:UDN). This fund tracks the Deutsche Bank Short US Dollar Index – an index composed solely of short futures contracts. The short contracts are designed to replicate the performance of being short the US Dollar against major currencies including the Yen, Pound, Krona, Franc and Euro. UDN is in a technical uptrend, above 50-day and 200-day moving averages.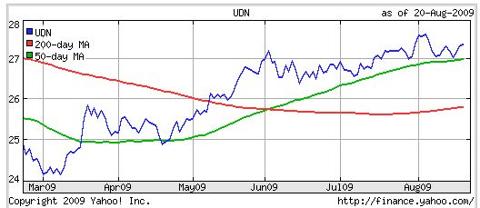 Click to enlarge
2.
WisdomTree Brazilian Real
(NYSEARCA:
BZF
). The aforementioned UDN tackles short contracts that relate to developed market currencies. Yet PIMCO, and quite a few others, expect the greatest appreciation to occur in emerging markets like Brazil. Many Asian currencies continue to "artificially peg" their currencies to the U.S. dollar to help exports, but the Brazilian "Real" trades freely. BZF is above 50-day and 200-day moving averages as well.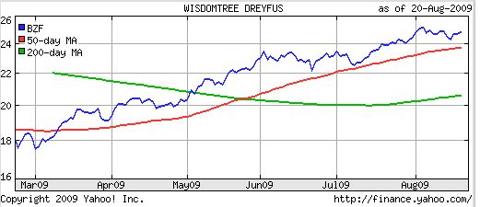 Click to enlarge
3. The PowerShares DB G10 Currency Harvest Fund (NYSEARCA:DBV). With the current U.S. policy of quantitative easing and ultra-low target overnight rates, one can surmise that the world won't only be borrowing/shorting the yen anymore. The infamous carry trade will include borrowing/shorting the U.S. dollar to invest in the higher yielding currencies of Australia, New Zealand and Norway. PowerShares DBV executes this currency strategy with enviable success.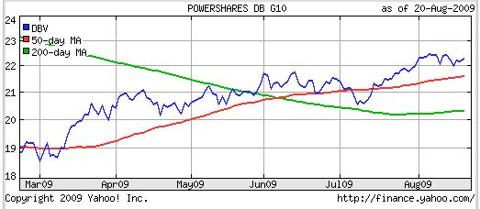 Click to enlarge
Full Disclosure: Gary Gordon, MS, CFP is the president of Pacific Park Financial, Inc., a Registered Investment Adviser with the SEC. The company may hold positions in the ETFs, mutual funds and/or index funds mentioned above.