Facebook (NASDAQ:FB) posted an amazing second quarter and the market rewarded it by increasing the stock price over 30%. This news also sent other online "middle-men" companies upwards as Zillow (NASDAQ:Z) closed 6% up, LinkedIn (NYSE:LNKD) closed 1% up and Trulia (TRLA) almost 2%. In this transcript from CNBC.COM, Jim Cramer explains the excitement that is coming back to the "dot-com" industry that relies primarily on website traffic to generate most of its revenue. So as the giants like Facebook and LinkedIn post monster quarters, investors are looking to the next big thing. Here is a chart from Alexa.com that shows the leaders and two of these "dot-com" companies from the online real estate advertising industry that have a lot of room to grow: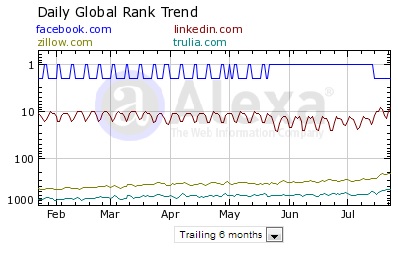 In this chart we look closer at the online and mobile unique visitors for these companies and compare their growth:

This chart shows Facebook having slower growth because it is literally running out of people in the world that have access to computers and mobile devices. With more than a billion users using Facebook per month, its growth has slowed considerably and thus that is a big reason why it is trading at a forward P/E of 37. However, LinkedIn, Zillow and Trulia have been posting up and down quarters, but have all grown visitors by more than 30% in the last quarter. So the potential is there and interest is growing in these companies, but let us now look at how this site traffic is translating to the bottom line. Here we will look at revenues, costs and margin rates. First here is a chart for revenue growth:

We can see why Facebook's share price jumped by more than 30% after posting revenue growth of 24% in Q2. The other companies have been showing growth in single digits to growth in the teens, which is disappointing for companies that have the "tech start up" or "growth company" tag on them. This "growth company" tag is one in which analysts see a lot of potential and expect high double-digit growth between each quarter. So we will see if Zillow, LinkedIn and Trulia can impress again by posting at least 25% growth in Q2, anything short of that might be a huge disappointment since Zillow is trading at a P/E of 8,434, LinkedIn at a P/E of 803 and Trulia currently is negative on earnings so it does not have a P/E ratio.
Another thing that investors look at is if these online start up companies, which live off of site traffic and thus have to spend a lot to get it, can control their costs. Here is a chart showing the costs for the previous five quarters:

From this chart we see that LinkedIn is getting expenses under control, but Zillow and Trulia are still having a tough time decreasing spend without sacrificing revenue growth. However, this is a gamble that can potentially pay off as Facebook posted a great quarter even with higher spending. But the bottom line, profit margin, tells a better story about revenue and spending. Here is a chart showing the profit margins of these companies:

So this chart explains why spending did not have an effect on Facebook's quarter, because it improved margins by 22%, which is an amazing thing to do for such a large company. LinkedIn is also growing profit margins tremendously and that is another reason why a lot of people are excited about LinkedIn. However, both Zillow and Trulia are having a very tough time improving profit margins, due to high spending and that is a cause of concern to a lot of investors. These companies will have to show investors a turnaround in this metric in the upcoming quarters to be considered having a viable future operating model.
To conclude this analysis, a good way to get a sense of the overall sentiment about all of these metrics and boil it down into one, is looking at analyst recommendations. Since analysts cover these companies in depth and their jobs depend on getting recommendations correctly, they have a very important viewpoint that should be taken into account. Here is a chart showing analyst sentiment for these companies:

As shown by the chart, the analysts called the Facebook quarter correctly as they kept on raising their guidance over the past several months closer to a Strong Buy. LinkedIn has been hovering around a "Buy" rating but Zillow and Trulia have slipped in the past several months as analysts decreased their expectations slightly. Thus after taking everything into account, the established Internet companies like Facebook and LinkedIn are showing a lot of life and growth, but investors should take a lot into account before thinking other low-margin Internet companies can repeat this growth. Zillow, and to some extent Trulia, has grown a lot in the past several months, but investors must take into account their Shares Short of Float Ratio, which is 25% for Zillow and 17% for Trulia. So investors have to consider that due to the excitement and big growth from Internet companies like Facebook, a lot of the share growth for Zillow and Trulia has been due to a possible big short squeeze before second-quarter earnings come out. Investors should take all of this into account before earnings are released and decide whether or not the current share price is a good place to buy into or go on the short side.
Disclosure: I am short Z. I wrote this article myself, and it expresses my own opinions. I am not receiving compensation for it (other than from Seeking Alpha). I have no business relationship with any company whose stock is mentioned in this article.