Earnings season is about halfway complete in terms of the volume of reports, but at this point nearly all of the most widely followed largecap stocks have reported. So which companies have had the best and worst reports this season? As we all know, the ultimate arbiter of whether an earnings report is good or bad is how the stock reacts, and in that regards, below is a list of the stocks that have had the best and worst one-day reactions to their earnings reports this season.
Federal-Mogul (NASDAQ:FDML) just barely edges out Facebook (NASDAQ:FB) as the biggest earnings winner this season with a one-day gain of 30.62%. Facebook (FB) rallied 29.61% on its report day. Medidata Solutions (NASDAQ:MDSO) is the only other stock that has gained more than 20% on its report day, while TAYC and TQNT round out the top five. Other notables on the list of big winners shown in the table below include VMware (NYSE:VMW), TripAdvisor (NASDAQ:TRIP), Under Armour (NYSE:UA), Baidu (NASDAQ:BIDU) and Yahoo! (NASDAQ:YHOO).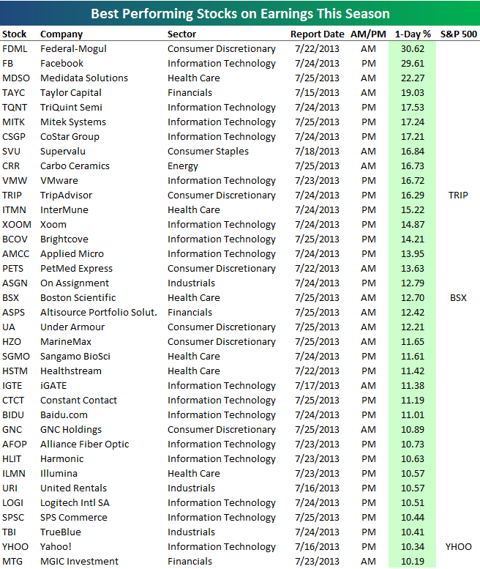 JAKKS Pacific (NASDAQ:JAKK) has the unfortunate title of biggest loser so far this earnings season with a one-day decline of 39.07%. Hutchinson Tech (NASDAQ:HTCH) ranks second worst with a one-day decline of 31.51%, followed by Sequenom (NASDAQ:SQNM) and Expedia (NASDAQ:EXPE). Other notables on the list of earnings season losers include Crocs (NASDAQ:CROX), Zynga (NASDAQ:ZNGA), Broadcom (BRCM), Microsoft (NASDAQ:MSFT) and PulteGroup (NYSE:PHM).
For a closer look at the winners and losers of earnings season, become a Bespoke Premium member today.