We love special situation investing, and spin-offs fall in this category, as do merger-arbitrage opportunities. While mergers and acquisitions can be questionable as to value creation versus destruction, more times than not, spin-offs allow investors to invest in a more focused and simple business. Outlined below are some of the major spin-offs from earlier this year.
A number of studies have found that spin-offs and parents tend to outperform the broader market, with the edge going to spin-offs. Patrick Cusatis, James Miles and J. Randall Woolridge's 1993 study found that spin-offs and parents surpassed the S&P 500 by an average 30% and 18%, respectively, during the first three years of trading after spinning off.
Meanwhile, a Lehman Brothers study by Chip Dickson found that between 2000 and 2005, spin-offs managed to beat the market an average 45% during their first two years, with parent companies beating it by an average 40% in the same two years. JPMorgan (NYSE:JPM) found that for between 1985 and 1995, spin-offs outperformed the market by 20% and parents by 5% over the first 18 months.
Outlined below are a number of key spin-offs from earlier this year.

We believe there is immense value to be found in some of these plays. Two of the best performing spin-offs include News Corp. (NASDAQ:NWSA) and CST Brands (NYSE:CST).

As for parents, the former News Corp. parent, 21st Century Fox (NASDAQ:FOX) is the top performing among the parents. Brookfield Asset Management (NYSE:BAM) is a close second. Meanwhile, other major parent companies are also performing well. In fact, all in all, on an annualized basis, the parent companies have dominated their spin-offs so far this year.
Average Annualized Returns
Spin-offs: 3.51%
Parent: 30.79%
Let's take a look at what might be some of the best ways to play the special situation spin-off market. Return on capital employed is a great way to measure how the two (parent/spin-off) is performing.
For the most part, the parent companies are generating outsized ROCEs compared to its spin-offs; except CST Brands is dominating its parent company, Valero (NYSE:VLO).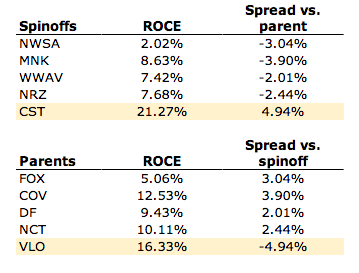 We are big fans of CST Brands, but not of its former parent, Valero. In a previous article, we note that we like CST:
"...because of its high population growth markets. We see between 20% to 25% upside for the stock in a relatively short time period. CST has a free cash flow yield in excess of 8% and it owns nearly 80% of its real estate properties, and the company also plans to pay a dividend in the future."
Valero is the refining giant that spun off its retail store operations as CST. Valero expects upcoming earnings to be negatively impacted due to higher operating costs and lower crude oil prices. Ultimately, the CST spin-off should unlock some shareholder value and allow Valero the opportunity to develop its refining business. Valero is the largest Gulf Coast refiner, but we would wait for more color on the company's plans to spin-off its logistic assets in an MLP before investing.
The News Corp. and 21st Century spin-off has unlocked value for both stocks. 21st kept the broadcasting/film assets, while News Corp. has the publishing assets. While 21st operates in the competitive media and film industry, its valuation is undeniably cheap. The stock trades below major peers on a P/E and P/S basis, but it has the least levered balance sheet and top profit margin.
As for 21st Century's former parent, Nealster lays out the best reasons to own News Corp.:
"Murdoch could have saddled the New News Corp. with lots of debt and unwanted liabilities, but he decided on the exact opposite route. The New News Corp. started its independent life with no debt and $2.6 billion in cash...the company starts its life with $18.6 billion in assets and book value (since there is no debt). Given that the total market capitalization for both the Class A Shares and the Class B shares is approximately $9 billion, the shares are trading at approximately 50% of book value."
While we do like to invest in the top companies in underrated/underperforming industries, News Corp. currently doesn't fit our thesis.
Mallinckrodt (NYSE:MNK) and Covidien (COV) are a couple of stocks in the healthcare business. Covidien manufactures healthcare products for use in clinical and home settings. Covidien took a near 10% plunge earlier this month when it announced that it could be liable for 42% of the over $1B in back taxes and penalties that the IRS recently assessed against former parent company Tyco. The other problem with Covidien is valuation. Abba's Aces agrees with us. He notes that:
"Covidien is fairly valued on all fronts; trailing earnings and forward earnings. The company does not offer what I consider to be good growth prospects either...Covidien currently trades at a trailing 12-month P/E ratio of 15.14, which is fairly priced...the 1-year forward-looking P/E ratio of 14.32 is pretty close to being fairly priced for the future...the PEG ratio (1.87)."
Meanwhile, investors could find some hidden value in Mallinckrodt. Soldier of Fortune believes that Mallinckrodt has over 50% upside, commenting that:
"MNK has very little debt, representing less than 1% of its equity. Also, its focus on lower-risk and generic drugs greatly reduces the amount of money the company needs to fund its R&D and capital expenditures. This frees up cash flow that will allow the company to pursue strategic initiatives or return capital to shareholders in the form of a buyback or dividend."
Unlike the CST-Valero spin-off, where we prefer the spin-off company, with WhiteWave (NYSE:WWAV) and Dean Foods (NYSE:DF), we actually prefer the parent company. Dean Foods has been divesting other assets to refocus on its core dairy products, this includes the sell-off of its Morningstar brand. Dean Foods valuation and free cash flow make it very appealing to us:
"We believe that with the spin-off of WhiteWave, the company should see multiples expansion related to the shake off of any European overhang related to WhiteWave operations. As well, the company should see market pressure related to leverage concerns relieved. We believe the stock could easily trade upwards of $20 per share by the end of 2015, an annualized return of 40%."
Although spin-offs generally outperform the parents, we don't think this will be the case with Dean Foods-WhiteWave. WhiteWave manufactures and sells soy milk, flavored creamers, organic milk, yogurt, cheese, butter, sour creams, and whipped creams. WhiteWave trades at a premium to the industry average, with a P/E ratio around 27x, compared to the industry's 20x, and a P/Operating Cash Flow ratio of 20x, versus the industry's 13.5x. Its balance sheet is also unappealing, the company has a debt to capital ratio of 47%, compared to the industry average of 31%.
All In All
We like CST given its exposure to the high growth population areas in the Southwest U.S. and Canada, with a specific focus on Texas. CST also has a ROCE over 20% and well above its former parent, Valero. We're holding off on Valero for now. Meanwhile, News Corp. appears to be appropriately priced and has a low ROCE. Fox operates in the highly competitive media market with the likes of Disney (NYSE:DIS), thus we see long-term opportunities limited here, but are torn given its cheap valuation -- we will be waiting to see how its next quarter results shake out.
Covidien's valuation leaves a lot to be desired, but the underrated Mallinckrodt could be a value and growth play. The company also has an 8.6% ROCE. We know we like Dean Foods, and while we haven't done our proper due diligence on WhiteWave yet, the stock appears to be a bit too expensive.
Disclosure: I am long CST, DF. I wrote this article myself, and it expresses my own opinions. I am not receiving compensation for it (other than from Seeking Alpha). I have no business relationship with any company whose stock is mentioned in this article.